(Trained for service)
Service dogs and vets: A perfect match
Next Step Service Dogs (NSSD) Graduation: October, 2019
Congratulations to the Class of 2019!
I was so excited to be part of this event!
As you will see in the coming year, A Pawsability 4 Veterans (apawsibilityforveterans.org) will be collaborating with Next Step Service Dogs (nextstepservicedogs.org) to bring service dog training to the Hemet and the San Jacinto Valley.
On Sunday October 6th, 2019, Next Step Service Dogs held a graduation ceremony for 21 dogs in their service dog program.
This was the first year it was held at Kit Carson Park, in Escondido, California. What a great turn out with family and friends attending! Next Step Service Dogs is a 501c3, not-for-profit-organization. Its mission is to "renew the life of Veterans through service dog placement, training and education by mobilizing public and private resources."
NSSD has trained and paired many dogs with Veterans and aims to relieve the symptoms of PTSD and TBI from which many veterans suffer. They do this with the companionship and support of a service dog. With this, a veteran's life is changed.                                                                                                    
The event allowed for the opportunity to hear how these loving and supportive service dogs have changed the lives of countless Veterans. Each Veteran was offered a moment to discuss how the use of a service dog has been instrumental in changing their lives. Hearing how some of these Veterans could not leave their homes, or socialize until they found their service dog, gives everyone a reason to stand behind what this organization has to offer.
Cloverlane Foundation (cloverlanefoundation.org) and Veterans Mobility Projects (veteransmobilitypjct.org) is affiliated with Next Step Service Dogs, and members of those foundations were in attendance at the NSSD graduation ceremony. Gerald Chase, Founder and chairman of Cloverlane Foundation and Veterans Mobility Projects announced his new role as Chief Executive Officer of Next Step Service Dogs. He spent some time discussing his goal to assist more Veterans in obtaining service dogs.
Mr. Chase will be looking for a location in the Hemet/San Jacinto Valley area, to bring this service here for our Veterans. It is the policy of all foundations that Gerald Chase is Chief Executive Officer and that any and all services supplied to veterans are free.
In the coming months, you can look forward to more articles concerning service dogs. For more information, visit https://www.nextstepservicedogs.org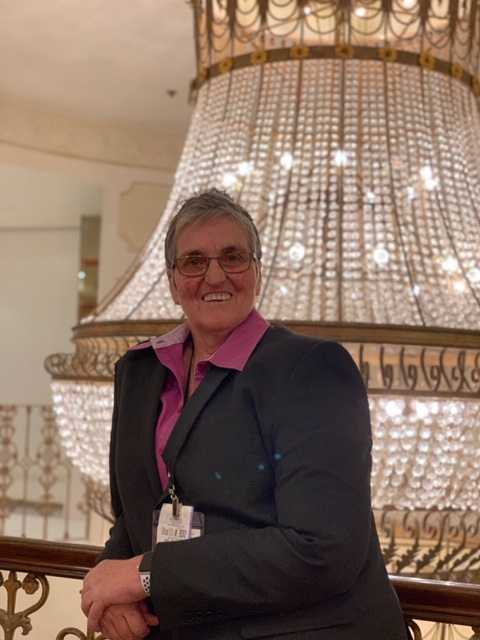 Sandy Dee served in the United States Army from 1980 to 1983, the year of her honorable medical discharge. Her passion for helping veterans came to a head in 2017 when she formed her nonprofit organization, A Pawsibility 4 Veterans (apawsibility4veterans.org). She is also a certified I-Phone filmographer. Sandy spends her time with her own organization and in supporting the Cloverlane Foundation (cloverlanefoundation.org) in helping veterans in our community.
Find your latest news here at the Hemet & San Jacinto Chronicle
Search: Trained for service