(Vehicle Crash)
HEMET — Excessive speed has been cited as a possible contributing factor after a San Jacinto resident in a Corvette lost control of his vehicle and slammed into a power pole in Hemet late Sunday evening, Aug. 18. The deadly, solo-vehicle accident happened on Mountain Ave., west of Soboba St.
Riverside County Sheriff-Coroner officials have since identified Christopher McKelvey, 21, of San Jacinto, as the man who died in the crash. A Coroner's release indicated McKelvey succumbed to his injuries at the scene and was pronounced deceased at 12:01 a.m. According to his friends and family, McKelvey was a former Hemet High School and Western Center Academy student, and had just turned 21 on July 24.
City of Hemet Police and Fire Departments, along with CHP, Riverside County Sheriff's Department, and AMR were dispatched to the scene at about 11:58 p.m., Hemet Police Sgt. Dan Reinbolt has since said of the fatal crash.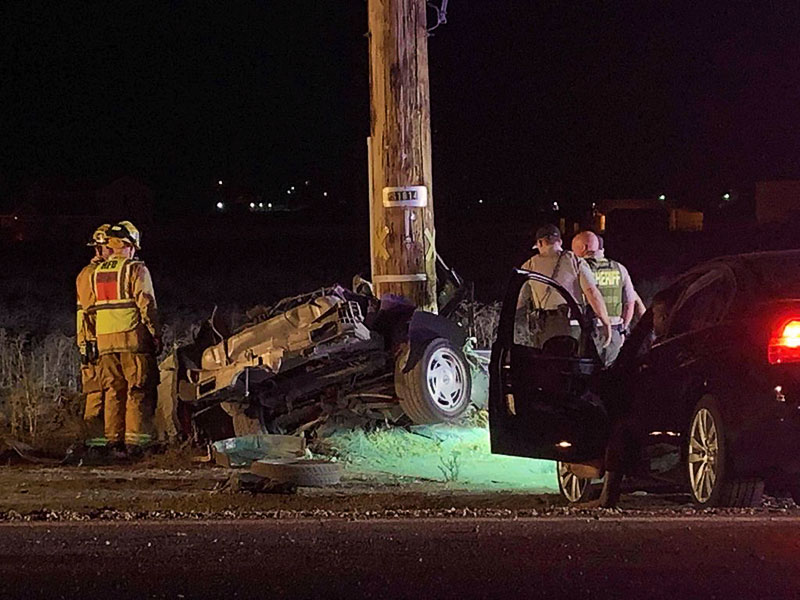 When officials arrived within minutes of the dispatched call, they found a destroyed 1989 Chevy Corvette wrapped around a power pole. The sports car was completely unrecognizable and medical personnel determined the driver and sole occupant of the car had already passed away from his major traumatic injuries.
Officers who investigated the cause of the crash determined McKelvey was driving on Mountain Ave, when he lost control of his vehicle, which careened off the road and plowed into a power pole on the north side of the roadway, according to Reinbolt.
Witnesses to the fatal accident later reported McKelvey was traveling at high speed just before the collision, with several people claiming the victim was going about 100 mph when he lost control of his Corvette and crashed into the power pole. Officers are still working to determine how fast McKelvey was driving just before the deadly accident.
While officials worked at the scene, they called for the full closure of Mountain Ave., between Soboba and Hemet streets. The road remained closed in both directions for about five hours while the investigation was conducted.
"It is not known if alcohol or drugs played a role in this very unfortunate incident," Reinbolt explained; saying the department's investigation was ongoing.

Caption Photo 1: a San Jacinto resident in a Corvette lost control of his vehicle and slammed into a power pole
Find your latest news here at the Hemet & San Jacinto Chronicle

Search: Vehicle Crash