(Despite recent safety upgrades)
SAN JACINTO — Despite recent safety upgrades aimed at ending fatal and major-injury traffic collisions along Gilman Springs Rd., a head-on collision claimed the lives of two people, early Sunday morning, Aug. 18. The deadly crash, which sent seven other victims to area hospitals with injuries ranging from serious to major, occurred in an unincorporated area of Moreno Valley, just north of San Jacinto, between Bridge St and Sanderson Ave/Hwy 79.
The tragic accident happened in an area that recently received several safety upgrades in the form of two sets of double solid yellow lines, a center rumble strip, and bright white, center paddle markers with yellow reflectors. Despite the recent improvements, area residents have long called for the installation of concrete "K-Rails," which would prevent future head-on collisions from happening along the deadly stretch of road.
CHP, Riverside County Sheriff's Department, Cal Fire/Riverside County Fire Department, and AMR were dispatched to the fatal collision shortly before 5:30 a.m., after receiving reports of the major-injury, head-on traffic collision, CHP's Officer Darren Meyer has since reported.
When officials arrived they discovered two heavily-damaged vehicles, described as a brown, 2004 Lexus sedan and silver, 2008 Toyota Sienna van. Vehicle parts and debris were spread across the two-lane section of road, which was left completely blocked and impassable by the accident.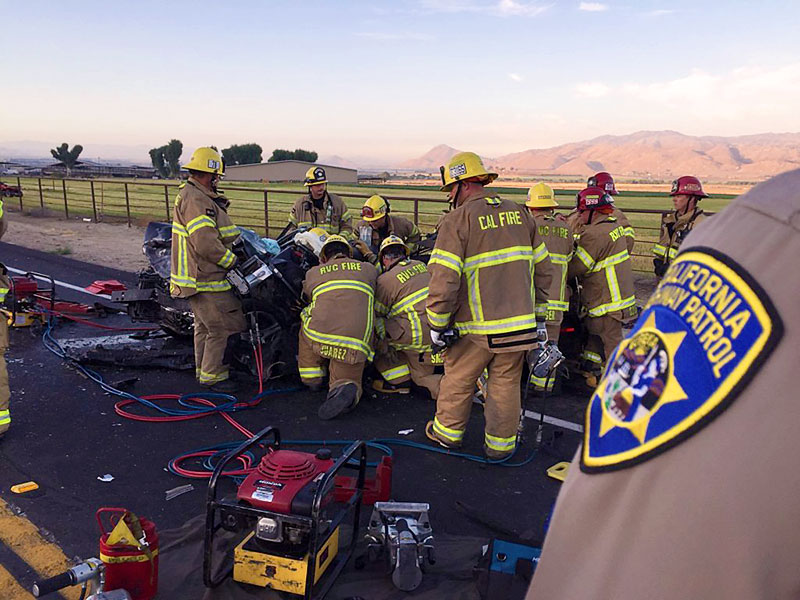 While checking on the status of the various injured victims from the two destroyed vehicles, which were left all but unrecognizable in the crash, officials found one passenger from both vehicles who had already succumbed to their injuries.
Officials also found seven additional victims, including two in the Lexus and five from the Toyota, some of whom required extensive extrication from their wrecked vehicles.
During their subsequent investigation, CHP determined that just before the fatal crash, Brandon Hoffman, a 27-year-old, San Jacinto resident, was driving the Lexus sedan eastbound on Gilman Springs Rd. He had two passengers with him.
At the same time, Juan Llagundo, a 52-year-old, Los Angeles man, was traveling the opposite direction, heading westbound on Gilman Springs Rd. According to CHP, Llagundo had five passengers with him in his Toyota van.
"In a section of road divided by two sets of double solid yellow lines, a center rumble strip, and center paddle marker delineators, Hoffman crossed into the opposing lane," Meyer explained; saying, "The eastbound Lexus collided head-on into the westbound Toyota."
The tremendous impact left Hoffman trapped inside his Lexus and "required extensive extrication by fire department personnel," said Meyer.
(Gilman Springs Crash)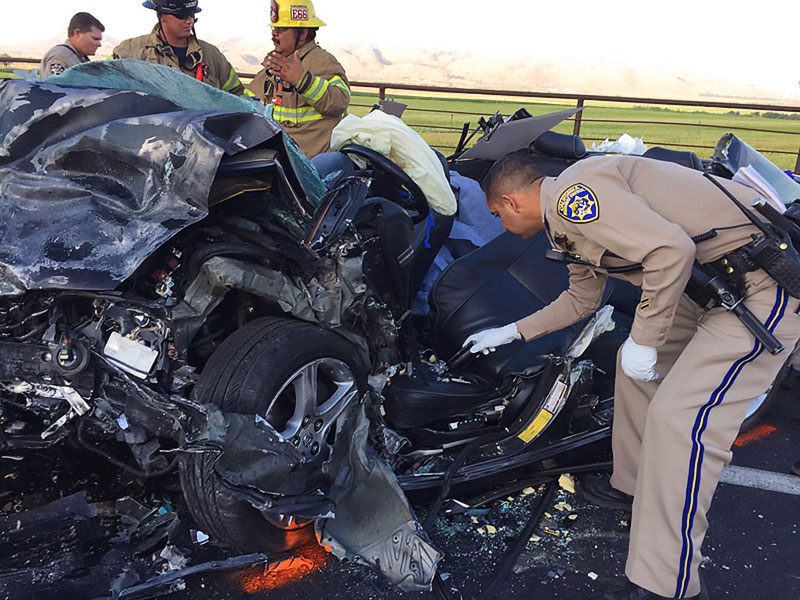 One of Hoffman's passengers, Jacquelin Faye, 24, of Moreno Valley – who had been sitting in the right, rear passenger seat of the Lexus sustained major injuries. Both she and Hoffman were eventually transported to Riverside University Health Systems Hospital's Trauma Center in Moreno Valley for treatment of their extensive, but unspecified injuries.
A third person from the Lexus, Nestor Canales, 31, of Hemet, who had been sitting in the right front seat of the sedan sustained fatal injuries as a result of the collision. A coroner's release indicated he succumbed to his injuries and was pronounced deceased at the scene at 5:45 a.m.
Llagundo and four of his passengers suffered serious injuries and all were transported by AMR ambulances to Inland Valley Medical Center.
"A fifth passenger in the Toyota van, a 64-year-old woman from Los Angeles, sustained fatal injuries as a result of the collision … and she was pronounced deceased at the scene," according to Meyer. Her name has not yet been released, pending further investigation and notification of her family.
Gilman Springs Rd was closed for several hours, until CHP concluded their initial on-scene investigation and the wrecked vehicles were towed from the scene.
CHP's investigation into the cause of the deadly crash is ongoing and officials have not yet ruled out alcohol and/or drug intoxication or driver fatigue as possible contributing factors in the collision.
Find your latest news here at the Hemet & San Jacinto Chronicle
Search: Despite recent safety upgrades