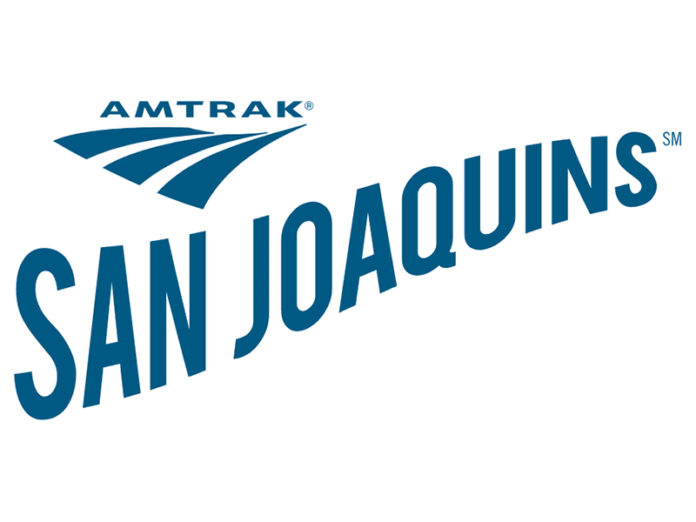 (Statewide Thruway Bus Network)
The San Joaquin Joint Powers Authority has adopted a series of changes to its Thruway Bus Network that will take effect on August 1, 2020.
The COVID-19 crisis has severely impacted public transportation ridership throughout California. Although San Joaquins ridership is beginning to rise, it will take time for California to fully recover from the impacts of this pandemic and for transportation demand to return to previous levels. The San Joaquins rail service operations have been reduced from 7 daily round-trips to 4 daily round-trips, and thruway bus service has been reduced on several routes.
"We are proud to continue to provide transportation service to our communities for essential travel during this crisis, but there is no doubt that additional cuts and cost-savings measures are needed at this time to align our service levels to current and near-term ridership demand," said Stacey Mortensen, Executive Director of the San Joaquin Joint Powers Authority. "We see these route changes as a necessary step due to constraints on state budgets and severely reduced ridership and revenue. Additionally, these service changes offer an opportunity to refine our network so that it is best aligned with ridership needs and will position us as a stable transportation service in the long-term."
The San Joaquins Thruway Bus Network is extensive throughout California and includes 14 routes that extend as far north as McKinleyville and Redding, and as far south as San Diego, southeast to Las Vegas and Indio, and southwest to Santa Barbara. The Thruway Bus Network has operated largely unchanged for decades. But now many of the San Joaquins Thruway Bus routes, which were once cost-effective, are now costing considerably more to operate than the total revenue that they generate.
The SJJPA is taking steps based on data and analysis to better align the Thruway Bus service with current and projected ridership needs. Some routes are being truncated with stops being moved or eliminated, while other routes will be suspended indefinitely. These changes are being made carefully to protect the most highly utilized routes and markets so that there is the least potential impact on San Joaquins riders.
New partnerships with public transportation operators and minor route improvements (such as new or relocated stops) may also help increase ridership and improve long-term cost effectiveness.
The San Joaquins Thruway Bus Network will remain a vital part of the San Joaquins operations and will become even more important in the future when providing feeder service to the Merced-Bakersfield HSR Interim Operating Segment.
A summary of the route changes is below:
• Route 7 (Martinez-Napa-Santa Rosa-Eureka-McKinleyville): Service is being truncated at Arcata. Stops are being eliminated at McKinleyville and Rio Dell-Scotia. One additional round-trip is being added to serve Martinez-Vallejo-Petaluma-Rohnert Park-Santa Rosa. Humboldt Transit will provide a free connection for Amtrak San Joaquins riders to utilize their transit system to McKinleyville (from Arcata) or Rio Dell-Scotia (from Fortuna).
• Route 12 (Bakersfield-Victorville): This route has been suspended indefinitely.
• Route 18b (Hanford- Visalia): Service between Hanford and Visalia is being terminated on Route 18b. Riders can still travel on Route 18a between Hanford and San Luis Obispo/Santa Maria.
• Route 19 (Bakersfield-Riverside-Hemet/Bakersfield-Riverside-Palm Springs-Indio): Service is being truncated at San Bernardino. Three daily round trips will stop at La Cresenta, Pasadena, Claremont, Ontario, Riverside, and San Bernardino. Stops are being eliminated at Cabazon, Palm Springs (Airport), Palm Springs (Downtown), Palm Desert, La Quinta, Indio, Moreno Valley, Perris, Sun City/Menifee, Hemet, Hemet (Simpson Center). Passengers will instead be able to utilize Pacific Surfliner buses from San Bernardino to Palm Springs and can book their tickets at the AmtrakSanJoaquins.com, Amtrak.com, and the Amtrak App.
The most current schedules and station information can be found at www.AmtrakSanJoaquins.com.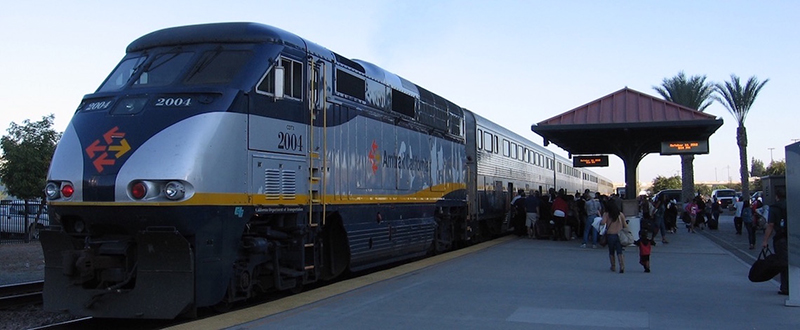 ---
About the San Joaquin Joint Powers Authority (SJJPA)
Since July 2015, SJJPA has been responsible for the management and administration of Amtrak San Joaquins. SJJPA is governed by Board Members representing each of the ten (10) Member Agencies along the 365-mile San Joaquins Corridor. For more information on SJJPA see www.sjjpa.com.
Amtrak San Joaquins is Amtrak's 6th busiest route with 1.1 million annual riders and 18 stations providing a safe, comfortable and reliable way to travel throughout California. Prior to service modifications due to the COVID-19 crisis, Amtrak San Joaquins ran 7 daily train round-trips and its Thruway buses provided connecting service to 135 destinations in California and Nevada including Los Angeles, Santa Barbara, San Diego, Napa Valley, Las Vegas and Reno. To book your next trip, visit www.AmtrakSanJoaquins.com or call 1-800-USA-RAIL.
-David Lipari, San Joaquin Joint Powers Authority
Find your latest news here at the Hemet & San Jacinto Chronicle
Search: Statewide Thruway Bus Network