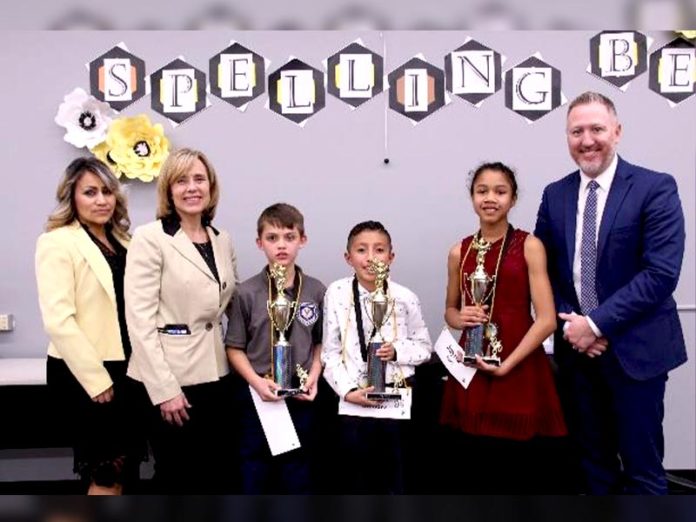 (Annual Spelling Bee)
San Jacinto, CA – San Jacinto Unified School District held their annual district spelling bee on January 30, 2020, in preparation of sending a champion to the Riverside County Spelling Bee on March 24, at the Moreno Valley Conference and Recreation Center. Temo (Ethan) Mendez, 5th grader at SJUSD's Hyatt World Language Academy, was the final winner out of 16 contestants with the correct spelling at the 17th round.
The county-level spelling bee is open to students 4th through 8th grades, and a winner progresses to the Scripps National Spelling Bee held outside of Washington, D.C. in May. SJUSD's second-place winner, Max Corum, 4th grader at Hyatt World Language Academy, serves as the district alternate for the county-level contest. SJUSD's third-place winner was Jayda Bass, a 5th grader at Park Hill Elementary.
SJUSD's Bee Master, Renee Carbajal, Assistant Principal at Record Elementary during the regular work day, was impressed with the conduct of the contestants and the support from families. "We know that the students had all practiced and they demonstrated good sportsmanship when they missed their word," said Bee Master Carbajal.
This year's Spelling Bee Project Manager was Patty Luna from the district's Curriculum, Instruction & Assessment Department. She ensured the atmosphere was festive and the judging panel was ready for the annual event. "SJUSD has a long tradition of conducting spelling bees at the elementary and middle school sites, and then finishing with a district-level spelling bee that is memorable for all the contestants," said Mrs. Luna. Mrs. Luna also ensured each student prepared an autobiographical sketch posted at the event.
"My favorite subject is math, and I also enjoy reading thriller and mystery books," Champion Temo declared in his sketch. "When I am older I would like to be a robotics engineer," he concluded.
Find your latest news here at the Hemet & San Jacinto Chronicle
Search: Annual Spelling Bee