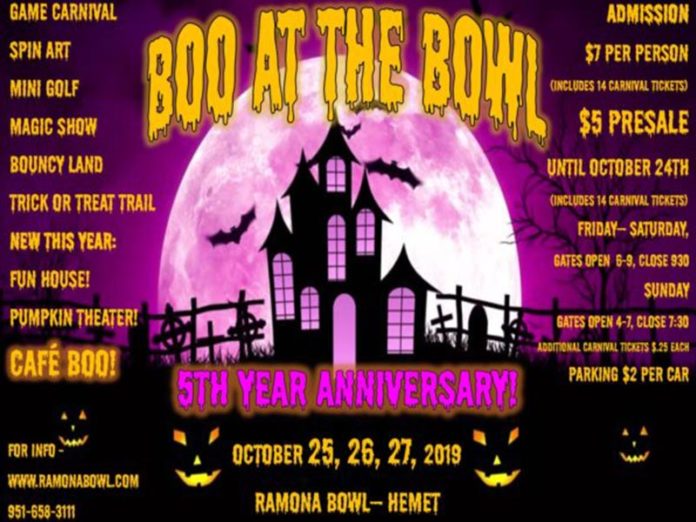 (Boo at the Bowl)
The Ramona Bowl Mission Statement reminds us that the Ramona Bowl Amphitheater is a community non-profit organization. Its purpose is to insure the annual presentation of the California Historic Outdoor Pageant, Ramona, contribute to tourism and continuing educational programs that promote the arts, California history, national humanity efforts, and Native American history with quality outdoor theater entertainment.
In keeping with the Ramona Bowl Mission Statement, Boo at the Bowl is a safe alternative for trick or treating. The Ramona Bowl is transformed into a Halloween extravaganza with a trick or treat trail that lets children get their candy in a safe manner. There is a midway of carnival games, mini putt, bouncer-land, a child-appropriate magic show, spin art and lots of photo opportunities. Children are encouraged to wear their costumes. Down on the floor of the Ramona Bowl, Valley Wide turns the Hacienda into a haunted house for the older children.
This year the dates for Boo at the Bowl are October 25 and 26 from 6:00 pm to 9:00 pm and Sunday October 27 from 4:00 to 7:00 pm., and new this year at 'Boo at the Bowl,' the 5D motion simulator, at 6.50 per rider, or 4 seats for $20. The concession stand offers a wide selection of Halloween-themed meals and treats.
Tickets for Boo at the Bowl are available at the Box office or at the gate. Pre-sale, the tickets are $5, and at the Gate they are $7. Each comes with 14 carnival tickets which can be used for carnival games or the trick or treat trail. There is a $2 parking fee.
"Boo" is always the last weekend of October, Friday, Saturday and Sunday. Buy your pre-sale admission tickets now at our ticket office or at Downtown Deli and Coffee Co.
Find your latest news here at the Hemet & San Jacinto Chronicle
Search: Boo at the Bowl