(Bulldogs season comes to an end)
Bulldog's superstar safety ejected from game due to questionable call from ref 
The first quarter seemed to foretell the story of this game: it was going to be a defensive battle, with both teams fighting for every inch of advantage they could get.
Hemet and Marina took turns punting the ball back and forth with neither team giving the other a chance to score. Marina was first to strike, scoring a touchdown. Hemet responded by putting together an impressive drive, but quickly ended up with a fourth-and-long due to questionable penalty calls.
Marina took advantage of the fact they got the ball back: they marched down the field. Marina was slinging the ball through the air last Friday, which is very out of character for them. They've been known as a team who ran the ball all season long, but they knew that they needed more than a ground game to come away with a victory against a very strong Hemet secondary.
In the beginning of the second quarter Marina had Hemet's defense on their toes when they threw the ball straight down middle of the field on the goal line. Hemet captain and defensive playmaker Bradley Fye was waiting, ready to strike. Fye burst through to the Marina receiver with speed and tenacity causing him to drop the ball. The play was whistled dead and Marina medical staff came out to evaluate their player. While Fye was laying there, the refs had a conversation and decided to throw him out of the game. No warning was issued, nor did they explain what he did in order to get thrown out. Fye didn't lead with his helmet, leave the air, attempt to spear, hit a defensive receiver, or do something that warranted an "unnecessary roughness" call. In all of my years watching, playing, coaching, and reporting on football, it was one of the cleanest hits I have ever witnessed and Fye deserved to be praised for the hit, not ejected.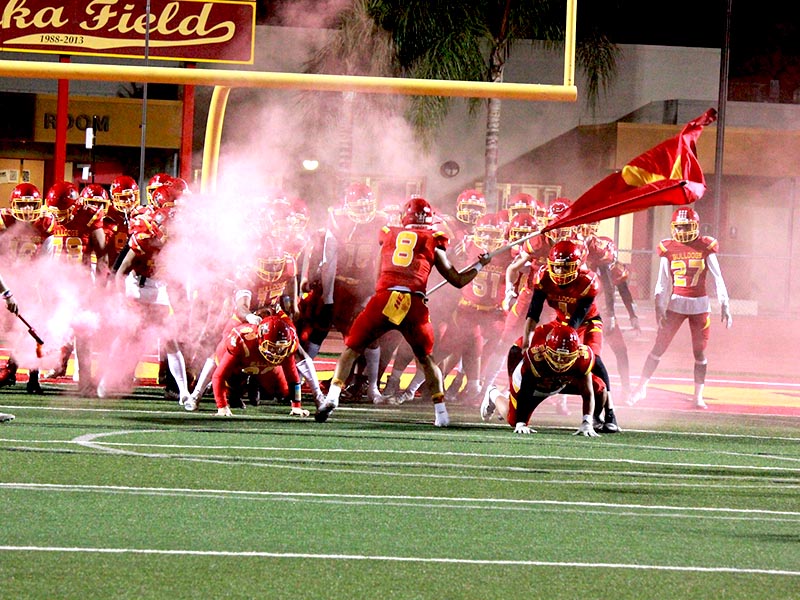 Hemet's "no fly zone" was in serious jeopardy. All season long Fye and Castillo have dominated offenses, laying down big hits and making big plays against the pass, but now, half of that two-headed monster was out of the game. Marina took advantage and scored again going into the half. The score was 0-14 and things didn't look very good for the Bulldogs. The Bulldogs defense had a huge stop just after the half and got the ball back for their offense. Jeremiah Graves and Ethan Leonard decided to take things into their own hands and marched right down the field together. The drive ended when they gave the ball to Max Moore who is very deceptive: he runs like a kid who is twice his size. Max Moore pushed the ball through the end-zone: the score was now 14-7.
Unfortunately for the Bulldogs, that would be the last time they got into the end-zone this season. Marina went on to win the game 27-7 and they move on to the championship.
Like a true captain, Brad Fye was on the sidelines when the game was over in order to embrace and comfort his teammates. "This is a completely different game if I'm playing and they know it," Fye said. One particular Bulldog shined throughout this game and that was Ethan Leonard. Ethan never gave up: he made tough catches, fought for extra yards, and even tried his best to fill the huge hole in the defense, left by Fye's wrongful ejection. Leonard had an exceptional year. No one knew what to expect from him or the Bulldogs this year. It was Coach Gregovich's first season as the head coach. Jeremiah Graves transitioned to QB even though he was the team's leading receiver the year before and no one knew who Ethan Leonard was before the season started. All in all, you have to consider this a successful season for Coach Gregovich and his Bulldogs. With two key players returning next season; Jeremiah Graves & Frankie Castillo, a young offensive line core, and a lot of room to grow, this team will be one to watch.
Despite the horrible calls from the refs against both sides, Marina was able to get more things going and they were also able to stay composed through adversity. Their defense applied pressure to Graves all night long and even caught two interceptions.  They also had a number of pass deflections. Marina's Pharoah Rush had an incredible night and ran the ball extremely well. He ran for over 90 yards, had one touchdown, and performed in key moments. For that, he earns the Inland Empire Sports Connection, "Player of the Game" honors. We look forward to seeing Pharoah in action next week as Marina takes on Muir in the finals.
Find your latest news here at the Hemet & San Jacinto Chronicle
Search: Bulldogs season comes to an end