Corporations and climate change
ALEJANDRO LAZO | CALMATTERS
Corporations have for years graded themselves on climate change, at times marketing themselves as environmental stewards while failing to fully disclose their emissions. Now California is considering holding corporations more accountable: If approved by the Legislature and Gov. Gavin Newsom, two bills would make California the first state to require large corporations to disclose their greenhouse gas emissions and report their risks from climate change.
One bill — already approved by the Senate — would force about 5,300 U.S. corporations earning more than $1 billion and doing business in California to annually report their global emissions of carbon dioxide and other gases that contribute to climate change. Another bill that won Senate approval would require more than 10,000 companies with revenues exceeding $500 million to detail how climate change poses financial risks to their operations, not just in California, but around the world.
From Amazon and Bank of America to McDonalds, Chevron and General Motors, any company that meets the revenue thresholds selling or producing goods or services in California would have to comply with the two wide-ranging measures. The legislation would force companies to reveal their complete carbon footprint, even the emissions coming from the consumers who use their products.
The laws would inevitably lead to highly publicized "top polluters" lists that make major corporations more accountable — and uncomfortable — since their full role in causing climate change and its impact on their finances would be exposed.
The goal is to provide a more complete picture of the tons of global gases that large companies are responsible for and how their company is affected by the warming climate, according to the legislators who introduced the two bills. "This is basic transparency," said Sen. Scott Wiener, a Democrat from San Francisco whose SB253 would mandate emissions reporting for billion-dollar companies doing business in California. "It's important to know which corporations are walking the walk, especially as we see corporations that market themselves as green." Leading the opposition are California's Chamber of Commerce and two consortiums of large and powerful industry groups, including the Western States Petroleum Association, which represents oil companies, the Western Growers Association and an association of stock brokers and investment bankers.
The business groups say the emissions estimates could be inaccurate, resulting in misguided public policy, while putting an onerous burden on companies. The bill "will generate a lot of misinformation," said CalChamber lobbyist Brady Van Engelen. In addition, Van Engnelen called the other bill that mandates climate-related financial risk reports "a gold-plated exercise in gathering information." The reports would include vulnerabilities to shareholder value, consumer demand, supply chains, employee safety, loans and other economic threats that may be amplified by changing climate and more extreme weather events. "Reporting regimes are kind of the wild west of the climate policy world," Van Engelen said. "These reports aren't free, it's not like you just get to press 'control P' and have a report." Sen. Henry Stern, a Democrat from Calabasas said his climate risk reporting bill, SB261, would not be a burden on industry because it adopts an internationally recognized standard for risk reporting and levels the playing field for corporations that already disclose climate risks to their businesses. Stern said he is working with the Chamber to address its concerns.
After both bills won Senate approval, they will next be heard by the Assembly's Natural Resources Committee in the coming weeks. Wiener authored a similar emissions bill that fell four votes short of passage on the last night of last year's legislative session.
He made some concessions to ease the burden on companies. California already has a law requiring some companies — power companies, industrial facilities and fuel suppliers — to report greenhouse gases emitted exclusively in the state. But these new legislative efforts would substantially broaden that. California is responsible for less than 1% of global greenhouse gases, with transportation the biggest source, followed by industrial emissions, power plants and agriculture.
Total emissions in the state declined 14% between 1990 and 2020 — but have likely grown since that initial pandemic year, when many businesses shut down and people drove less, according to the Air Resources Board. "Unfortunately there's no place that's affected (by climate change) more directly than California," said Steven M. Rothstein, a managing director with Ceres, a nonprofit sustainability group that supports both measures. "So the basic idea is that if you're running a business, you want to have good information about your risks and your opportunities." Economic activity has long been the principal driver of the world's changing climate, and over the last two decades, organizations have sought uniform standards for reporting corporations' emissions and the risks they face from rising temperatures.
The United Kingdom already requires companies to report their emissions and the European Union will begin requiring companies to track emissions next year and report them in 2025. The Biden administration's U.S. Securities and Exchange Commission has proposed standards that would require publicly traded companies to report verified greenhouse gas emissions and report climate-related financial risks. The issue has become political: Florida Gov. Ron DeSantis, a Republican, signed a ban in May on investment practices that take environmental and social concerns into account; President Joe Biden vetoed a similar bill earlier this year.
California's proposals would have more impact because they would require private companies to comply and they would have more stringent emissions reporting requirements, said Catherine Atkin, a climate attorney who formed the group Carbon Accountable to advocate for the bill. "The SEC is pursuing rulemaking on this, but it has been a little rocky. It's unclear where exactly that's going to land, so it's really important for California to lead," Wiener said. The new policies come as major corporations seek ways to promote themselves as green and socially responsible.
Out of the top 500 U.S. companies that are publicly traded, 92% report about their activities related to environmental and social issues, according to the Governance & Accountability Institute. The reality, however, is that facing few actual mandates, companies can selectively report their emissions and portray themselves favorably, leading in some instances to greenwashing.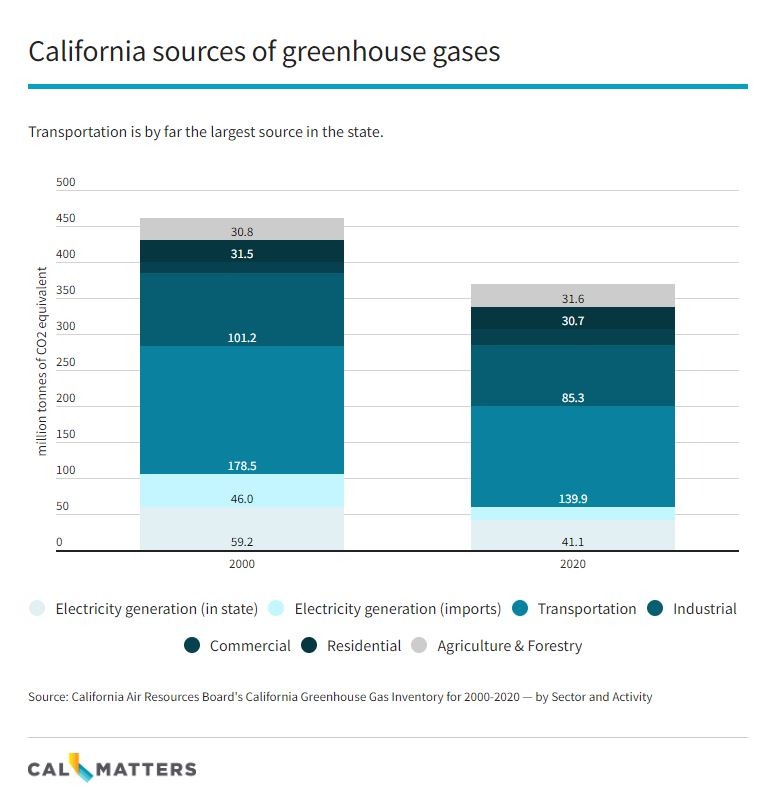 The long chain of corporate emissions
Businesses would have to report not only the tons of gases they emit globally from their operations and energy use, but also from less direct sources, such as emissions from their supply chains, contractors and use of their products. These less-direct sources, called "Scope 3" emissions, have raised the concerns of business groups.
A 2021 article in the Harvard Business Review said such protocols could lead to the same emissions being reported multiple times by different companies, a critique that CalChamber echoes. Harvard professor Robert Kaplan, one of the paper's authors, said California lawmakers should allow companies to exclude emissions that come from the use of their products. "Companies have virtually no control over how their customers use their products and services," he said. "But they have a great deal of control over the emissions in the products and services they purchase."
Wiener said he "completely disagrees," calling the protocol the "gold standard" for reporting greenhouse gases. "Alternative accounting systems are totally inappropriate for understanding each individual corporation's carbon emissions — which is the whole point of SB253," Wiener said. He said corporations need to "understand their own individualized carbon emissions…to shape their supply chain, which can account for over 90% of their overall emissions." Matthew Fisher, whose software company Watershed estimates emissions for businesses, said it is relatively straightforward.
The company's clients include delivery app DoorDash and the restaurant chain sweetgreen. "The regulations that you see around the globe… all say a very similar thing, which is, estimates are fine," said Fisher. He said the company can pretty easily "give a high-caliber estimate" with just company data, "without needing to go to your supply chain." Van Engelen, the California Chamber of Commerce lobbyist, said the emissions reporting requirements could result in smaller or mid-sized businesses losing contracts with the larger corporations because those smaller companies might not have a full account of their own emissions.
What's more, he said, businesses of all sizes might be reluctant to expand their operations because emissions might be counted against them. Under Wiener's bill, the emissions disclosures would need to be independently verified by an outside auditor, and businesses would pay an annual fee of up to $1,000 to cover state administrative costs. Of the 5,300 U.S. corporations that would have to report their emissions, about 73% are private companies, according to Ceres.
Many publicly traded companies already report climate risks in their financial disclosure reports. The other bill would require the companies to report their financial risks by adhering to rules created by The Financial Stability Board, an international financial regulatory body.
About 80% of the 10,400 affected companies would be private, according to the sustainability group Ceres. The debate comes as climate change is leading to more heat waves, swings between droughts and floods, wildfires and hurricanes. As of June 8, the National Oceanic and Atmospheric Administration had confirmed nine disasters exceeding $1 billion in impacts this year.
The annual average over the previous five years was 18, compared with only eight each year from 1980 to 2022, adjusted for inflation. Researchers recently reported that greenhouse gas emissions are worsening California's wildfires, according to a recent study by academic researchers in Spain and California.
Stern said his bill is aimed at getting corporations to be honest about these new realities. "This is about getting the corporate and financial sector to look at things that are very material and concededly quite inconvenient," Stern said. "None of this is going to necessarily be good news. 'Oh, there are more wildfires than ever, there is more drought risk than ever.' Those are all uncomfortable truths that we are wrestling with."
Find your latest news here at the Hemet & San Jacinto Chronicle