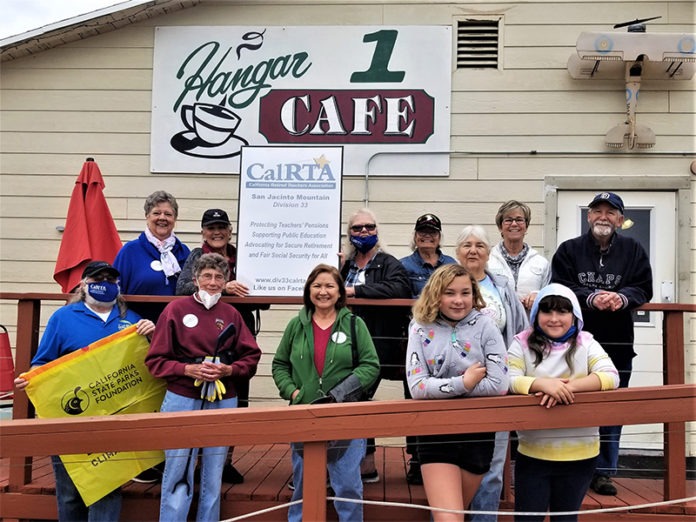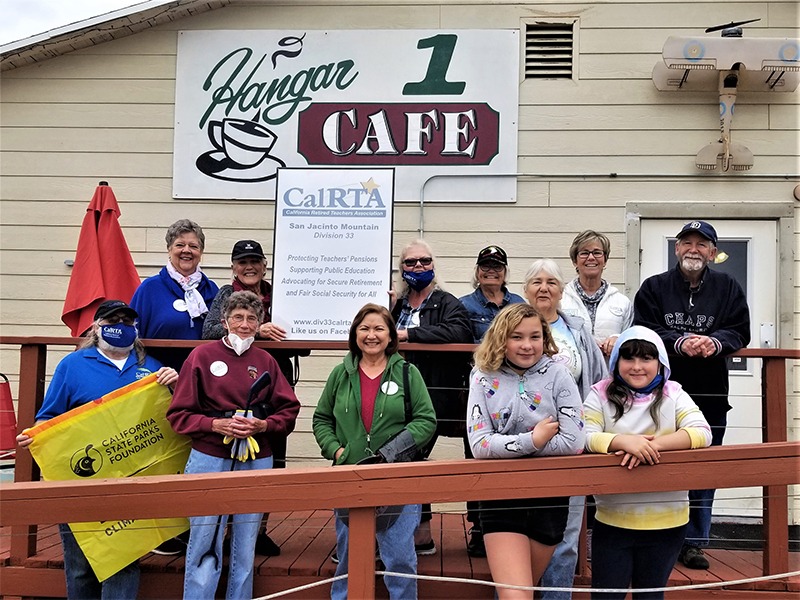 In honor of Earth Day 2021, fifteen members and family members of Division 33 (Hemet/San Jacinto) of the California Retired Teachers Association spent a cold, drizzly morning scouting the grounds surrounding the Hemet-Ryan Airport in southwest Hemet for trash, packing at least fifteen Earth Day plastic bags with bottles, cans, fast food packaging and a variety of miscellaneous refuse tossed along the roadway.
On Thursday, April 22nd, CalRTA Division 33 Board members, some with family members in tow, gathered at the Hangar 1 Café adjacent to the Hemet-Ryan Airport for a quick breakfast, then headed out in groups of two or three, donning masks and gloves and clutching plastic bags and trash grabbing tools with the goal of filling at least one bag per person. The group easily met its goal and left the surrounding area much cleaner than when they found it.
Volunteering is at the heart of CalRTA, and its members contribute well over one million volunteer hours annually in local classrooms, senior centers, museums and in community service projects around the state. Participating in the Earth Day project were CalRTA Division 33 Board members, Gayle Mattson, president; Sue Breyer, Vice President; Frank Siebke, Treasurer; Elizabeth Midyett, Secretary; At Large members Linda Cooke, Fran Franke, Melinda West and Sandy Kasper (with family members Jamie and Mark Ward and their daughters Samantha and Carson). CalRTA member Jackie Avritt also assisted the group, with husband Al Avritt.
CalRTA Division 33 has nearly 300 members who give of their time, effort and finances in support of the Hemet/San Jacinto communities and their schools. Each year Division 33 gives up to eight $1000 scholarships to graduating seniors in the Hemet and San Jacinto school districts and randomly selects 15 $100 Teacher Grants recipients from teacher applicants in Hemet, San Jacinto, Temecula, Menifee, Murrieta and Lake Elsinore school districts.
For more information about CalRTA Division 33, you can access their website at div33.calrta.org or email the organization at calrtadivision33@gmail.com.
Sue Breyer • Contributor
Find your latest news here at the Hemet & San Jacinto Chronicle