(Capital of Antigua)
My husband Lloyd and I enjoyed Antigua, located in a fertile valley of Guatemala, encircled by three volcanoes, namely Acatenango, Agua (water), and Fuego (fire), which loom over Antigua. Of Guatemala's 33 volcanoes, numerous active volcanoes transmit ash onto their surroundings, making it difficult to get decent photos. However, Antigua is a popular tourist objective, with an interest in climbing volcanoes.

Antigua was the capital of the old Spanish region of Guatemala, the focus of government, religion, education, and culture. One of the three major centers of command, along with Lima and Mexico City, La Antigua was the first improvised city in this hemisphere, a wealthy, cultured complex of the church, arts, and letters.
Natural disasters devastated Antigua's two predecessors and was called Santiago de los Caballeros from 1543 to 1773. The grandest settlement of colonial culture between Mexico City and Lima, Peru, the Spaniards erected magnificent monuments here, to their Christian saints.

Since this area was devastated by, and inclined to, earthquakes and volcanoes, the superb churches cracked and collapsed, while the devout Spaniards kept on building. The methods of construction were changed, bringing forth an architectural style called seismic baroque. This was comprised of low buildings and arches, robust pillars, expansive bell-towers, solid walls of bricks, mortar and rubble that was left over from previous earthquake, and low, wide columns essential to triumph over future earthquakes.

Some buildings were brutally damaged by the earthquakes, but they still show their original glory. Some restoration was done, but most of the battered old buildings were left, as witnesses to the epic catastrophes.

Since its establishment in 1543, Antigua has witnessed over a dozen major earthquakes, floods and volcanic eruptions. Demolished by earthquakes and floods, Antigua was destroyed a third time by a massive earthquake in 1773. Three years later, Spain's capital city of Antigua, for all of the Middle Americas for 230 years, was relocated to what was called New Guatemala (now Guatemala City), and started to be called Santiago de Los Caballeros, "Antigua Guatemala" (Old Guatemala).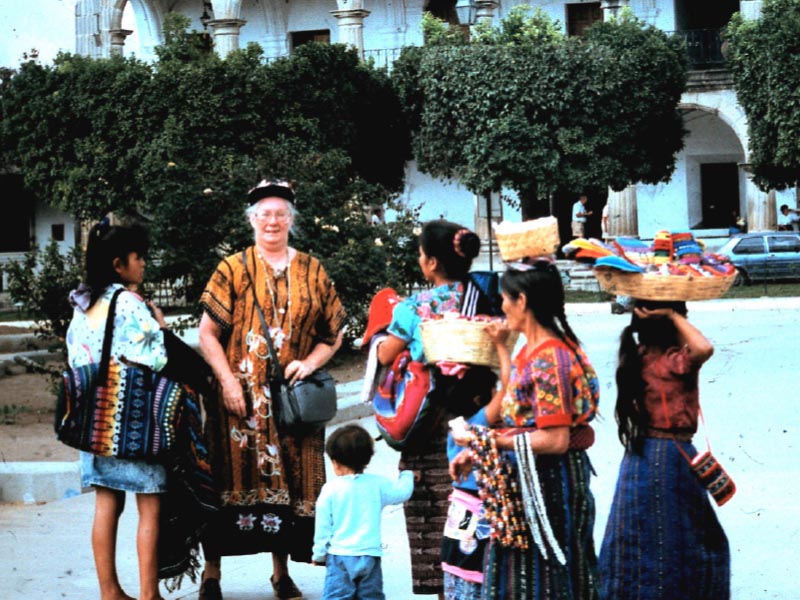 We enjoyed a walking tour, with a well-informed guide, of this former Spanish colonial capital of the Captains General of Guatemala. On the edge of Antigua's central plaza, Lloyd and I visited the Palace of the Captains General, the earlier home of the Governor. With its jewels of Spanish renaissance and baroque architecture, this exceptional block-long building is one of America's supreme examples of Spanish colonial architecture.

This tour was a great way for us to appreciate Antigua's history, architectural monuments and museums. While strolling through the narrow and charming streets, we were rewarded a close-up look at the magnificence of the remarkable ruins, and fabulously restored colonial buildings.
We noticed wildflowers flourishing in cracks, that were opened by earthquake tremors, in the massive walls of convents and churches. We saw iron-grated windows covered with trumpet vines, and pastel-colored houses and private residences, that displayed fortress-like entrances with brass lions, suns, grinning masks, and elaborate door knockers.

We visited a lovely old home, full of beautiful antiques, that was built around a courtyard. The houses of Antigua are concealed behind towering walls, in the Spanish style, with random glimpses through an open door, of the beautiful courtyards inside.

We admired La Merced, with its magnificent façade, the best preserved of Antigua's churches, and the highpoint of Antigua's baroque architecture. We also saw the Cathedral and Fountain of the Sirens. We enjoyed listening to the old bells of Antigua, resounding from belfries from about sixty damaged churches. They ring in either feeble, or deep and thunderous sounds, along the tranquil cobblestone streets. The churches, monasteries, convents and museums were interesting, especially the underground tunnels; and the stories of the spartan way of life of the nuns at Las Capuchinas, whose Cathedral has 18 circular living quarters.

Processions on Good Friday in Antigua are second only to those in Seville, Spain. The festive religious observances during Holy Week highlight weighty floats, intricate carpets (created from dyed sawdust, flower petals, pine needles and fruits), along its route. Church altars are decorated with by flowers, seasonal fruits and caged birds. We heard that it is traditional to let three inmates of Antigua's jail go loose on Good Friday.

Lloyd and I enjoyed an excellent luncheon at the Casa Santo Domingo, cloistered behind walls. The 350-year-old Casa Santo Domingo is a monastery, turned into the esteemed five-star Hotel Casa Santo Domingo, and is Guatemala's premium historic hotel. We strolled through hallways, with dense walls, lined with dripping candles and saw abundant statues. Within this Dominican monastery, its Archaeological and Colonial Museum showed us lovely early religious art and ceramic artifacts.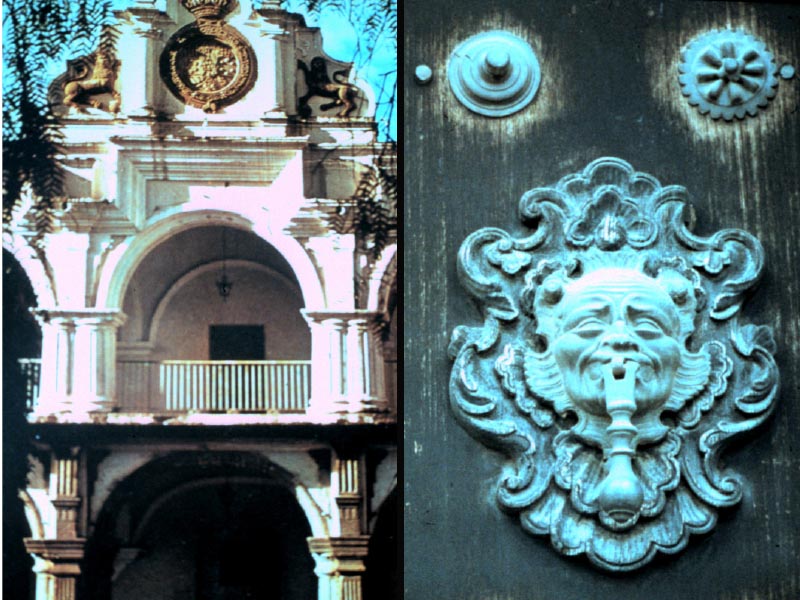 Many museums are housed in historic buildings. The Colonial Art Museum is within the original 1675 colonial building that initially housed San Carlos University and is the third oldest in the Americas. Some 30 language schools, Antigua's significant cottage industry, attracts college students and retirees. Located in a green, volcano-rimmed valley with ideal weather, and a low cost of living and widely spoken English, has made Antigua the San Miguel de Allende of Guatemala (which I will write about in another article), appealing to artistically motivated expatriates.

At 4,600 feet altitude, Antigua is a much-loved holiday destination, with comfortably warm days, although nights are cool enough for sweaters. Mountain scenery, intermingled with thick jungle, flourishes right up to the wayside in many places. There are wild cocoa (chocolate) plants, wild cardamom (spice), and trees full of oropendola nests (a jungle bird that builds pear-shaped nests hanging from woven cords, affording safety from predators).

We visited the largest jade-working factory in Central America, the Jade S.A. Factory. In a 17th century colonial house (highlighted in National Geographic Magazine, September 1987), we saw its showroom, with Maya jade jewelry replicas. Stunning black, green, and white raw jade is mined from an antiquated Maya mine, that Maya Indians toiled in over 800 years ago, who carved outstanding Maya-style jewelry. Revived in 1593, this quarry, unoccupied since the Spanish Conquest, affords craftsmen with some of the best jade obtainable today, together with the rare and cherished black jade, a veritable gem class stone of opulent splendor and enduring esteem.

Jade typifies two comparable, but separate gems: jadeite and nephrite. The jade in Guatemala is jadeite, harder and thicker, with a richer, more resplendent span of colors. Jadeite's larger rarity makes it the most treasured personification of jade. The earliest Maya desired this stone more than anything else, fashioning it into valuables of irreplaceable artistic ability.
Most street vendors are vibrantly dressed Indian women, the descendants of the Maya. The best purchases are multicolored, and elaborately embroidered hand weavings and woven materials, ornately carved dance masks, and wooden flutes. We saw the vendors on street corners or balancing their handiwork on their heads.

We saw unpretentious foot-looms, where multi-colored textiles are woven. Antigua's famous hand-woven textiles and clothing, with eye-catching designs and spectacular colors, are much in demand. We watched the handcrafting of impeccable embroidered textiles, and meticulous sculptured carved masks and figurines, each one being exclusive and indigenous to where it was made. The textiles of Guatemala have over 325 distinct varieties of style, design and color, each one having their own historical magnitude.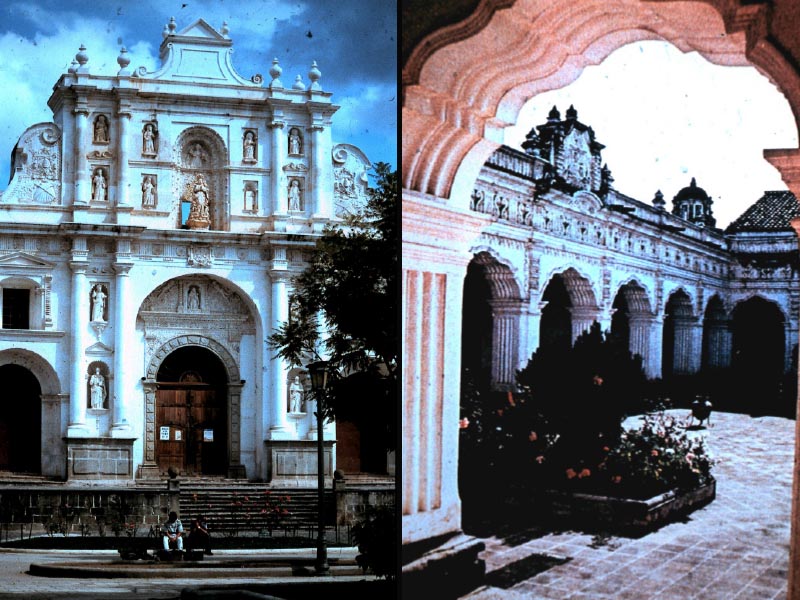 Before the Europeans arrived in the New World, Indians worked only in cotton. The Spaniards conveyed sheep with them, and the Indians now weave blankets, rugs, and garments of wool. Guatemalan naturals, as the Indians call themselves, are exceptional in the weaving of textiles. Also, Spanish tile-makers brought their multi-colored art to Antigua, and we delighted in these lovely tiles, that covered walls, fountains, and benches. In the marketplace, we saw gigantic vegetables, that were grown in the rich volcanic soil.

Antigua was acknowledged by UNESCO to be a "Historical Monument of the Americas," and was placed on the "World Cultural Heritage" list in 1975, for being one of the best-preserved colonial cities in all of Latin America, and because of its prominence and conservation as a city characteristic of colonial times, with its exceptional Spanish colonial buildings from the 16th century.

Antigua, snuggled in an immense Guatemalan mountain valley, at the foot of three volcanoes, is a center for ancient and modern Maya civilization. Lloyd and I relived the impressiveness of Maya culture and the colonial age during our stay. We admired the artistic squares of this town, and the architectural magnificence of its well-preserved homes, churches, and monasteries.
Antigua, the treasured city of Central America, is a town of cobblestoned streets, with the Spanish ruins of the conquistadores. We admired the buildings, that were covered with colorful bougainvillea lustrously flowing over crumbled walls, in old courtyards, and meandering throughout Antigua.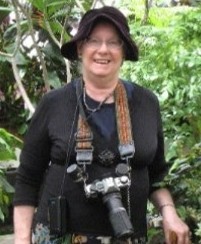 We found Antigua to be a living museum of sumptuously decorated Spanish colonial baroque architecture of the 16th century. Antigua is preserved since its prime, keeping its discerning historic uniqueness, even with centuries of destruction from earthquakes and volcanic eruptions. We enjoyed exploring its superb architecture, in one of the most stunning cities in the Americas.
Find your latest news here at the Hemet & San Jacinto Chronicle
Search: Capital of Antigua