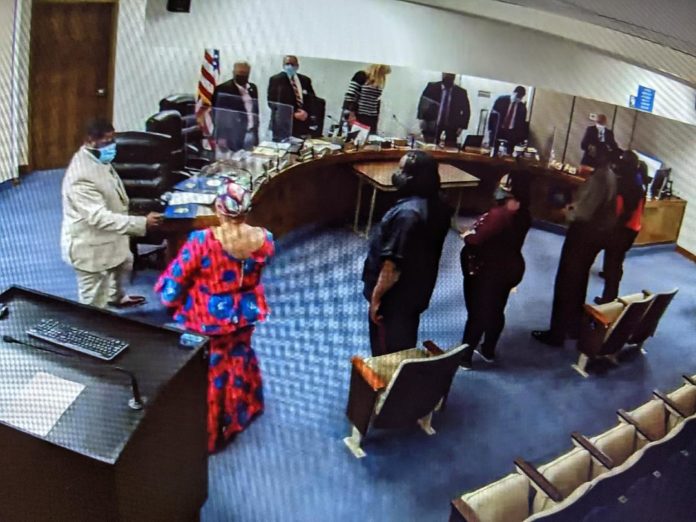 On Tuesday, February 23, City Council convened, minus one council member. Linda Krupa was excused, but there were enough council members present to meet a quorum. There were many items on the agenda. Although it was originally planned, the vote on Measure U appointees was delayed due to Ms. Krupa's absence.
There are a number of people interested in participating in the oversight of Measure U funds. It's heartwarming to see the interest of Hemet citizens and their desire to serve. That's how things get done! There is a closed session just prior to the public meeting. The closed session involves sensitive legal issues and for the most part, are not available for public review until the matters are resolved. There was one item of interest that we have reported on previously.
You may recall that during the 2020 election, there was a particularly contentious race for Council District 4, the Seven Hills area of Hemet. Ken Graff's candidate, Miguel "Mike" Madrid was out-voted by Mayor Pro Tem Joe Males. According to court documents filed on behalf of Madrid, Males wasn't living in District 4 when he filed his papers and he also filed outside the time limit. The city of Hemet posted an announcement on its website, stating the city was giving some additional time to file and Males took that opportunity. He was able to verify his residency despite allegations made by Graff. You will note the attorney arguing on behalf of Graff and Madrid is Patricia Madrid! This has been an ongoing dispute on the part of Graff and it's anyone's guess as to why. This lawsuit is a waste of city time and resources. Mayor Pro Tem Males has stepped confidently into his new role and it appears he will be a productive council member.
The court is not disposed to revisiting this now stale event. If Hemet is to move forward, all former candidates must also move on, for the good of the city. As City Council meetings are a matter of public record, anyone wishing to do so, can make comments, with a 3-minute limit. Anyone sitting in the council chambers can hear comments. There are no secrets. There were several comments addressing items not on the agenda. Roy McDaniels spoke passionately on behalf of the Diamond Kings Baseball Team. McDaniels, a Hemet resident, is head coach of the Diamond Kings.
According to the team's Facebook page, McDaniels has an impressive resume, including being a retired Marine, MCMAP black belt martial arts instructor, minor league/college baseball background and a BA/MBA in business administration. He is a middle school teacher. You know the Diamond Kings have to be successful with that kind of leadership. He spoke of developing the team and working with the city to correct some issues resulting from past poor management. Hemet parent Ken Prado shared with the council the problems being encountered with Hemet Unified School District and the fact that the ACLU has joined in a fight to protect the rights of parents. In addition to being in violation of what's known as the Brown Act, HUSD has defamed some of the parents who are acting on behalf of their children. The Brown Act requires local government business to be conducted at open and public meetings, except in certain limited situations.
According to Prado, "If the ACLU is involved, then there has to be something going on (or not going on) that requires legal remedy." Prado has been active in many areas of city affairs and Mayor Meyer thanked him for his bold efforts. Food truck owner, Matt Gordon, expressed his frustration with the city for lagging in issuing him the necessary permit to conduct his business (grilled cheese sandwiches!). He can be found Saturdays at the Hemet Farmer's Market. Gordon has all the necessary permits for the entire county of Riverside but as has been the case for years, Hemet is dragging its feet on issuing a permit. Why is that? Over the years, there have been multiple complaints by entrepreneurs about the lengthy wait time when it comes to permitting. Are employees simply dragging their feet or is this a management issue? Gordon will be doing a monthly giveaway at Valley Restart.
Food trucks are a favorite in Hemet. As promised, when she was running for the office of City Treasurer, Sue Savage gave an impassioned report on the state of the city treasury. She stated that she felt the city council did not allow her to make an appropriate report previously and wanted to go on record in that regard. She is looking forward to working with the council in the future. From Savage's previous reports, the city treasury is in good shape. Pat Gregory expressed her frustration and disillusion with the city as she has been unable to obtain explanations of discrepancies in Measure U money. It is significant that there are so many candidates for the Measure U Oversight Commission. Perhaps we will see more transparency with new commissioners. Fireworks! There appears to be some confusion on the part of those who are illegally shooting off fireworks.
The city is attempting to double down on these activities by imposing fines and making it very clear that continued use of illegal fireworks will not be tolerated. Most of the problems take place around July 4. In some cities, the property owner where illegal fireworks are shot off are being penalized for the activities.
There was one public comment addressing fireworks. The council unanimously voted to pass a motion clarifying the penalties. Retired police officer and councilman Russ Brown stated that holding property owners responsible is one way of addressing the problem and he supports it (even if it is a renter that is creating the problem). A resolution will be read at the next council meeting and voted on at that time. Finance Director Lorena Rocha made a public request for an adjustment to the budget (Draft Community Development Grant-Coronavirus). This draft was titled "Substantial Amendment to 2020-25 Consolidated Plan and 2020/21 Annual Action Plan." This is a multi-faceted plan to address public safety, homelessness and generally, underserved residents in the community. Councilmember Brown commented on the fact residents will benefit greatly from the passing of this Community Development Block Grant. Councilman Lilienthal further commented on the need for additional grants.
In previous council meetings, there has been discussion on hiring a grant writer for the purpose of acquiring additional funds. Having gone through the budget (which can be viewed at the city website in the agenda), it is a welcome sight to see underserved residents having some of their needs met. Mayor Pro Tem Males commented affirmatively on the CBDG monies available. This appears to be a council that is dedicated to quality-of-life improvement for the betterment of underserved residents. A vote was taken by all present council members, passing unanimously.
One of the more tedious presentations involved a General Plan Amendment (involving the Page Ranch Specific Plan Amendment, Rancho Diamonte Phase II). Councilman Brown had a concern regarding traffic on Warren Road (part of the plan). Altering the Warren through the way may affect current traffic trends. There have been proposals in the past that would have affected Warren Road, many of which have never been seen completed. Nothing in the presentation made appeared to address traffic concerns. The city clerk read the ordinance into the public record. All voted yes on this.
A moment of congratulations came when Councilman Malcolm Lilienthal made a special presentation on behalf of Black History Month. Prior council minutes and treasurer reports were approved. There were a number of other items to be discussed; it was close to eleven before the meeting ended. Some of the other items not reported on here will be followed up on.
Ann Smith • Contributor
Find your latest news here at the Hemet & San Jacinto Chronicle