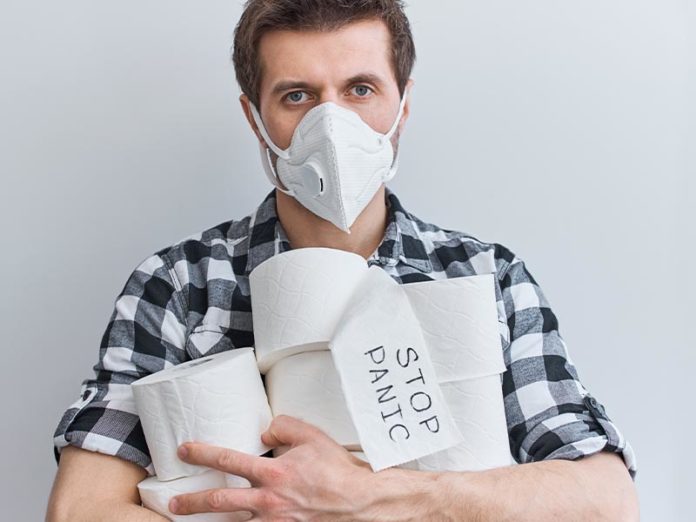 (Coping with a Pandemic)
A Different Point of View
I have a neighbor whose toilet paper stack is so huge that it is visible from the Space Station. He is one of the first people to start hoarding toilet paper as this COVID-19 pandemic started. Why he needs so much toilet paper? I don't know and neither does he, but it was the first instinctive thing that he did to feel comfortable about life in these turbulent times.
I also read about two brothers who started collecting hand sanitizer and cleared all the stores that they could. Now they are sitting on close to 17,000 bottles of hand sanitizer and they are trying to sell it at $70 or more per bottle. Whether it turns out to be their lottery ticket or they end up losing money, we don't know yet. As long as there are enough swap meets, they'll win.
We all know that hand sanitizer is not the best defense against viruses. The alcohol content has to be high for it to work correctly, which makes me wonder as to why there's no rush on buying booze from the stores. Why not go to the strongest alcohol content there is, in relatively pure form, and use that to clean hands?! I still have no clue as to why people are hoarding so much toilet paper. Maybe they are just that much full of the s-word. I know my neighbor is, because he is not keen on sharing his collection.
I may be the only person in America who did not want to panic about this COVID-19. I mean, I didn't expect stores to run out of food and other supplies. I didn't expect any of the suppliers to stop supplying what we ordinarily buy. I also did not expect for people to go into such a panic that they would start clearing out shelves of toilet paper and hand sanitizer. Now I have no choice but to panic. I can't find toilet paper anywhere. I have looked far and wide. I am extremely low on my own supply and my neighbor is not inclined to share his with anyone.
(Coping with a Pandemic)
I believe our President and expect this pandemic to magically disappear, come April when the hot weather really kicks in. Although, the way we are getting so much rain these days and the way temperatures seem to be so winter-like, that magic moment may have moved further down the calendar. Nevertheless, I have to keep my faith in our President. I have to believe that God would step in and stop the virus very soon. I am praying every day—all the time. I have already started hoarding the Silver Solution being offered by Televangelist Jim Bakker. I have ordered all the essential oils that I need. I may not even need toilet paper after rubbing all that oil, as recommended by a religious leader of a different sort. Look it up. 🙂
Once we get through this, once all the bars and restaurants reopen after the shutdown, once I can sit inside a Starbucks and use their free Wi-Fi to write my stories and once we clear out the debris of those businesses that couldn't survive the closedown, we'll all look back and thank our lucky stars that we've made it. We may not have the same service providers as we did before the guidelines came down from the powers that be, because they all got laid off, but we'll be okay. We'll be happy again, soon, I hope.
As far as my supply of the toilet paper being so low is concerned, I do have a glimmer of hope. I do have a plan as to how I am going to replenish my bathrooms before that critical moment when I am sitting there, looking around as to what to do.
I know that this very newspaper is generally provided throughout the community, and I have an idea as to where it is normally distributed. I am going to each and every drop point and collect as many copies as possible. I am going to have a stack so large that it will also be visible from the Space Station. I am going to recycle in a way that this newspaper has never been recycled before.
As God is my witness, I shall never be hungry…sorry, I got caught in the moment…what I meant to say is that we'll be okay. This is America, goddammit, and we, in America, shall never be out of toilet paper. That's what the principle of supply and demand is and that's what capitalism is all about even if we have to pay $100 for each roll.
Find your latest news here at the Hemet & San Jacinto Chronicle
Search: Coping with a Pandemic