(Game Of The Week)
Bulldogs are victorious in their last game of the season
Hemet High hosted Redlands High last Friday night. Redlands received the ball and scored on their first drive with a rushing touchdown from Adam Valencia (Senior Running Back), after that initial touchdown, it was a defensive ball game. Both teams took turns punting the ball and going for it on fourth down — a back and forth defensive game to its core. At the end of the first half, Hemet made it down the field and within 15 yards of a touchdown. With time running down, Coach Gregovich decided to trust their Senior Kicker Asaiah Aguliar to kick a field goal and give them some points going into the half.
The Bulldogs offensive line couldn't maintain their blocks and let Redlands through leading to Asaiah's kick being blocked as time ran out. The score going into the half was 0-7 Hemet needed to make adjustments. Specifically, they needed their Quarterback to start making plays. It was Homecoming week for the Bulldogs; there was a cool Beauty and the Beast Display and a beautiful firework performance when they announced who the Homecoming Queen was. When the show was over, it was time to get back to football. Jeremiah Graves came out of the half, ready to play football. He started to make solid throws to his receivers and extend plays by scrambling out of the pocket. He seemed to live up to what his coaching staff knows he is capable of.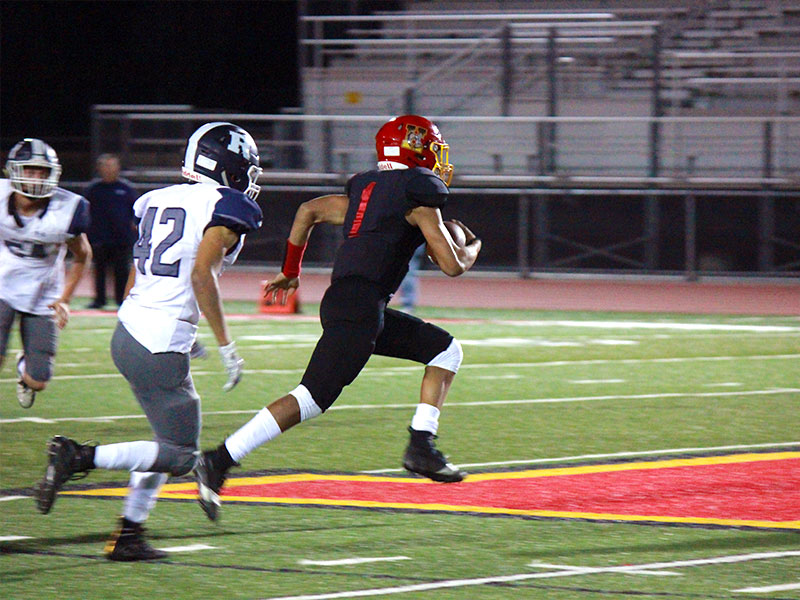 The stands were full of Spectators that included; Faculty, Parents/Grandparents, Students, Alumni, and a few visitors from rival teams. The San Jacinto Tigers coaching staff was at the game. Since it was their bye-week, they saw it as a good opportunity to scout out the Bulldogs before the Battle of the Bell. A bunch of San Jacinto's football players were also in the stands, and they made their presence known by chanting, "SJ" when the game was going on — definitely adding fuel to the fire for when they make the trip down to Hemet later this season. West Valley was also at the game, a few players and coaches in the stands. They didn't travel quite as deep as SJ.
Jeremiah Graves ran for a touchdown in the 3rd quarter, this time the snap was bad and the holder wasn't able to get it in position, Asaiah Aguilar called the kick-off and told the holder to go, he scrambled out of to the far side of the field and fought until he crossed the end zone line. The 2-point conversion was a success. In the Fourth Quarter, Jeremiah Graves ran for another touchdown, this time the kick was good. Hemet's defense came up in a big way this game, containing the Redlands offense and even securing a Safety. The game would finish 17-7 With Hemet celebrating a Home victory on Homecoming.
Find your latest news here at the Hemet & San Jacinto Chronicle
Search: Game Of The Week