(Inter-Tribal POW WOW)
The Soboba Band of Luiseño Indians hosted its 23rd annual Payomkawichum (People of the West) Inter-Tribal Pow Wow on Saturday. What was different this year was that it was a one-day-only event rather than three days as in the past. It was also held at The Oaks instead of the outdoor arena near Soboba's original casino.
The changes did not deter the dancers, drummers and singers from sharing their talent with spectators that were seated in the bleachers overlooking the football field. Vendors set up canopies around the perimeter of the field and offered food, jewelry, clothing and information on resources available to local Native Americans.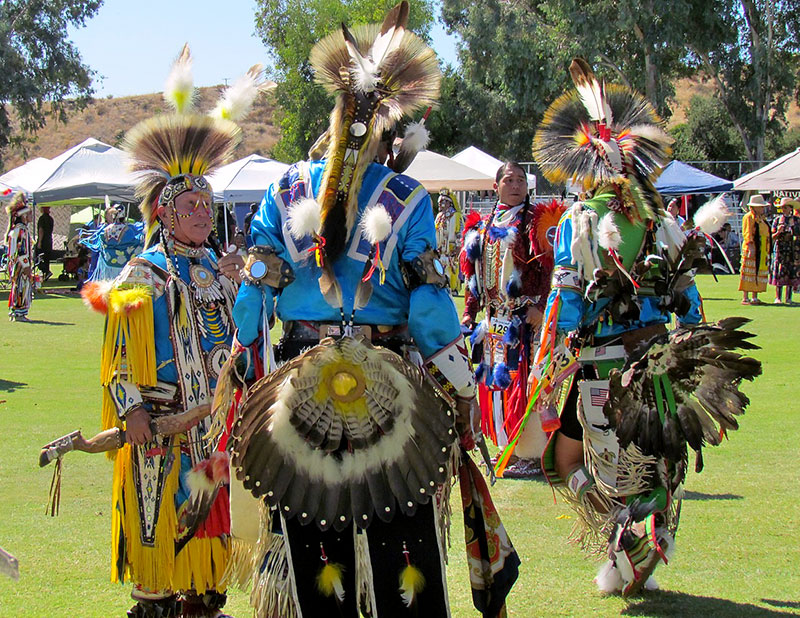 Emcee Tom Phillips opened the event that included 30 categories of dance contests that ranged from Juniors (age 7 to 12) through Golden (55+). Having hosted pow wows for about 50 years, he said he loves being with the people and having them educated to Native American culture and protocols. He said the biggest change with the shortened event was to make sure the timing of things was on point.
"We have good arena directors and our judges and singers know we're on a time schedule, so they keep things moving," said Phillips, of Manteca. "The (Soboba Pow wow) committee is very involved and we appreciate that they are always there to help and give us encouragement. That's one of the strengths of a good pow wow – and a good sound system, which they also have here."
Pamela James has been on the committee for more than 10 years. She also participates as a Jingle dancer. She said combining a three-day event into one and changing locations did have some logistical challenges.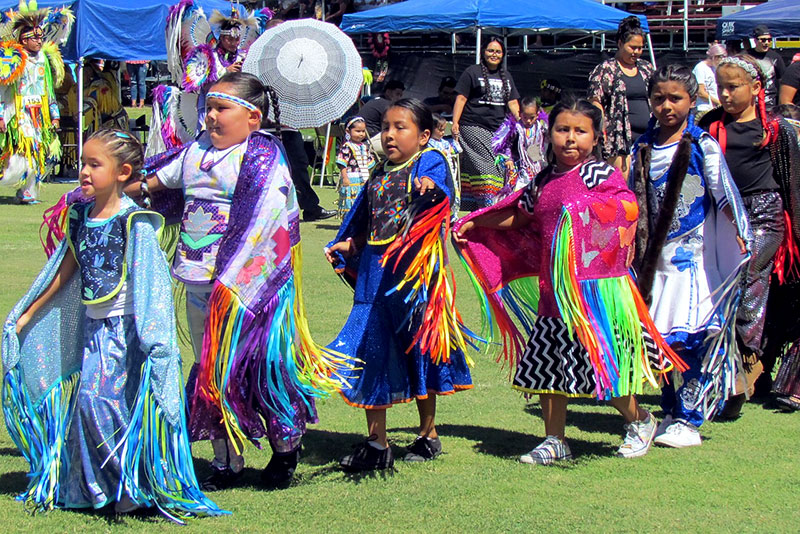 "But the most important thing is to make dancers feel welcome; they are our best marketing agents when they leave here – if they were treated well, they will let others know," said James, of Moreno Valley.
She said the football field at The Oaks was good for the dancers, who prefer grass.
"It's not always about the prize money – some dancers and singers just come because they enjoy it," James said. "And some like attending one-day events because they are more relaxed and intimate. It's a good time to visit and be with each other."
Participants came from several western states, Canada and Soboba, of course.
Ten-year-old Kimani Sanchez entered the Fancy Shawl category for the third year. The Soboba tribal member attends about three or four pow wows per season.
"I really like to dance and I like my regalia," said Kimani, of Hemet. The regalia she designed depicts Monarch butterflies and poppies. She has family from Chile in the south to Oregon in the north, which follows the migratory route of Monarchs. Her name means butterfly in the Shoshone language and princess and diamond in other languages. The poppies represent her California family as it is the state's native flower.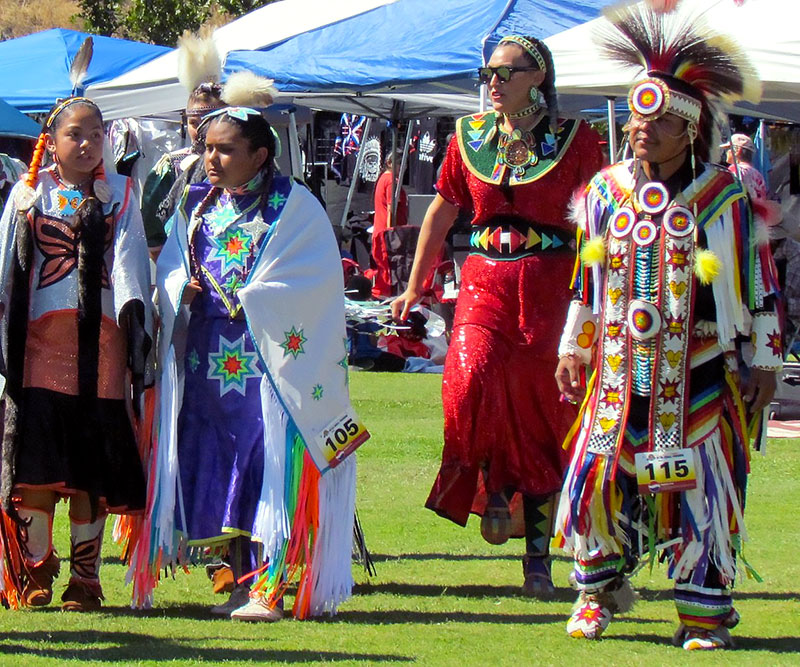 Kimani is one of Tekla Diaz's dance students, several that participated in Saturday's pow wow. Diaz teaches Fancy Shawl as part of a Soboba Tribal TANF afterschool program.
Grass Dancer Peter Joe Olney and his wife, Fancy Shawl Dancer Audrey, traveled from Yakima, Washington to compete in the event they have attended a few times. He said they have both been dancing for about 50 years and attend about 125 pow wows per year.
"We really like the atmosphere and the warmer weather here," said Olney. "Some of the best dancers in Indian Country come here to dance."
Before the first Grand Entry at 1 p.m., a Children's Powwow (Tiny Tots) was held to give all the young ones a chance to experience dancing with the group. Soboba Elders had prepared backpacks filled with goodies to present to them after they had danced and completed the circle.
Marian Chacon said about 60 bags were filled at a recent Elders meeting with candy, popcorn, games, drinks, coloring books and other items.
"We just want the children to know we appreciate them," said Chacon, of Soboba. "It's important to recognize them for carrying on our traditions."
One of the drum groups that competed at the 23rd annual Soboba Inter-Tribal Pow Wow on Sept. 21, held at The Oaks on the Soboba Band of Luiseño Indians Reservation.

The Soboba Elders prepared and presented goodie backpacks to children who had participated in the Children's Powwow that opened the 23rd annual Soboba Inter-Tribal Pow Wow on Sept. 21.
Find your latest news here at the Hemet & San Jacinto Chronicle
Search: Inter-Tribal POW WOW