(Knocking for Bernie)
Feeling the "Bern" in the cold, Bernie Sanders supporters go door-to-door to rally support
On Sunday, January 26, members of the community in support of presidential candidate, Bernie Sanders, gathered at the Democrats of Hemet San Jacinto at 530 ½ E. Florida Ave., Hemet, as part of their campaigning efforts to mobilize Sanders voters.
Volunteers from all walks of life, who'd like to see Bernie Sanders as the next President of the United States, were gathered Sunday for a canvasing event called "Knock for Bernie."
Vanessa Castro Scott, a public elementary school teacher of 17 years, was present with like-minded supporters as she dispensed Bernie posters, voter registration forms, vote-by-mail forms, literature, scripts, and other Sanders paraphernalia to help inform potential voters in the area.
"We are knocking on doors of those registered as Democrat or no-party preference, and we're asking if they've made a choice in who they're going to be voting for in the California primary, March 3rd. If they're not registered to vote, we register them; and if they're not registered as Democrat, we try to register them as such in hopes they will consider voting for Sanders," says Castro.
Participants don't just go randomly knocking on doors, they are using technology via an app to hone in on potential support, explains Castro: "We use PDI, an app that informs campaigners through a survey-that is where we keep track of whether or not they are leaning towards Sanders, if they are planning on voting, and if they'd be willing to request a Democratic ballot," said Castro.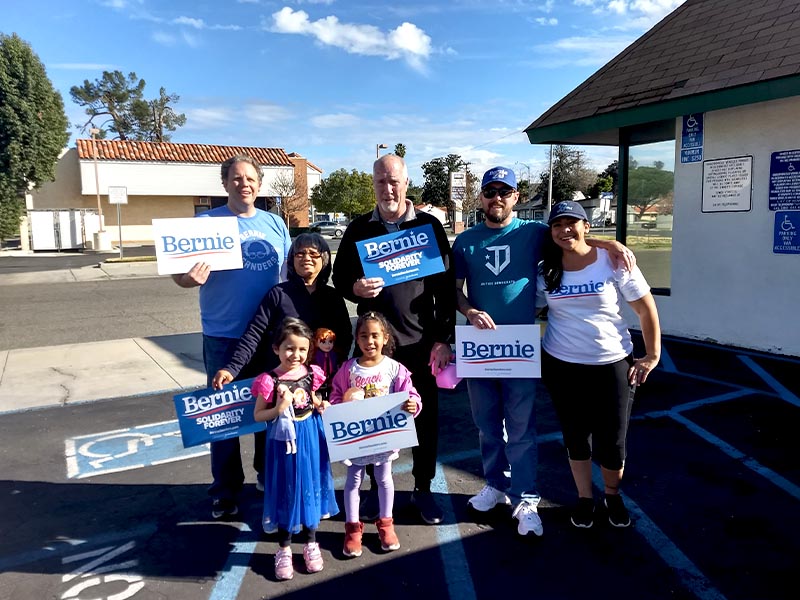 Each Sunday, participants meet up and fulfill two shifts: the first stretch from 10am to 1pm and the second shift from 2 to 5pm.
Today, Castro and her husband knocked on 43 doors during their first shift and canvassed approximately the same amount during the second shift – another couple managed 55 doors.
"We go out and volunteer our time. We don't get paid for this and we talk to registered voters," says the elementary school teacher, adding, "Bernie is the candidate; he's the only candidate with a comprehensive, equitable plan for public education called the Thurgood Marshall Plan, and so he has my support for that 100%."
Castro first got involved with campaigning for Sanders through the local club, "Feel the Bern Democrats of Riverside County," here in Hemet, and continues to do so, tirelessly. Her love for teaching, the climate, and higher education harmonizes well with the political policies that Sanders proposes, and believes it is imperative for young people to get involved.
Castro encourages those interested in campaigning to visit berniesanders.com, click on "Events" and enter zip code for a list of events from phone banking to crowd canvasing and knocking on doors.
Find your latest news here at the Hemet & San Jacinto Chronicle
Search: Knocking for Bernie