CalRTA Division 33 selects $100 grant winners
Three local area teachers beat the odds when they were randomly selected from over 100 applicants to receive CalRTA Division 33's $100 Teacher Grants for February. It was an especially sweet Valentine's Day gift in this stressful time of instructional challenges for our nation's educators.
Paul Kobayashi of Dartmouth Middle School in Hemet, Ofelia Cordero-Chemidlin of Southshore Elementary School in Menifee, and Rachel Maryanski from San Jacinto High School in San Jacinto have each received $100 to help them meet their classroom needs, even in this time of virtual instruction. Kobayashi, an English teacher, plans to use the money to build his class library. "I have some books, but I really need to up my variety of books that kids can read so I want to focus on non-fiction, fiction, anime books, and other genres," Kobayashi said. Elementary school teacher Ofelia Cordero-Chemidlin heard about CalRTA's teacher grant program from her principal. "I was motivated to apply because of the amount of extra work we're doing for distance learning and thought it would be helpful to get some fun resources for my class," Cordero-Chemidlin explained. "I plan on getting a Spelling City subscription to help my students with their spelling during distance learning. I also want to purchase online math and word games to make our small group time more engaging," she added. San Jacinto High School agriculture teacher and FFA advisor Rachel Maryanski plans to use her $100 check to "purchase and send home interactive lessons for my students."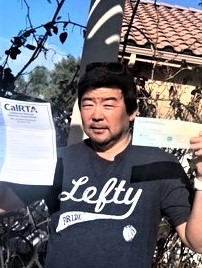 Holding true to the California Retired Teachers Association's mission to "protect and advocate for retired and active educators' pensions and other retirement benefits, and to support public education in our communities," Division 33, which represents the Hemet/San Jacinto Valley and surrounding communities, selects three $100 Teacher Grant recipients at each of their five memberships meetings during the year, in addition to awarding six $1000 scholarships each June to graduating seniors in the Hemet and San Jacinto school districts. Vice President Sue Breyer said that applications for their next drawing in April will open March 13.
For more information, go to https://div33.calrta.org/scholarships-and-grants/ or follow Division 33 on Facebook at https://www.facebook.com/groups/calrtadivision33.
Sue Breyer • Contributor
Find your latest news here at the Hemet & San Jacinto Chronicle