(Mabel Ringling Museum of Art)
My husband Lloyd and I are in St. Petersburg, to start our ten-day escorted motor-coach tour around Florida. Twenty-eight of us are from England, two from Malta, two from Israel, one from Australia, and seven of us are from the United States. A favorite retirement area since the 1880s, the American Medical Association Journal declared St. Petersburg to be an exceptionally healthy place to live.
We went past the Don Cesar Beach Resort, built-in 1926 for one million dollars, with $1,000-a-night Penthouses. Next, we crossed Tampa Bay and continued to Sarasota, the hometown of the famous circus master, John Ringling.
Sarasota, an ideal resort since the early part of the 20th century on Florida's west coast, has been on Sarasota Bay since the 1700s. Scottish settlers in the 1880s increased the population. It was interesting to learn that Sarasota is the "Birthplace of American Golf," wheregolf was introduced to Florida from Scotland in 1885, and the first course was installed in 1886. The name of golf came from G.O.L.F., which originally stood for "Gentlemen Only, Ladies Forbidden."
We found the drive to Sarasota lovely, with wide boulevards, causeways sprinkled with attractive sailboats, and flowers all over. The offshore islands have 35 miles of beaches along the clear waters of theGulf of Mexico. Sun, sand and surf have branded Florida the same as the word vacation, and numerous companies find the Florida climate advantageous for business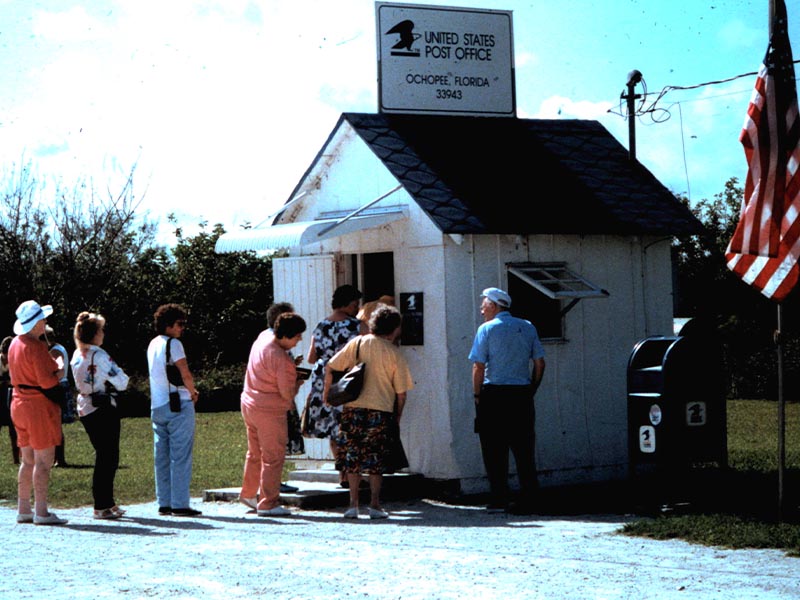 Florida is the hometown of the renowned circus master, John Ringling. In 1912, while traveling along Florida's west coast, he fell in love with Sarasota, which had installed electricity and a post office (the smallest post office in the world) the year earlier. Captivated by its beaches and sunny winter climate, Ringling felt the town had potential, and designated it as the permanent winter place for hisRingling Brothers and Barnum and Bailey Circus.
Lloyd and I visited the John and Mabel Ringling Museum of Art, recognized all over the world for its exceptional assemblage of 14th to 18th-century artworks, which was established in 1927by John Ringling for the inhabitants of Florida. The facility is an Italian-style villa that has marble, sculpture and decorative pieces, which are adorned with statues. The area is strewn with banyan trees and Cuban laurels, along with flower gardens, sitting areas, and a delightful view of Sarasota Bay. The museum was constructed in the Italian Renaissance style and had an inner garden courtyard that has reproductions of many world-famous sculptures and is dominated by a bronze cast ofMichelangelo's "David."
John Ringling made a fortune through real estate transactions, railroads, and the circus that he shared with his brothers. They accumulated an art collection of more than 1,000 paintings, including masterpieces from the 14th to 19th centuries, representing the Western European cultures, and highlighting the baroque period. From 1924 to 1931, Ringling and his wife gathered notable works by foremost artists who worked predominantly from 1500 to around 1750. The Old Master collection is the most significant area of the museum's assets, and the Italian paintings are among the rarest and most eminent in the country.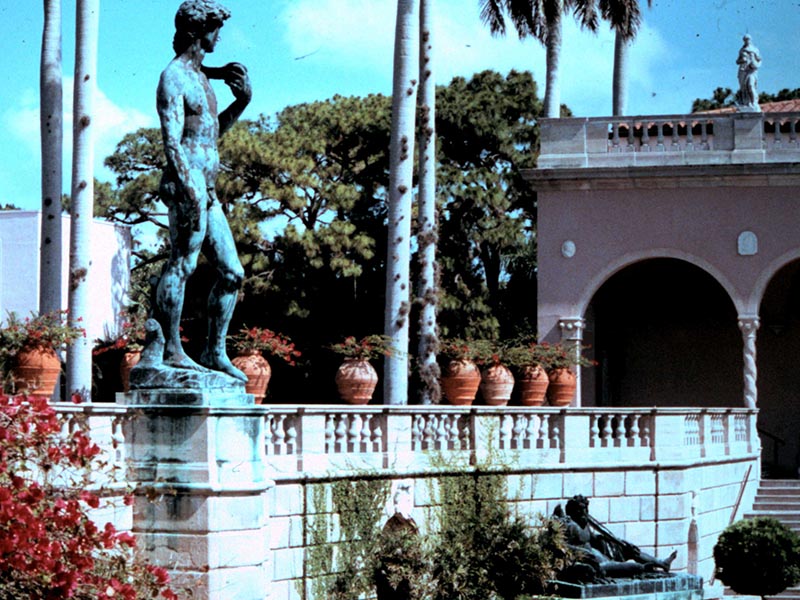 The museum also has an assemblage of 17th-century Italian paintings, an extensive Peter Paul Rubens collection (Lloyd put his glasses on, to see them better), modern creations, objects from Cyprus, and temporary exhibits. We saw almost 3,000 decorative art objects, which Ringling regarded as a significant aspect of his collection. After his death in 1936, the museum has sustained its founder's interest in the decorative arts, such as jewelry, glass, watches, silver, medals, furniture, textiles, ceramics, fans, and other ornamental objects of a primarily functional nature.
The art collections contain over 10,000 objects, sheltered in numerous buildings on the estate. There are close to 3,000 decorative art objects, decorative pieces imported from Italy, approximately 27tapestries, and abundant statues. The museum has been given 150 decorative fans, which are exceptionally noteworthy. In the centuries before technology, when we were more affluent in crafts, decorative hand-held fans conveyed relief to an overdressed, overheated civilization.
Shapes and fabrics were wide-ranging according to taste, obtainability, and the culture that fashioned them. In the 18th century, fans in the Western world were used indoors and outdoors, during the summer and the winter. They were used as memory assistance, for parlor games, for political propaganda, as masks, lorgnettes, cryptic communicators, and accessories in the oldest game, when dalliance was a significant preoccupation. Fans exhibited ambitions, standards, and beliefs of those who carried them, exposing temperaments, character and personalities.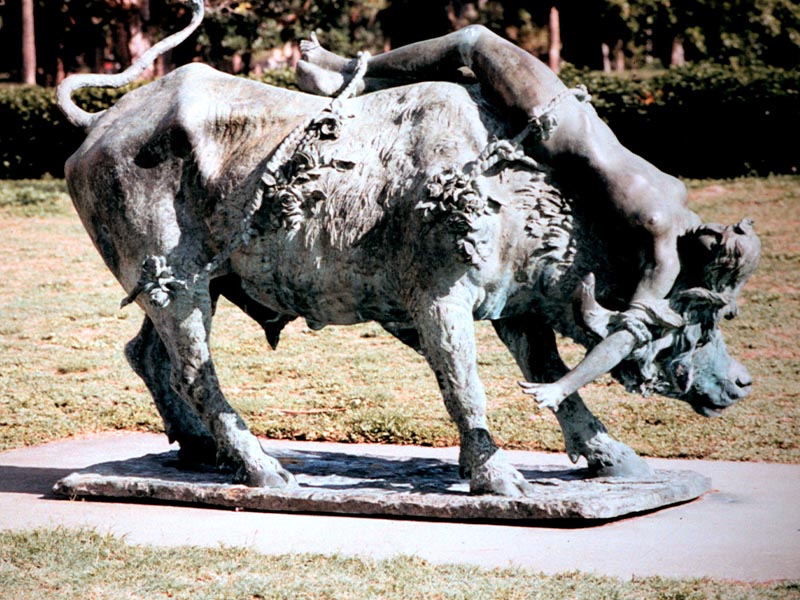 In the Courtyard of Sculptures, Lloyd and I saw numerous reproductions of world-famous gods, goddesses, and other mythological characters. The sculptures extend from up-to-date reproductions of ancient Greek and Roman, to Renaissance, Baroque, and 19th-century sculpture, crafted from bronze, marble, or stone.
Among the oldest and most legendary stories are those based on Greek and Roman myths, established over 2,000 years ago. Molded from Roman marble, in the first century A.D., the horse and chariotstatue was used as a throne in the Church of San Marco, Rome. Ceres, goddess of grains, sprinkled seeds over the earth, while driving her chariot through the skies. We also saw a statue that was cast from Roman marble in the 2nd and 3rd century B.C.
We saw two river gods bordering the reflecting pool in the courtyard. The River Tiber was alleged to have been named after King Tiberius, who drowned in its waters. About 250 miles long, the River Tiber is essential to trade in central Italy, through which it flows, headed to the Mediterranean Sea.
(Mabel Ringling Museum of Art)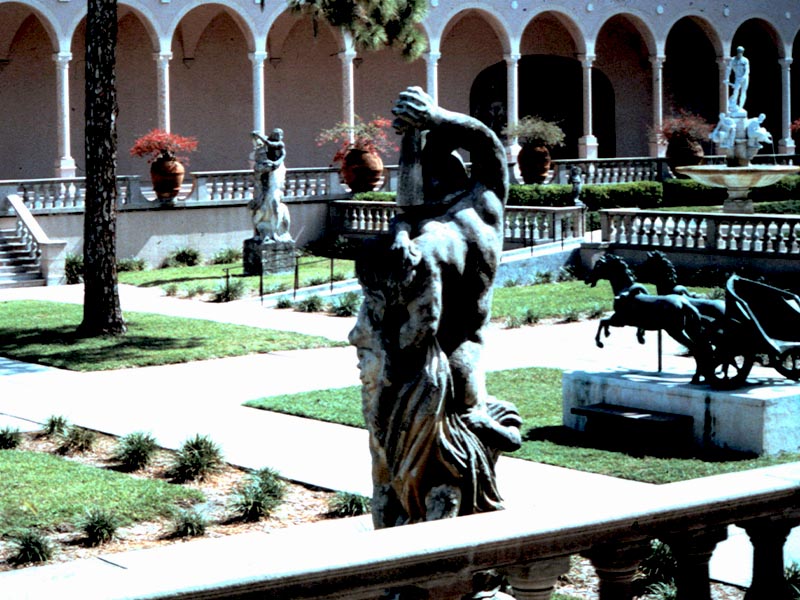 The bearded river god represents the fertility of the Nile Valley, where much of the world's wheat was cultivated. Each baby signifies one cubit, which is an ancient form of measurement, about eighteen inches. Multiply the number of babies by eighteen inches to get the amount the Nile overflowed each year before planting time!
Shortly after setting up, to house his staff members and circus animals, Ringling started to build Ca'd' Zan, a magnificent 30-room mansion, on 68 acres of Sarasota Bay property. He filled this residence, which was finished in1926 at nearly two-million dollars, with invaluable antiques that were accumulated on world tours. Amongst the last of the grand palaces, it was constructed by affluent North American entrepreneurs.
Lloyd and I visited his Ringling winter residence, the splendid Ca'd' Zan, which is the Venetian dialect for "House of John." We admired decorative features, from the Italian and French Renaissance, Baroque, Venetian Gothic, and modern architecture, beautifying this exquisite terra-cotta mansion, which reminded us of a Venetian palace. Marble, tapestries, and ornately carved and gilded furniture dominate the lovely interior. The dining room is paneled in walnut, in French Renaissance-style, with coffered ceiling and painted panels.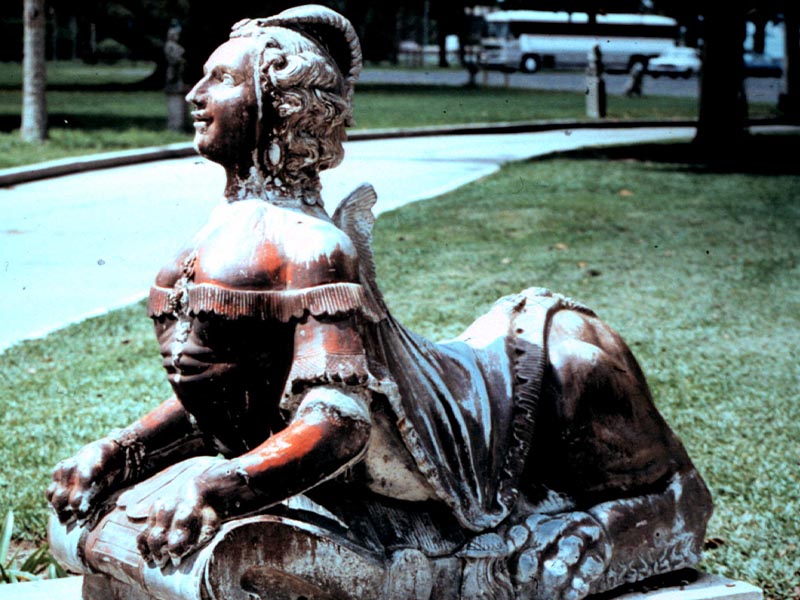 Completed around 1880, the eight-piece bedroom suite is in mahogany, and is in the French Empire style. Ca'd' Zan continues as Ringling left it, with marble floors, hand-wrought ironwork, solid-gold plumbing fixtures, and Venetian glass windows.
The prosperity that John Ringling received from the "Greatest Show on Earth," and real estate investments, was well spent on his art museum and early 1920's estate. He donated the entire estate and his collection, to the populace of the State of Florida, when he died in 1936. Ringling chose the town for his Ringling Brothers and Barnum and Bailey Circus, made it his home, and the circus is a fundamental segment of Sarasota's past.
Lloyd and I went to the Museum of the Circus, where we saw displays of gilded parade wagons, calliopes, costumes, photographs, posters, and a massive collection of circus memorabilia, including programs, artwork, old films, and an exhibit depicting life in a typical circus camp. We viewed the fantastic miniature circus in the Circus Galleries. Unfortunately, I couldn't find my slides (of which I have over 85,000) on this Museum of the Circus, so I have no photos of the Circus Galleries to accompany this article.
Ringling wielded a main impact on the evolution and progress of the city. His "Greatest Show on Earth" attracted not only performers from all over the world, but artists, musicians, and others who just wanted to relax by the sea.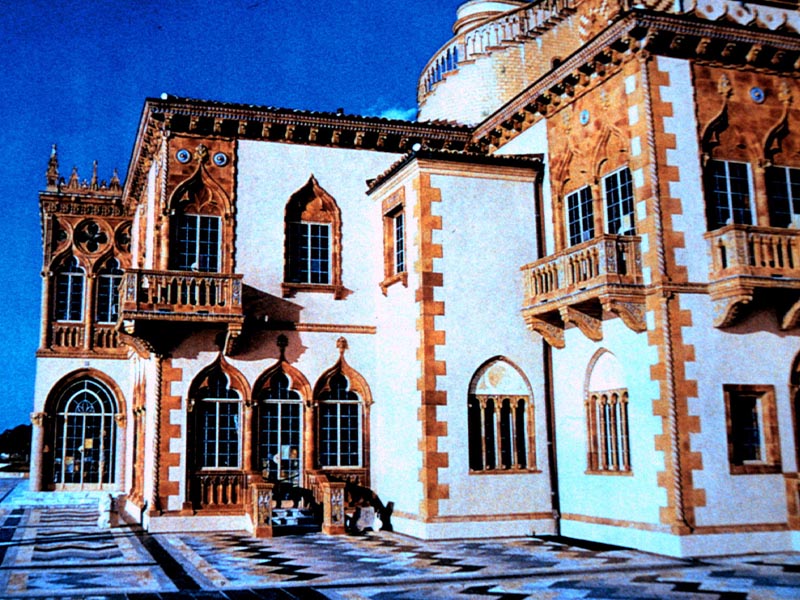 The Sarasota Jungle Gardens has trails that meander through a ten-acre tropical jungle of palms, flowering shrubs and extraordinary plants, along with the Flamingo Lagoon, jungle trails, reptile and bird shows. The Gardens of Christ present hand-carved dioramas, portraying the life of Jesus.
The Sarasota Classic Car Museum has antique and classic automobiles, along with some cars owned by John Ringling, and Stephen King's "Christine." On view also are band organs, calliopes, music boxes, and player pianos.
Sarasota, along with the offshore islands of Lido, Longboat, St. Armand, and Siesta Key, has become a fabulous resort area, and one of Florida's prime cultural centers. Departing Sarasota, we continued our enjoyable escorted tour throughout Florida. On the Atlantic side, barrier beaches enclose the historic Intracoastal Waterway, which Lloyd and I once sailed on for two weeks, from Florida up to Rhode Island.
Find your latest news here at the Hemet & San Jacinto Chronicle
Search: Mabel Ringling Museum of Art