(One final farewell)
Ramona Bowl holds a fitting tribute to Steve Covington
Scores of mourners met to memorialize the life and legacy of Steve Covington, owner of The Downtown Deli, and visionary who helped revitalize Harvard Street.
An amazing tribute was held at and presented by The Ramona Bowl. How the Bowl was able to put on such a presentation, complete with video, a half-dozen speakers (among them Michael Fishman, star of "The Conners" and a personal friend of Steve's) amazed all who attended the service.
As someone who was larger-than-life, those who knew Steve Covington knew that he would been proud of the stadium-sized screen that held his headshot, as speaker after speaker took the podium to reminisce and tell personal stories.
"We must continue to carry out his vision, and do the things that he (Steve Covington) was doing that blessed us all," said Pastor Troy Vanderwende, adding, "For you will carry on his legacy today. And that is the word from Steven to you…I believe he would want you to do that today."
The weather cooperated to give the mourners a somber, peaceful, and lastly, celebratory feeling to the memorial service, as Pastor Vanderwende welcomed the crowd which numbered in the hundreds. Pastor Venderwende noted the many renderings which Covington had offered as his vision to "make the town a more beautiful place."
Next Lori VanArsdale, past Ramona Bowl President and friend of Covington's took the podium and made a very personal speech about, "…a man so young, a man so creative, a man so enthused, not only about what he did, but most of all, what he helped us to visualize: the way things could be…what the Downtown could become, what the Ramona bowl can become. He helped us with those incredible things he drew. Each one of us would wait with bated breath to see what was coming next on any project that Steve was working on." VanArsdale noted that, while Covington had just joined the Ramona Bowl Board last year, he was so extremely excited about upcoming projects. "He went at this with such enthusiasm, he really, really cared as to how we went forward. We have been fortunate here at the Ramona Bowl to have some funds that have become available through an estate. And we have been able to plan some new things that haven't happened here since we began." Van Arsdale ended by saying, "Steve was a man with a vision, and he dared to share it," imploring listeners, "…to reach back and grab Steve's enthusiasm and take it forward. Take it forward for The Ramona Bowl, take it forward for the Downtown, and know that the best thing we can do for Steve's legacy is to make those renderings and those visions happen."
Mayor Russ Brown spoke of Covington's vision for the future and how, though he didn't know Covington personally, it was still an honor to address the celebrants, and to help celebrate Steve Covington's life. The mayor then spoke of Covington's excellent work at The Historic Hemet Theater and the restorative work done there. The Mayor then turned the podium over to Mayor Pro-Team Linda Krupa.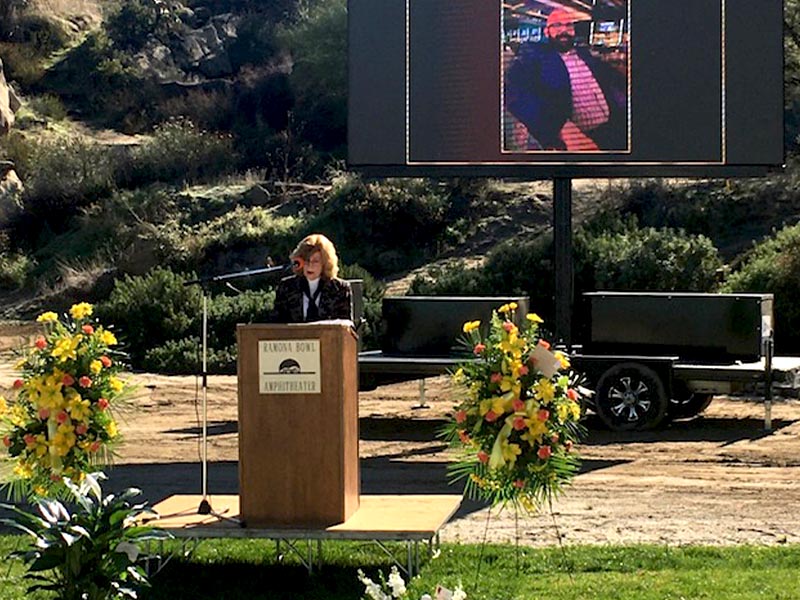 "There are many words to describe Steve: friend, husband, son, grandson…entrepreneur, community activist, volunteer: big-hearted, generous. Definitely generous," Krupa said. Krupa noted that Covington was, "…generous with his time, his energy, his creativity, his talent, his vision…for downtown." Krupa then went on to note how Covington was instrumental in helping to bring into reality the "Downtown Specific Plan" for the future of the downtown. Krupa ended her reminiscences with a simple but poignant, "Bless you Steve. You are missed and deeply loved by your city and by your community. Thank you so much for sharing yourself with all of us."
Former Mayor Bonnie Wright noted that, while this was…"a heart-breaking day for many, we must put those feelings aside while we celebrate the life of Steve Covington. Most know Steve as the owner of the Downtown Deli. However, he was much more than that. In his short life, he was anxious to share his passions and visions for making Hemet a better place to live. I know of no one who could have made things to come to fruition as quickly as he could. We are extremely grateful for his ability to get things done. He made the Downtown Deli a landmark on Harvard Street. There is no doubt that he has left his footprints in this valley. And now it's up to us to keep those prints moving. Thank you Steve for all you've done, and we'll make you proud."
A surprise speaker then took the podium: Michael Fishman, "DJ Conner" of "The Conners," was a friend of Covington's. Fishman spoke directly to Covington's mother, Diana Covington Hruska, and said simply, "You really know the impact you make on the world, when you watch your children and the impact they make on others….so you did a great job. I am forever grateful and thankful for getting to know Steve." Fishman recalled that Covington was a, "…big, vibrant, strong guy who came with a lot of energy, and at first you're a little thrown back. But he came with such passion. And I think we know that his passion is what fueled him and what affected all of us. And I hope that's what you leave here with: that his passion fueled him in many ways, like it has fueled me…" Fishman ended by saying, "…I only got to know Steve for a very short period of time, but he was profoundly impactful. May you take the joy that he brought you…and whatever pain you feel, and may you shower his family with the memories: not just today or in the coming weeks, but in the coming years. May you stop in and remind them that he was bigger than any one moment or any one act."
A very personal eulogy was given by Covington's close friends Emily Quest McDonough and TJ Hepburn. Hepburn reminded mourners that a proposal for a "Steve Covington Memorial Fountain," to be placed in the Ramona Bowl Courtyard, in Covington's honor, is currently in the works.   No formal board meeting to discuss and vote on this issue has been yet held, but those who would like to support or inquire about this project may do so by contacting the Bowl at http://ramonabowl.com or by calling 800 645-4465 or 951 658-3111
Find your latest news here at the Hemet & San Jacinto Chronicle
Search: One final farewell