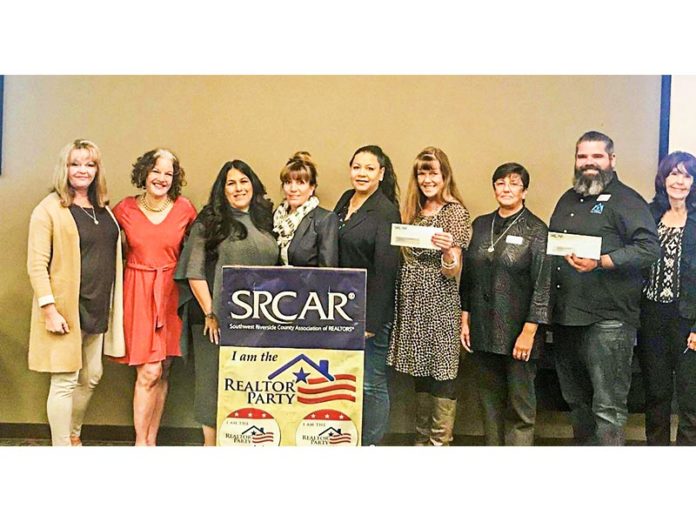 (Raised Over $32,000)
As a result of the September 20th Chili Cook Off, hosted by the Southwest Riverside County Association of REALTORS® at Promenade Temecula, the following local charities received checks for $6,084.08 each at the October 29th networking meeting at SRCAR® in Murrieta. Representatives from each of the charities were present to receive their awards.
• Camp del Corazon: Camp del Corazon is a registered 501(c)3 nonprofit organization that provides year-round experiential opportunities for children faced with the challenges of growing up and living with heart disease. They provide a residential summer camp experience for children ages 7-17 as well as programs that offer opportunities for growth, education and support for children, young adults and the families who are living with heart disease. To learn more, please go to: https://www.campdelcorazon.org/portal/
• Trauma Intervention Programs, Southwest Riverside County: Trauma Intervention Programs Inc., (TIP) is a national non-profit organization founded in 1985. TIP has 14 affiliates serving over 250 cities across the nation. Each affiliate uses specially trained citizen volunteers to respond to traumatic incidents to support victim and their families in the first few hours following a tragedy.
• TIP has received the prestigious Innovations Award in State and Local government from Harvard University and Ford Foundation, the Crime Victim Service Award from the US Justice Department and the Governor's Victim Service Award from the State of California. TIP Volunteers are available 24 hours a day, 365 days a year. They are called by police officers, firefighters, paramedics, and hospital personnel to assist family members and friends following a natural or unexpected death
• The Southwest Riverside County chapter of TIP was founded in 1993. There are currently 38 volunteers serving 7 jurisdictions, 5 hospitals, and 5 public safety agencies. The Chapter receives support and guidance from TIP National
• To learn more, please go to: https://www.tipswrc.org/
• SRCAR® Scholarship Foundation: In 2019, twenty-eight $1,000 scholarships were awarded to qualifying and deserving local high school seniors who are continuing their education. SRCAR® has been awarding scholarships to local youth for over 30 years and continues this tradition by means of fundraisers such as the Chili Cook Off. To learn more, go to: http://srcar.org/education/srcar-scholarship-foundation
Highlights of this year's Chili Cook Off include booth decorating contests, a photo booth, and live music by TTT Brand. Among the 800 attendees were well known judges who are community leaders to include: Denyse Wilson, Terry Ryan, Jenna Garza, Mama Mia on the Mix, Jeff Kurtz, Lisa McConnell, John Ruff, Lisa Mendoza and Craig Puma. Everyone had a great time, including kids who enjoyed games, face painting and balloon art in the newly added Kidz Korner.
Winners of the 6th Annual Chili Cook Off are as follows:
HOMESTYLE
1st Place: Lazy Dog Cafe
2nd Place: Christian Dahlin Lending Team
HOTHOTHOT
1st Place: myNHD
2nd Place: Homes & Loans Done Right
CHILl VERDE
1ST Place: New Palace Realty
2nd Place: Nana's Tamales
PEOPLE'S CHOICE
Century 21 Preferred
CORNBREAD
1st Place: Signature Real Estate
2nd Place: Move Home Realty
BEST BOOTH
1st Place: myNHD
2nd Place: First American Natural Hazard Disclosures/First American Home Warranty
BEST OVERALL Chili: Fairway Independent Mortgage/Sciutto Team
This year, we had a record number of 66 sponsors who all played a tremendous part in making this a fun and successful event. Dozens of volunteers helped plan and coordinate the event, including local high school seniors working toward their community service hours. Our sincere thanks to Promenade Temecula for allowing us to host our event at their venue this year and to all of the volunteers and businesses in our community who have supported this event. Through the collective effort,
• 6 children will enjoy an amazing and possibly life changing week at Camp del Corazon in Catalina
• 20+ individuals will be trained as Trauma Intervention Specialists in Southwest Riverside County
and
• 6 Class-of-2020 students in Southwest Riverside County will each receive a $1,000 scholarship
For more information about SOUTHWEST RIVERSIDE COUNTY ASSOCIATION OF REALTORS®, please contact us at 951-894-2571 or [email protected]
Find your latest news here at the Hemet & San Jacinto Chronicle
Search: Raised Over $32,000