(SJUSD Celebration)
San Jacinto, CA – October is San Jacinto Heritage Month and San Jacinto Unified School District has been busy preparing and celebrating with annual traditions.
"The Heritage Month light pole banners were once again put on display by the City," shared Diane Perez, SJUSD's Superintendent. "These banners depict the establishment dates for us, the City of San Jacinto and the Soboba Band of Luiseno Indians – the big three entities that have remained steadfast in this community since the 1800s," she noted.
The school district's Board of Trustees passed a resolution at their September meeting, once again declaring October as Heritage Month. The City of San Jacinto did the same with a proclamation at their regular meeting on October 1, 2019, and Soboba also followed with steps to declare October as a month to celebrate local heritage.
On Friday, October 11, more than 40 entries in the San Jacinto High School annual Homecoming Parade made their way from the school along Ramona Boulevard, San Jacinto Avenue and Idyllwild Drive, back to the school stadium.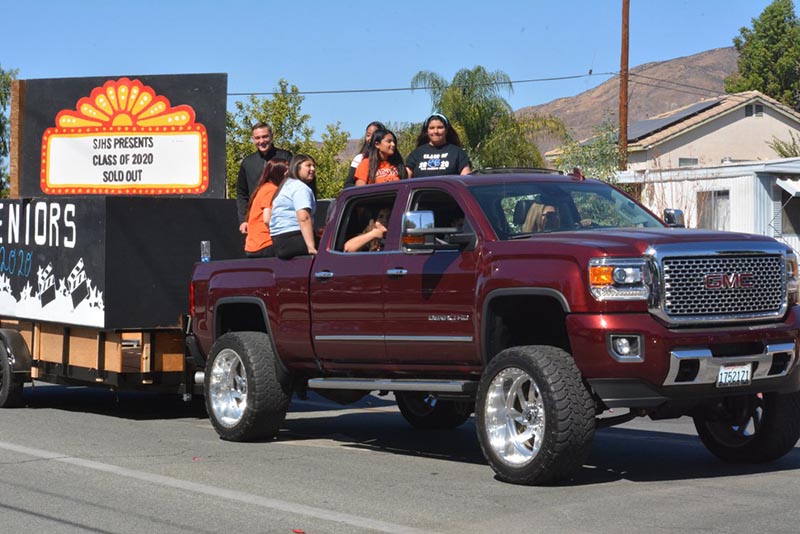 "Our theme this year was 'Lights, Camera, Action,' and we had many expressive student floats and entries this year," explained Antoinette Miles, San Jacinto High's ASB Director, who oversees the activities for homecoming. "We appreciate the City's help with closing streets for about an hour—this is such a strong community tradition," said Miles.
The final entry in the parade featured members of the San Jacinto High School Class of 1969, who held their 50th class reunion during this year's Homecoming weekend. The group had special seating at the football game on October 11, to watch the Tigers beat West Valley High School Mustangs.
Over 400 attendees are expected at the 12th annual "Into the Future" Parent/Student Conference on Saturday, October 19, to be held on the MSJC San Jacinto campus. The conference, designed to foster a college-bound culture in the San Jacinto Valley through advocacy, access and community relationships, features a guest speaker and multiple workshops after a free breakfast and concludes with a free lunch featuring In-n-Out Burgers. Parents can pre-register at any SJUSD school office or from a link on the District's website.
"This free event offers a wide range of information for all K-12 students and parents looking for higher education opportunities," said Carla Adame, SJUSD's Family Engagement Specialist. "We also have school heritage displays and student groups performing," continued Adame, "not only to remind us of our San Jacinto heritage but also to celebrate our current culture."
Visit the SJUSD website for more information about the "Into the Future" Parent/Student Conference, www.sanjacinto.k12.ca.us.
Find your latest news here at the Hemet & San Jacinto Chronicle
Search: SJUSD Celebration