Throughout the Southwestern Riverside county region, the total units sold of SFR (single-family residences) have steadily declined by 13% since 2017. Consistently the SFR median sales price average a 7% increase year over year going back to 2014. So far this year the median price is only up 2% just over halfway through the year. These signs of a slowing real estate market don't mean a recession is happening anytime soon, but it does show the recovery is slowing towards a plateau.
Gene Wunderlich, the Vice President of Government Affairs for the Southwest Riverside County Association of Realtors, just released the midyear sales numbers for 2019. All over the South Western Riverside County area, Wunderlich says, "Sales continue at a pace of about 3 % behind last year, and it looks like they won't be picking up much between now and the end of the year." The prosperous recovery going back five years saw an annual appreciation of 6.5%, whereas this year the median sales price is increasing but at a much slower rate.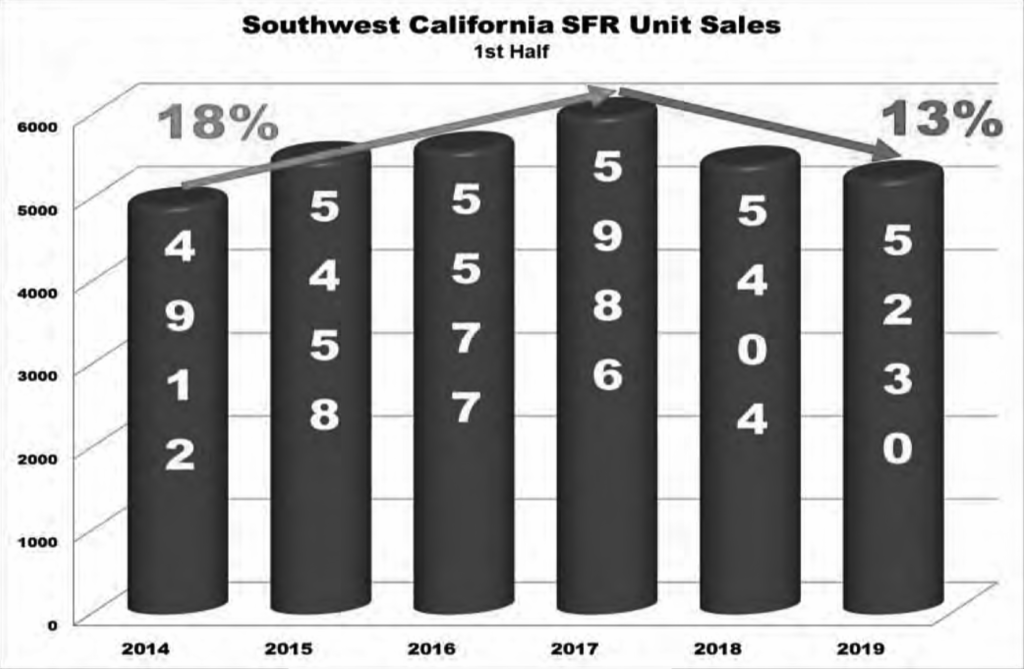 Wunderlich continued, "This year we're only up 2% with every indication of further softening as inventory grows sales decline." Some positive news indicates that as the market softens, it will diminish any long-term market pressure, which means any recession on the horizon will be more controlled. Again don't get worried; currently, there is no sign of a recession in the near future. Wunderlich added, "Not sure if our housing market really is slow and steady, or just slowing steadily."
A common theme among the real estate industry right now is "HOPE." Hoping the interest rates don't rise again. Hoping Millennials will get out and buy more homes. Hoping the market doesn't slow any further. Statewide Realtors and developers are hoping Sacramento will address the current housing crisis.
Throughout the state restrictions and regulations have yielded nothing but local control concerns, committee opaqueness, along with non-profit and environmental lobbying.
The inventory or amount of homes for sale has remained steady and is now gradually climbing as the price increase is slowing down.
Gene Wunderlich warned, "Please, don't decide this is the time to refi all the equity out of your home. This isn't the time for that even though you probably have some equity built up. Your home is NOT your bank. It's your home. Remember what happened last time. Don't be that guy."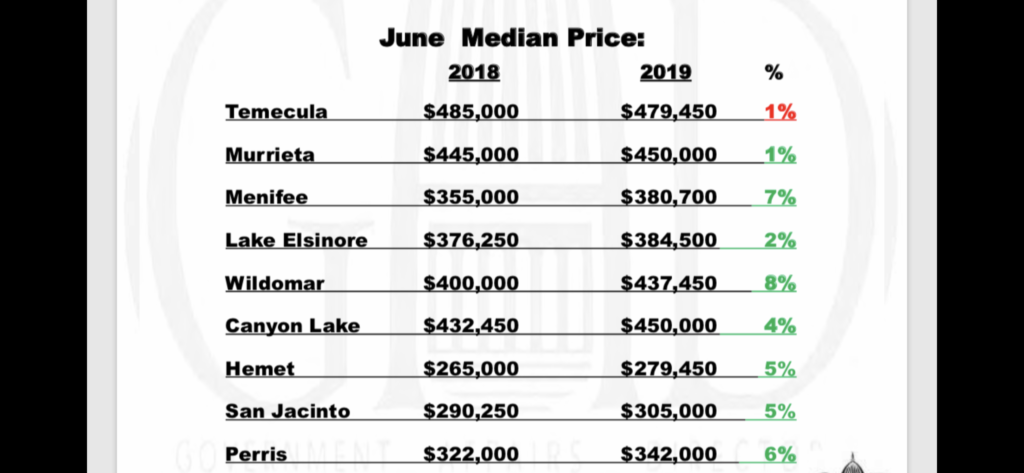 Here in the San Jacinto Valley, we saw an increase of 5% from June 2018 to June 2019. The median home price in Hemet jumped from $265,000 last year to $279,450 currently whereas San Jacinto saw a June 2019 median price of $305,000 which is up from $290,250 just a year ago. One indicator the San Jacinto valley will continue to prosper are the amount of homes selling well above the list price.
For example, a beautiful corner lot single story three bedrooms 2 bath home I recently listed had four offers within one week. The CMA (Comparative Market Analysis) done on the property generated a median value of $283,000. My instinct and in-depth knowledge of the local market gave me a hunch, and we listed at $295,000. Of the four offers, two were above list price at $298,000, and after doing some research, I met the appraiser at the property and justified the $298,000 with some recent sales.
Well, my clients were elated that we were able to negotiate an additional 5% in value on top of what the projections calculated. This is just one example of many across the valley that tells me our particular real estate market will continue to flourish well into 2020 and beyond. Stay tuned in the coming weeks as I will be covering some future commercial developments on the horizon in Hemet and San Jacinto.
If you would like any of the charts or graphs to accompany this article, please contact me at McPhtown@gmail.com, or you can text me at 951-315-7914. Remember whenever listing or buying a property to use a local Realtor who is knowledgeable about the neighborhood market.
---
Matt McPherson
Coleman and Associates