Soboba Band of Luiseño Indians | Contributed
Schools located on the Soboba Band of Luiseño Indians Reservation celebrated the advancement of students during a busy week. Noli Indian School, which serves grades 6-12, had a promotion program for its eighth graders on May 31 and a commencement ceremony for its seniors on June 1. Soboba Tribal Preschool kindergartners were celebrated on June 3.
Donovan Post serves as principal at Noli, which opened in 1990, and has been director at the preschool for about two years. Noli is a Luiseño word (Nóoli) which means envision in relation to learning/reading. When used in the appropriate context, it translates to "envision education."
All three ceremonies marked the first in-person gatherings of any kind in the past two years, due to precautions taken during the pandemic. Post said he was definitely happy and excited to have everyone be able to come together to celebrate these wonderful students and how much they have grown and changed.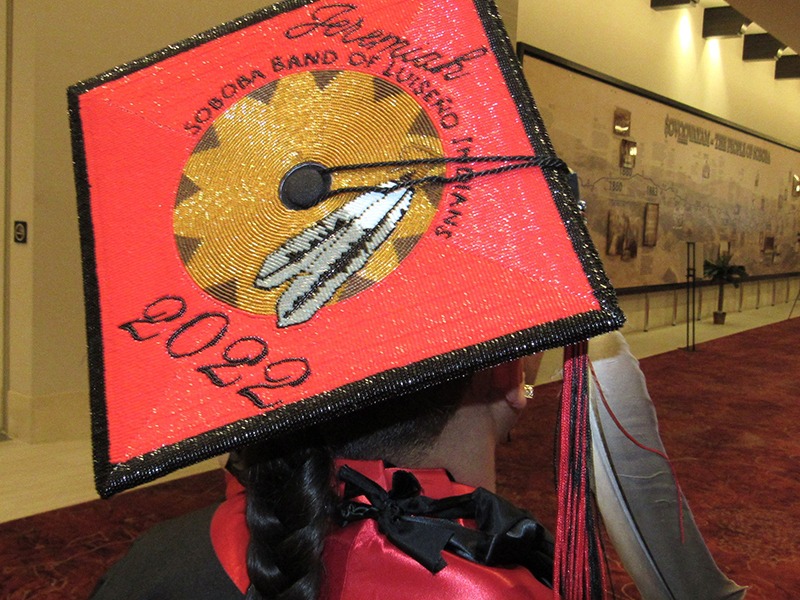 Held at the Soboba Sports Complex, the middle school promotion ceremony recognized 16 students who have completed the course of study administered for graduation from eighth grade and celebrated them for what they have accomplished.
They are Alana Arrietta, Canku Boniface, Daniel Cruz, Selaya Helms, Kylie Herrera, MaryHelen Hurtado, Audryna Lopez, Xzavier Moreno, Ferdencio Morreo, Ronald Morillo, Sadie Pimentel, Leland Razon, Sophie Resvaloso, Shawna Rivera, Hector Sosa and Sequoia Tahuka.
All four student speakers are from the Soboba Band of Luiseño Indians. Alana Arrietta, MaryHelen Hurtado, Selaya Helms and Shawna Rivera each took a turn at the microphone to share their reflections with classmates and guests. Alana said the school gives students many opportunities that couldn't be found elsewhere and MaryHelen said her caring teachers helped her improve her grades to all As and Bs.
Noli School Board members President Antonia Venegas, Vice President Lucille Briones, Secretary Mia Basquez, Members at Large Sandy Boniface and Johnna Valdez and Tribal Council Sergeant at Arms Kelli Hurtado, helped hand out certificates and medals. Students also received a goodie bag from teachers who applauded their accomplishments.
Middle school English teacher Richard Moreno, who has taught at Noli for seven years, is returning to his home in New Mexico and gave some emotional closing remarks.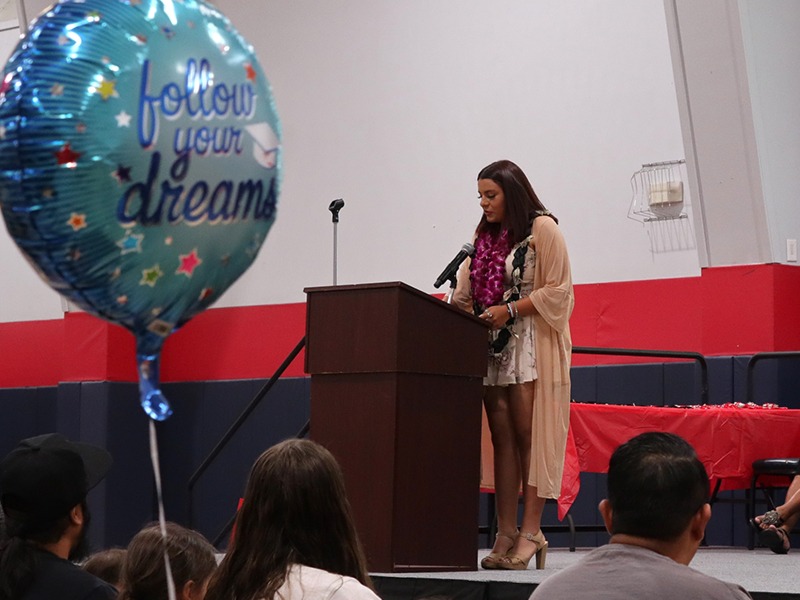 "I want to thank each of these students for their investment in their education," he said. "They possess the respect, responsibility and character to do huge things in their lives. They were each born to be great and for that I am grateful to have worked with them. I will take with me a million memories in my heart."
Post told the students they are needed to be change agents for their respective Tribes. For those continuing their high school education at Noli, he said the staff and administration will spend the next four years preparing them to be just that.
"We will send you out on your journey into the world with our support, our hope, our love to become what you are going to become. And then come back to us to help; we have four years to make that a reality," he said. "That is our dream and hope for you."
The following evening, at the Soboba Casino Resort Event Center, a dozen seniors from Noli Indian School had their time to shine at a commencement ceremony on June 1. Receiving their diplomas were Caitlyn Briones, Michael Briones, Alena Duenas, Jesse Garcia, Lanise Luna, Natehya Magante, Thaila Morreo, Abby Nevarez, Elle Nevarez, Rudy Pimentel, Jeremiah Ramos and Melissa Sosa.
After a processional to the strains of "Pomp and Circumstance," each student introduced themselves and was given time at center stage while their recorded personal message played. It provided them the opportunity to give thanks to family and friends who supported them, recall favorite school memories and even share a favorite quote.
Jesse Garcia, whose post-high school plans include going into real estate or business, cited a quote by author Doe Zantamata, "Don't let the fear of what could happen make nothing happen."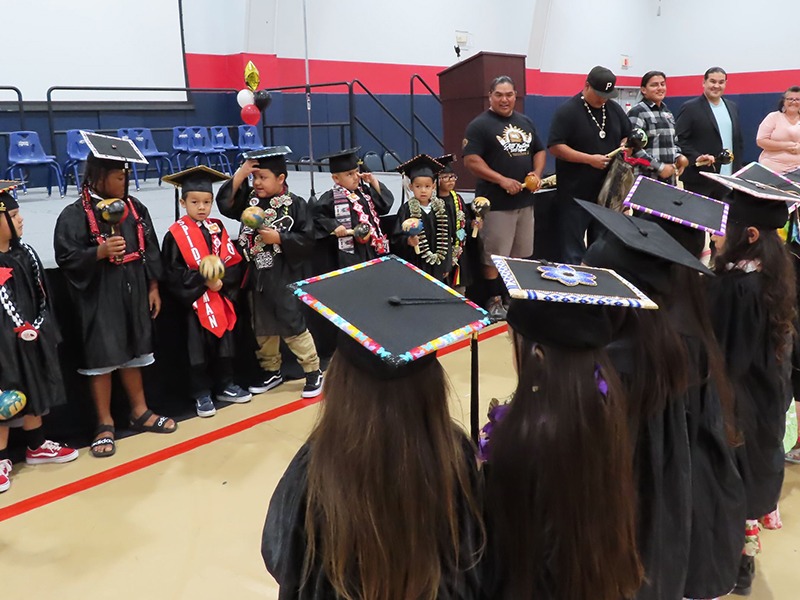 Jeremiah Ramos, who wants to pursue his dream of being a firefighter, gave thanks to his parents for "being the force that pushed me all four years" and gave a special shout-out to his sister, Ciara, who served with him on Soboba Youth Council.
"There is no better friend than a sister and no better sister than you," he said. "Thank you for all the times you were there to help me. I am truly blessed to have you as my sister."
Post said the idea to have students record a personal message to be played while they are introduced was the brainchild of the late Rose Salgado, who was on Tribal Council when Noli held its first graduation ceremony.
"This is one of the beautiful things that we can do because we are a small school," he said.
The 16 kindergarten students who make up the class of 2022 from the Soboba Tribal Preschool were celebrated with a special program at the Soboba Sports Complex on Friday, June 3. Friends and family had lots of balloons, air horns, confetti poppers and smiles as the young ones were introduced by their teacher, Sierra Vivanco, to receive a personalized recognition.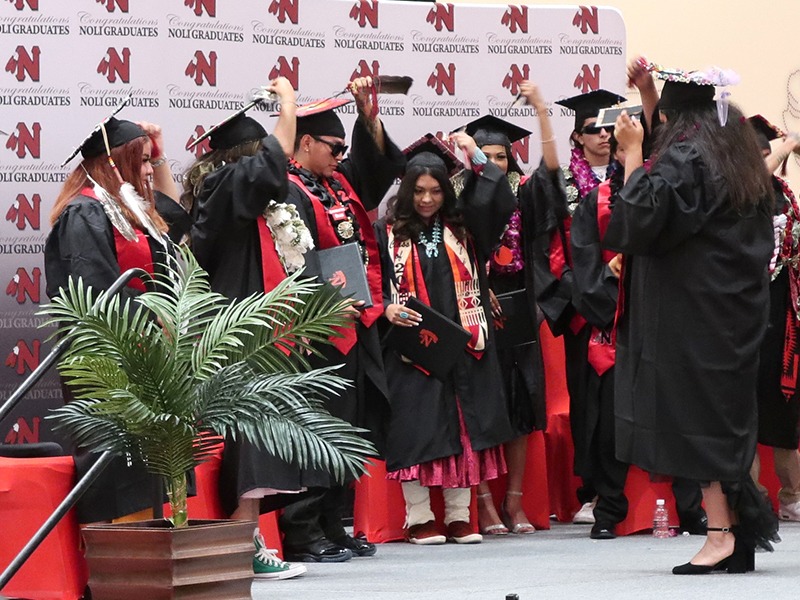 Those who successfully completed kindergarten and are ready to enter first grade for the 2022-2023 school year are Gabriel Armijo, Lamonte Bigsby, Mayla Briones, Joseph Burton, Anaya Grant, Tónla Hurtado-Laurenzana, Malia Kashersky, Mona Medina, Tony Mendoza, Rheya Miranda, Tillie Ortega, Eli Pineda, Shay Razon, Makayla Trujillo, Yawáywish Vega and Thomas Velazquez.
Post thanked all the staff for their efforts throughout the year and thanked Soboba Tribal Council Members Chairman Isaiah Vivanco, Vice Chair Geneva Mojado, Secretary Monica Herrera, Treasurer Daniel Valdez and Sergeant at Arms Kelli Hurtado for their continued support.
"Not only do they attend all the events but the Tribe financially supports the school so we can bring all these great opportunities to the kids," Post said. "I'm happy to say our kindergarten class is fronted by a Soboba Tribal member. She's somebody who got the education and came back to work for the Tribe. I tip my hat to Sierra Vivanco for everything she's done this year."
He also said that Vivanco and classroom aide Amber Young complement each other very well and make a great team, supporting and teaching the kids.
Wayne Nelson and the Intertribal Bird Singers led the kindergartners in two social songs with the boys using the gourd rattles they made at school. The girls danced in the bird skirts made by Noli students under the direction of Tashina Miranda Ornelas, Culture Department Coordinator/Instructor.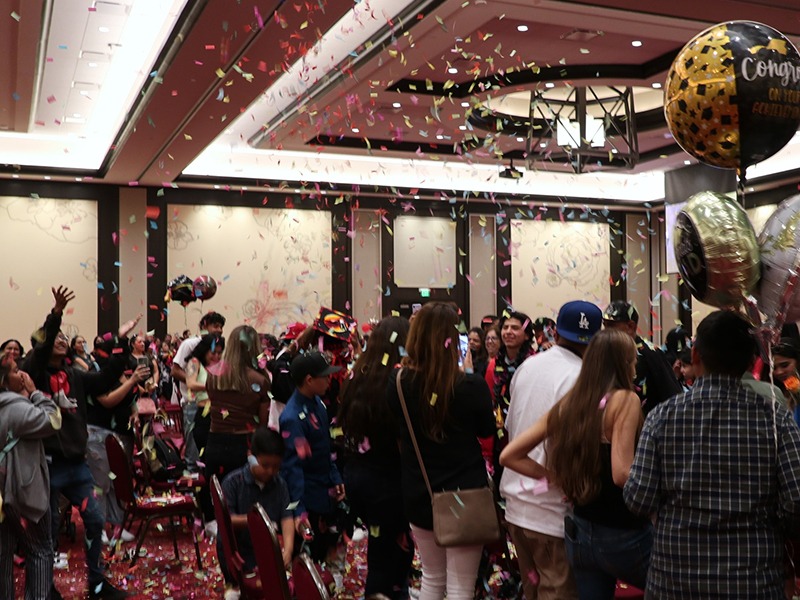 Addressing the students to emphasize how much they will be missed, Sierra Vivanco said, "Watching you all grow has been one of the greatest gifts. I hope that you will remember where your education began and someday come back."
Find your latest news here at the Hemet & San Jacinto Chronicle