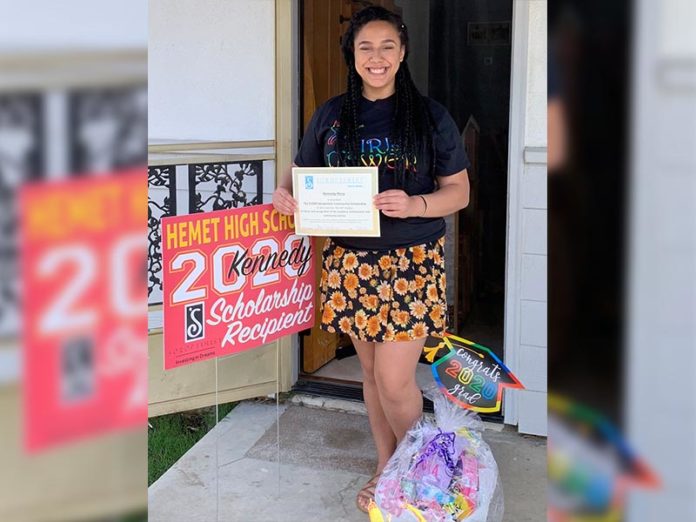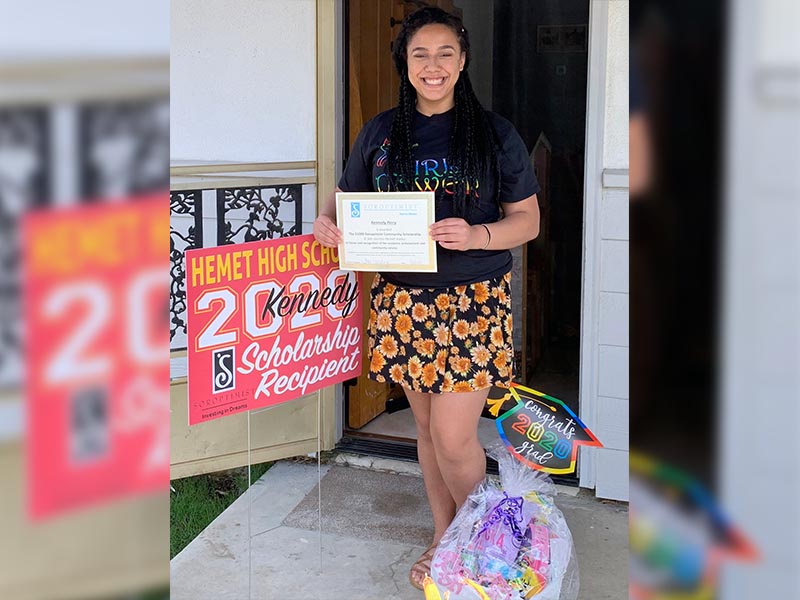 (Soroptimist Scholarships)
Four local seniors earned some financial assistance for college because of their dedication to community service. Celina Abushawish, Mariam Mekhael, Kennedy Perry and Diana Sagastume were chosen among 35 applicants to receive scholarships from Soroptimist International of San Jacinto-Hemet Valley, a nonprofit that is a branch of Soroptimist International of the Americas.
Blind judging was done via Zoom, a first in the organization's long history of awarding scholarships. Because all school awards ceremonies were canceled amid the COVID-19 pandemic, the group's president, Traci Sanchez, and co-chair of the scholarship committee, Linda Burke, recognized the young ladies with lawn signs, baskets of treats and award certificates delivered to their homes.
Hemet High School's Perry received $1,000 and said," it is a "huge blessing" that will help with tuition and other expenses as she pursues her political science degree at Humboldt State in Northern California."
"Kennedy is a brilliant student who has taken many AP, Honors and Dual Enrollment College classes," her counselor Dawn Sonnier said. "She has always been polite, kind and respectful. She is definitely a hard worker who had to overcome adversity during high school but has come out even stronger."
As a Key Club member, Perry helped fundraise for various charities and took on leadership roles to organize large scale service events whenever possible.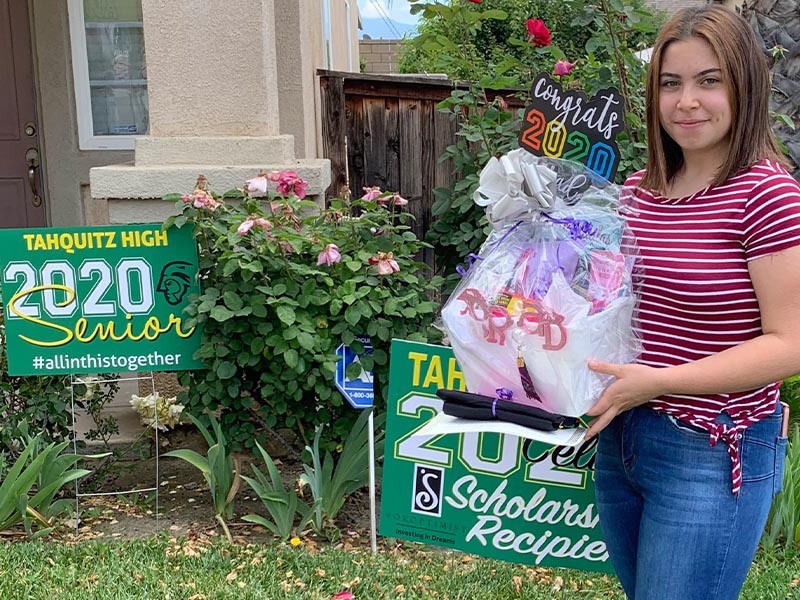 "My passion for serving this community and the world around me is unmatched," she wrote in her application statement. "I love everything about helping others and hope to be the change I wish to see in this world one day."
Abushawish graduated from Tahquitz High School and will be attending UC, San Diego in the fall. She hopes majoring in biology will allow her to enter a pre-med program. Her favorite subject in high school was biology and she enjoyed all her time volunteering to educate younger people in science and religion at museums, elementary schools and her mosque. She said the $500 scholarship will help her with tuition.
"What fuels my passion for service is bettering my community in every way I can," she stated in her application. "Serving gave me an amazing feeling and a role model who always influenced me to do better and become a part of something greater is my mom."
Western Center Academy graduate Mekhael also received $500 and said the award would allow her to be focused on her studies while attending Chapman University's Freshman Early Assurance Pharmacy Program in the fall.
"This program is a five-year high school to Pharm.D program but I have been offered to finish it in four years since I have completed over half of the graduate pharmacy school prerequisites during high school through dual and concurrent college enrollment," Mekhael said.
She spent much of her volunteer hours at the Hemet Valley Medical Center in different departments as well as at the Hemet Public Library, helping during its Teen Summer Reading Program.
"Everywhere I volunteered was one puzzle piece that shaped who I am today," Mekhael said. "I enjoyed all the volunteering opportunities I was presented with."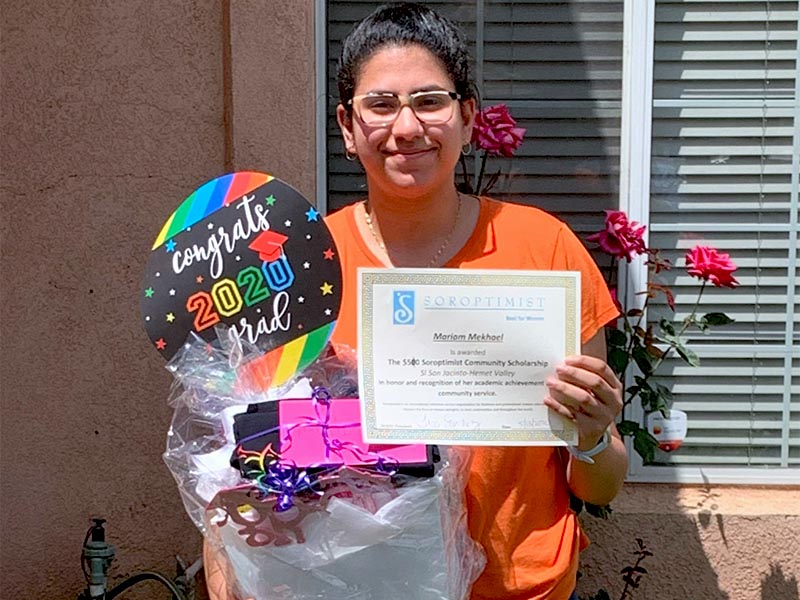 She said her career choice wasn't hard to decide as her mother is a clinical pharmacist and Mariam became the go-to medical advisor to her friends who could take information to their doctors that she found by doing research on their behalf.
"I owe all that I am to my mother, who enlightened my vision to see what I am passionate about helping people," Mekhael said. "Her love, knowledge and experience was the light that guided me and will guide me forever past the obstacles that I will be faced with. Knowing that she is always here for me, supporting me in all that I do, is what kindles my life."
Also, from Hemet High and also receiving a $500 scholarship, Sagastume said her reason for wanting to be of service to others was a direct result of compassionate people who helped her through some tough and emotional distress.
"I hope to be that person to as many people as possible," she wrote on her application. "At one point or another, we all need some help getting through life. I consider it an honor to serve this valley that has given me so much in such a short time."
Most of Sagastume's volunteerism was spent on endeavors that focused on serving the less fortunate and working with children. She will start her higher education path at Mt. San Jacinto College's nursing program, a career choice which stems from personal experiences including watching her grandma lose her battle to lymphoma.
"I saw her in the hospital looking lifeless more times than I can remember. Unfortunately, not many of her nurses were kind to her and it bothered me incredibly to see that she was being ignored," she recalled. "Her situation encouraged me to be a nurse and work with sick people; be a nurse my patients and their families can trust and rely on."
Sagastume is thankful to everyone that has supported and looked out for her and she extended a special thanks to the Soroptimist Scholarship committee for all their hard work.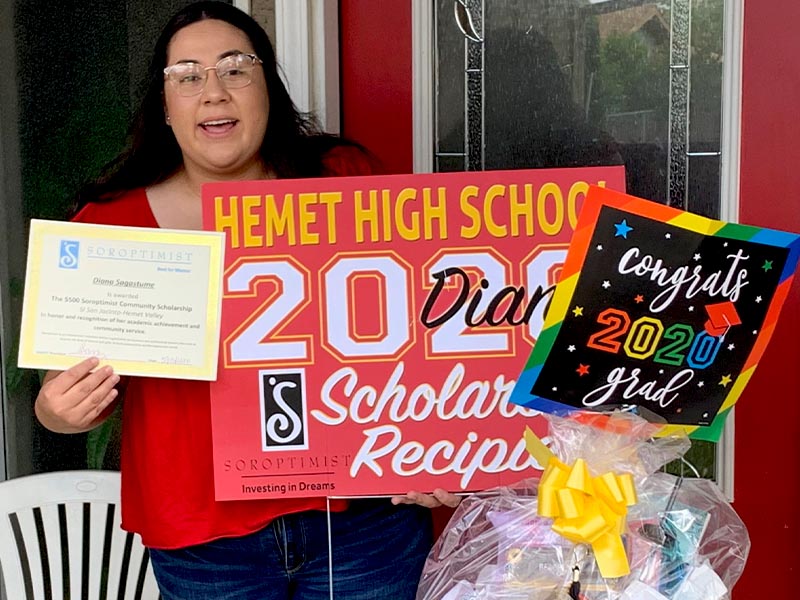 "This award is relieving me of a key element in my education: textbooks!" she said. "(The books) are essential to my college career and very costly at times but at least for this first year, I don't have to worry about covering the cost."
In recent years, the local SI branch used its annual Lunafest Film Festival platform to announce and present scholarships to the winners. When this also was canceled, members had to get creative and were happy to have the opportunity to acknowledge the recipients' accomplishments with the home visits.
Founded in 1961, Soroptimist International of San Jacinto-Hemet Valley has a mission to improve the lives of women and girls through programs leading to social and economic empowerment. The local club has budgeted for high school scholarships since 2009. Burke said the application has evolved so that with the 2014 award, more emphasis was placed on community service.
"Soroptimist is a global organization with over 80,000 volunteers committed to the mission of empowering women and girls through education," she said. "Our impact is through volunteerism and service to the female community and it is personally rewarding to see the impact of the new younger generation with their service to the community and their passion to maintain the spirit of volunteerism. It is particularly nice to hear words of appreciation from the scholarship recipients who often speak of the monies making it possible for them to pursue their dreams and how they will 'pay it forward' with their future service."
Information, sisjhv.org or soroptimist.org.
-Diane Rhodes
Find your latest news here at the Hemet & San Jacinto Chronicle
Search: Soroptimist Scholarships