(Tough Night)
Odds Were Stacked Against Them
The Eastlake Titans made the trip from Chula Vista last Friday night. They entered Tiger Stadium with a 0-3 record and felt determined to not go home with a 0-4 record. San Jacinto's defense was playing short-handed. Three key defensive starters sat out this week for various reasons — one in the second two on the defensive line. The backups tried their best to give pressure and shut down Eastlake's running game, but it just wouldn't be enough. Eastlake continued to punish San Jacinto inside basically running it up the middle over and over again without much variation. San Jacinto's coaches consistently told the players what was going to happen, but it didn't matter. Eastlake wanted to prove the point that they can run the football. Their Passing game was in-effective San Jacinto's secondary did a great job of shutting that down. 
Junior Defensive Back/Safety Keith Hunter made a few great defensive plays, which made Eastlake re-think passing the football, he got his hands on the ball two plays in a row and barely missed out on the chance to come out with the interceptions. Senior Safety Kameron Rocha was laying down big hits and shedding blockers all night as well. One can't help but think that this game would have been dramatically different if San Jacinto's defensive unit would have been completed.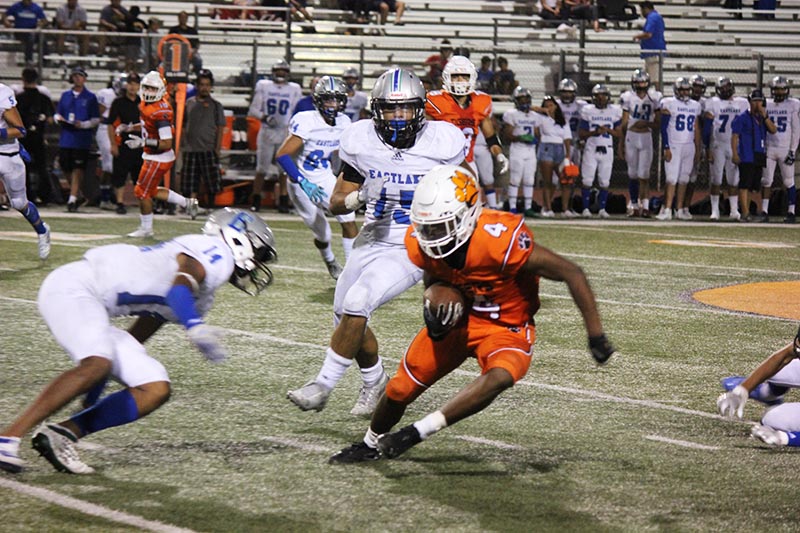 On the Offensive side of the ball, the team struggled to get anything going; it's hard to tell if it was self-sabotage or Eastlakes energy and passion that was making hard for the Tigers. Kajiya Hollawayne (Tigers Dual-Threat QB) wasn't seeing any openings when being forced to scramble out of the pocket, and Juan Denny (Tigers Senior RB) was being met at the line of scrimmage with two or three defenders every time he touched the ball. Eventually, Coach Galliano decided to start throwing the ball, and Kajiya Hollawayne started to connect with Junior Wide Receiver Damonce Williams on a consistent basis, but Eastlake figured out that Damonce was Kajiya's most reliable receiver with other receivers on the roster dropping balls, and stop running mid-route.
San Jacinto ended up falling to Eastlake 31-14, there is no more time left to figure things out, with only one more game until League Play starts the Tigers need to come together and discover their identity.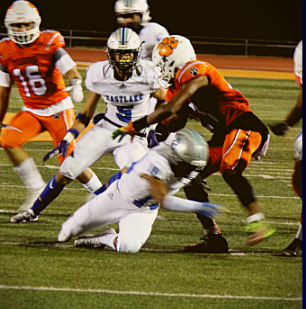 Player of the Game went to Eastlake's Maximus Susi who played on all phases of the game and made a huge impact. After the game, Max made himself available for an interview and said, "We knew they were a tough team, but we needed to come out here and show that we could play with a chip on our shoulder too and that's what we did." It seems like the Eastlakes game plan was all about coming out and playing aggressive smash mouth football. It is safe to say that the strategy paid off. 
It was a tough week for half of the league Hemet and West Valley would lose close games this week. Tahquitz and Citrus Hills both won their games and Beaumont dominated their rivalry game against Banning.
Find your latest news here at the Hemet & San Jacinto Chronicle
Search: Tough Night