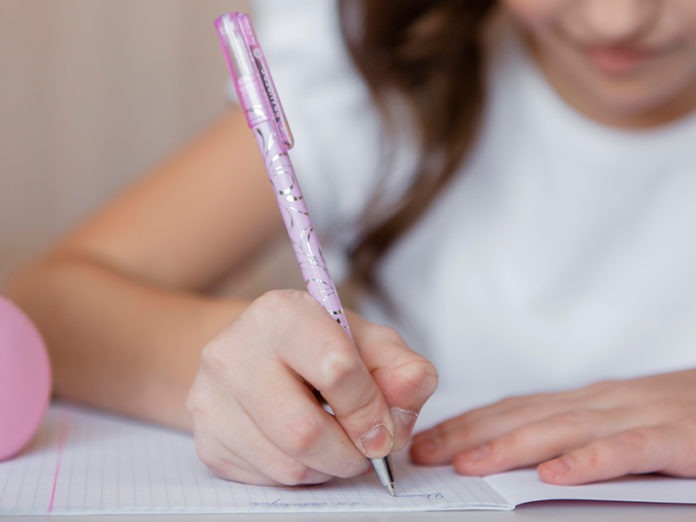 Join Now Login Search form Search Facebook page. Twitter page. CEHJF RSS page. Youtube page. Fellowships Stories Field Notes Columns News Collaborative Webinars Community About Children's Health Matters
Cramped in a small garage converted into a studio apartment in Pacoima, Calif., one of the poorest cities in the San Fernando Valley, Carla Hernandez and her three younger siblings try their best to keep up with their classes.
Carla, 17, is overwhelmed. "Some teachers speak too fast and I can't follow all the assignments," she said. "Other times we have trouble with the internet." With in-person classes on hold in the Los Angeles Unified School District (LAUSD) and many districts across the country due to COVID-19, school is taking place online.
While that poses challenges for children and families at all rungs of the economic ladder, the struggles are magnified for students like Carla and her siblings, Luis, 12, Jessica, 9, and Christian, 7. They don't have the basic technology they need. They don't have space and quiet to concentrate on their studies.
Their mother, Cirenia Hernandez, 46, is a street vendor. She usually works afternoons so she can be with her children in the morning and make sure they're logging in to school. She says she understands their frustration but there's little she can do. She's not tech-savvy and she doesn't speak English. The family cannot afford internet service, but as a high school student, Carla received a hot spot when schools shut down in March.
All four children tried to use it to join classes, making the connection agonizingly slow — if it worked at all. "When they cannot connect to the internet, they can't attend class and then teachers call me saying my children missed class," their mother said. Jessica, a third grader, says she tries to pay attention to her lessons but often is unsuccessful. "I miss going back to regular classes," she said. Christian also has difficulty staying focused.
Too often, a slow or dropped web connection has given him an excuse to toss aside his tablet for the rest of the school day. His mother said she repeatedly requested help from the school. Christian finally received a hot spot last month, which has improved connectivity in the household.
But the siblings don't have headphones, so they can't tune out one another as they try to work in a tight space. "If it was up to me I would immediately take them to school," Cirenia said. COVID-19 infections in Los Angeles remain above the level the state has set for safely bringing students back to the classroom, and LAUSD has not set a date for reopening schools. A national survey of 344 high school principals, published in September, documents the enormity of the challenges facing low-income children and the schools that serve them, as remote instruction has become a way of life.
Only 16% of high- poverty schools reported that most students had the technology they needed to switch to remote learning when schools abruptly closed, compared with 48% of low-poverty schools. In more than one-third of high-poverty schools, almost none of the students had computers or other equipment at home. Nor was school staff equipped for the transition: in only 8% of high-poverty schools did all staff have the technology necessary to do their jobs remotely.
The study, by the UCLA Institute for Democracy, Education and Access, found that 25% of high school students overall — and 67% of students in high-poverty schools — did not keep up with academic work. The digital divide all but guaranteed inequality in remote learning opportunities, but other issues also have weighed heavily on students during the pandemic. The death of a relative or job loss in the family have led to grief, trauma, and economic distress.
In addition to scrambling to move classrooms online, half of the principals said they provided support to students experiencing insecurity or homelessness, about 77% provided access to mental health counseling, and 43% of principals reported they supported students who experienced death in their families. "Principals wanted to respond to all of those needs but have limited tools to do that because of the limits on the resources that they have," said John Rogers, a co-author of the study.
In LAUSD, the biggest needs have been to provide access to virtual classes and to feed students and their families, The district, the second largest in the nation, serves nearly 700,000 students, and more than 80% live at or below the poverty line. "Like my colleagues from school districts in towns and cities across America, we fed hungry families because others did not," LAUSD Superintendent Austin Beutner recently said during a briefing. "We redirected scarce funds to buy computers and internet access because children not in classrooms would otherwise have no way to participate in school."
The district has also developed an initiative, Primary Promise, which provides reading assistance and extra instruction in math and English to students in grades K-2 who need the help. "The Promise has started with one-on-one tutoring at schools while classes are online, and we're adding teachers in elementary grades to provide more direct instruction," Beutner said. "This will allow one teacher to keep working with most of the students in a class while the extra teacher or aide can focus on those who might need extra support."
Academic support is critical, but it is not the only thing that children stuck at home need. The isolation of remote schooling can have significant mental health implications, said Aneesh Chaudhry, a brain health expert with the SoulPhysio Foundation. When children are cut off from friends and outside activities, they lose out on experiences and interactions that help the brain mature. "A very important part about a child's development in their brain is being exposed to social connection amongst their peers, playing outside, playing sports games, recess," Chaudhry said.
He has observed that social isolation has caused trauma and depression in some children. He said it is too early to know the long-term effects of stay-at-home orders and other pandemic restrictions, but patterns will likely become clearer in a year or so as children seek help from mental health professionals.
Chaudhry said children in vulnerable, economically precarious environments face the greatest academic and emotional challenges, since parents are often focused more on survival and paying bills. Cirenia said she understands her children are growing up and need more space. But for now, the garage is all she can offer them.
-Jacqueline García
Find your latest news here at the Hemet & San Jacinto Chronicle