(Dockside Boat and bed)
Intrigued by the idea of staying on board a yacht, my husband Lloyd and I headed to Long Beach, stopping at Joe's Crab Shack in Puente Hills to devour a delicious and spicy Crawfish Etouffee. Upon arrival in Long Beach, we browsed among the quaint shops of the harbor-side Shoreline Village. The sun is bringing out all the colors of the Village, a lively scenic boardwalk of quaint shops, specialty gifts and souvenirs, waterfront dining, weekend entertainment, and boasting a lovely restored Looff carousel.
We continued to Rainbow Harbor, one of Long Beach's top waterfront destinations, and to the Pine Avenue Pier, where Lloyd offloaded me and our suitcase, then went to park our car in the garage by the Aquarium, a short stroll from dock 5, where we checked in with the Dockside Boat and Bed, a non-smoking facility, whose innkeepers are Kent and Kim.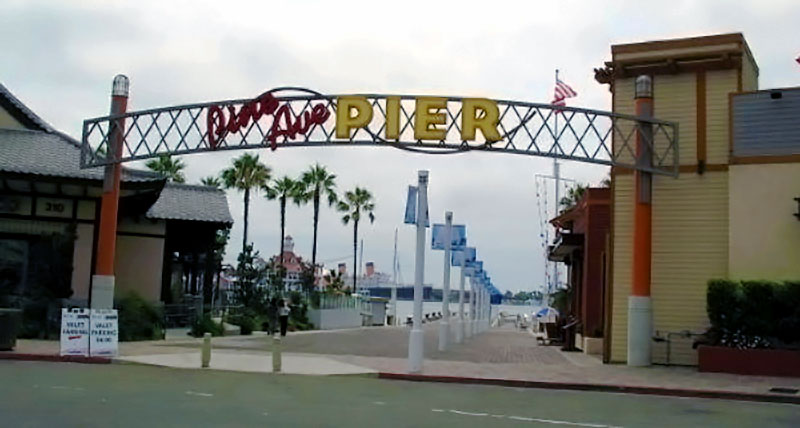 To celebrate one of my birthdays, we enjoyed three days on the "Obla De Obla Da" yacht, a 44-foot Sea Ray Sundancer, here for only two months, docked between the floating houseboat office and another yacht. All boats stay dockside and don't go out, so we always have all the yachts all to ourselves, with no crew on board. All the boats are well-appointed with a microwave, toaster, TV/VCR, stereo CD player, linens, towels, glassware, cutlery, dishes, and a coffee maker, with complimentary coffee, tea, bottled water, and snacks.
We delighted in excellent views in all directions, of Shoreline Village, the "Queen Mary," and the Rainbow Harbor Lighthouse that was donated by the Lion's Club." We can hear everyone talking and laughing on the green hill where the lighthouse is. We watched a mother duck, with about eight babies following right behind her, close to shore, and were saddened to see her with only four babies the following day. All kinds of private and commercial boats are coming and going, gently rocking our yacht.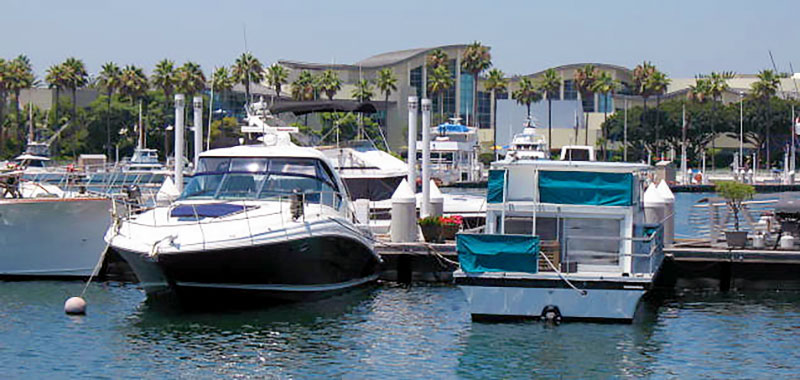 These are not "party boats," and are all privately owned, so they should treat with care and respect. We heard that some boat owners purchase these yachts just to put them in the Dockside Boat and Bed program. A typical breakfast, delivered daily on deck in a picnic basket, usually is orange juice, strawberries, green grapes, bananas, bagels, cakes, and cookies.
We have previously stayed on all the five yachts currently docked here – the "Sea Peepers," a 40-foot Silverton yacht; the "Perfect Landing," a 48-foot Hi-Star motor yacht; the "Crown Jewel," a classic 1957 Stephens motor-yacht at 54 feet, with teak decks; and the 38-foot "Archangel". We also stayed on the "Mei Wen Ti," the only authentic custom-made Chinese junk of its kind on the West Coast, Chinese junks having been used for coastal trade for over 1,500 years.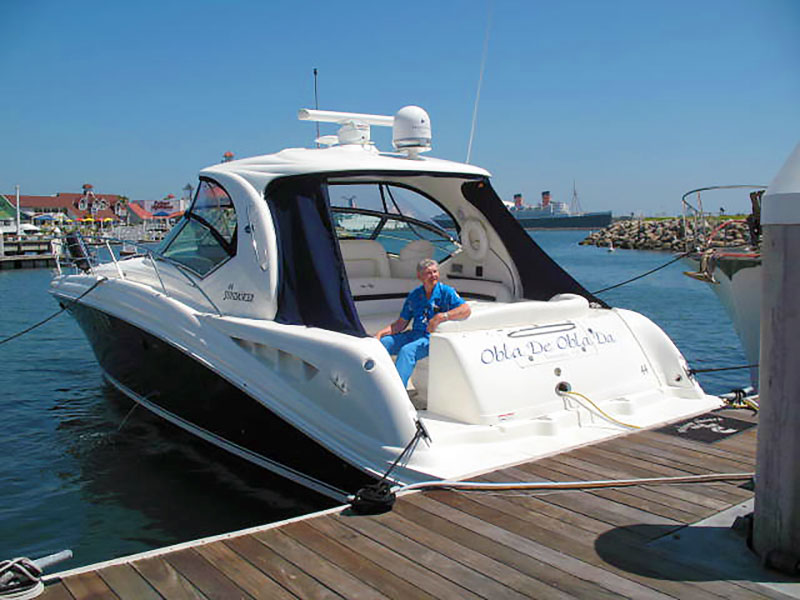 We boarded the sleek "Obla De Obla Da," a lovely yacht, with beautiful cherry wood cabinetry and brushed chrome accents. This stunning yacht, constructed in 2007, had every amenity. The salon has a drop-down television with digital cable, DVD, satellite radio, iPod port connection, and a comfortable couch and table. The sleek galley featured dishware, glasses, silverware, microwave, coffee maker, fridge with freezer, and toaster.
The salon and main bedroom have big skylights. The master bedroom has a full-sized bed, television with DVD, and bathroom with separate shower. In the back of the yacht, there is a cozy lounge seating area, which can be converted to an additional bed for one adult, with a third TV/DVD. There also is a guest bathroom with a shower, so Lloyd and I had our own bathrooms, just like at home. There are excellent night lights on all the onboard steps.
The large back deck can be enclosed with climate control and has outdoor sound speakers. There is a table which can comfortably seat six to eight persons, and there is a wet-bar and fridge. The Wheelhouse has a thruster to go sideways just like the big cruise ships.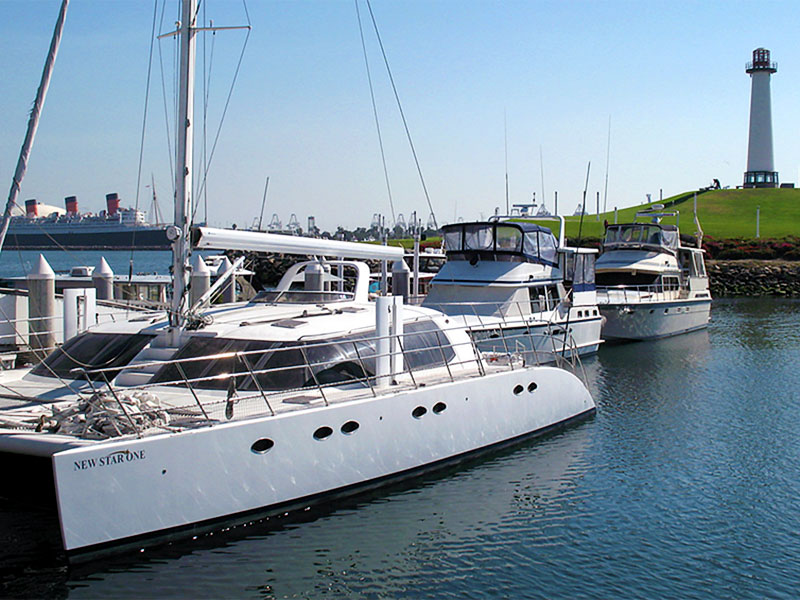 We enjoy supper in our comfortable salon, while watching television, then relax up on deck, watching the magnificent views of the downtown Long Beach shoreline, restaurant lights, and people; and the "Queen Mary," which looks lovely all lit up at night. We become lulled by the gentle lapping of water on the hulls of all the luxurious boats we have stayed on (which are real, operational vessels), the sounds of seagulls, and the delightful scent of the salty air. Sitting on our verandah, with a lovely breeze, we can hear the birds chirping across the bay from the Aquarium.
It is windy out, the yacht rocks slightly, and we can hear the water slurping underneath the hull. The movement is so mild, that we don't notice it unless we look at the land. We had brought paperwork, and reading we wanted to get caught up on but never got to do any of it, as we were too busy just watching the world about us. It is pleasantly quiet here, sitting and watching the local scene on perfect, and clear all-blue skies.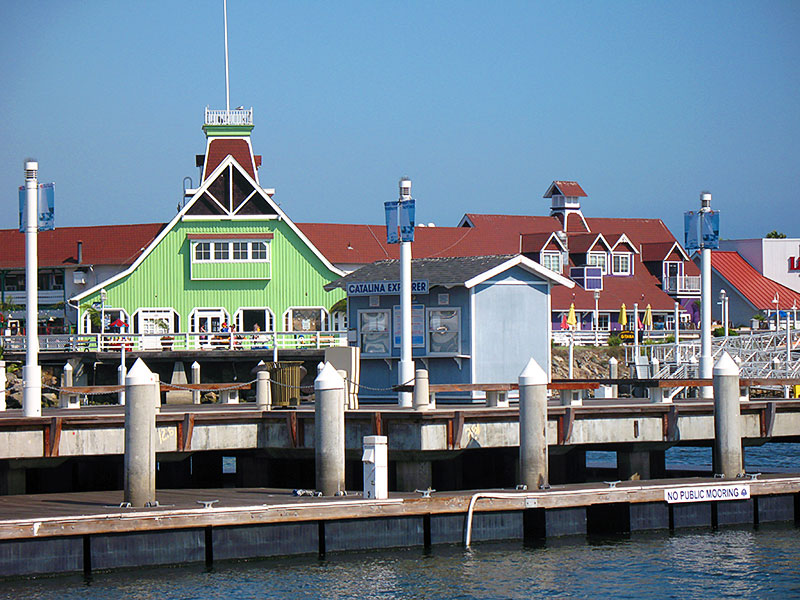 At 5:20 pm, we watched the "Carnival Paradise" cruise ship sail out to sea, while relaxing on our comfortable sundeck. We first heard, and then watched, a party boat come in, and everyone is still dancing (if you can call jumping up and down in one place dancing) on the upper deck, and obviously in no hurry to disembark). The Harbor Patrol/Lifeguard/Rescue boat patrolled by, all is well, and it is comforting to know that the dock is patrolled 24 hours a day by the Marine Patrol.
During a foggy morning, we watched a big three-mast sailboat silently go out to sea in the fog; then the fishing boats heading out to sea, leaving early in the morning, then returning with seagulls and pelicans flapping their wings in anticipation of a free meal, while noisily swarming around the incoming fishing boats.
Our yacht rocks every time a bigger boat goes by, and I hear our lines that hold us to the pier, creak and groan. We watched other boats coming and going, and seagulls fishing and dive-bombing into the water, while making loud, raucous noises. Some seagulls are landing on the office houseboat while eating mussels, and we spotted seals swimming by. The "Queen Mary" let off a blast at 10:00 am that was so loud it made us jump!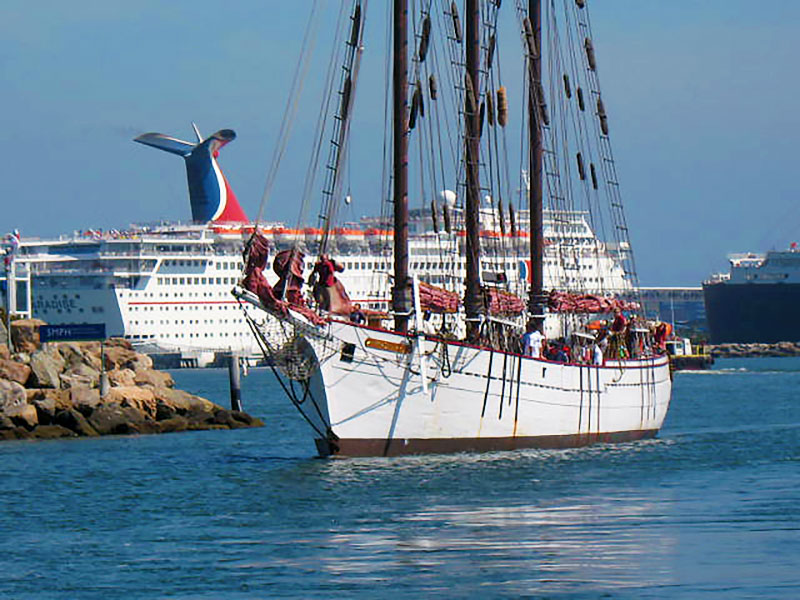 Our Pier 5 is within easy walking to the gourmet "restaurant row" on Pine Avenue (where we enjoy meals at various first-class restaurants), a large movie theater, and several shops and bars. We usually get take-out from the restaurants and sit on our deck to devour our choices. On various visits, we have enjoyed dining at "Famous Dave's," with fantastic blues music; Bubba Gump's restaurant, for delicious jumbo shrimp stuffed with crab, baked in light garlic butter, and topped with Monterey Jack Cheese, and served with rice; Boston's Restaurant, having Jambalaya Fettuccini, tossed in a spicy Cajun tomato sauce with chicken, shrimp, spicy Italian sausage, tomatoes, green peppers, green onions and black olives; Tokyo Wako for grilled sea scallops and Salmon Wrapped baked Scallops; Gladstone's; P.F. Chang's China Bistro (we get take-outs here, and dine on our decks); Parker's Lighthouse for seafood; Yard House; Chili's; and more.
Lloyd and I agree that it is marvelous to experience what it is like to own a yacht, but not have any of the work involved. We always look forward to the unique opportunity of staying aboard the varied and lovely yachts of the Dockside Boat and Bed, with their luxurious boats that have a charm and ambiance you can't find elsewhere. One of our favorite getaways, the Dockside Boat and Bed, is a family-run company, whose first location was Oakland and San Francisco in 1989, and they opened in Long Beach in 1999. Their private dock is halfway between the quaint shops of Shoreline Village and the world-class Aquarium of the Pacific.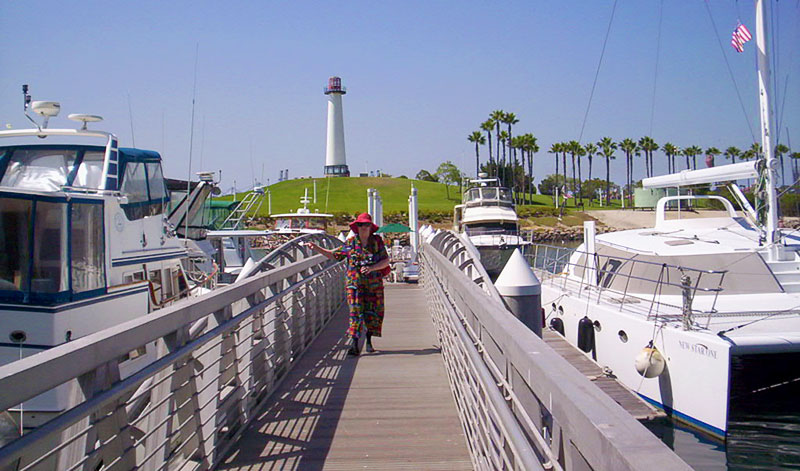 Dockside Boat and Bed is a certified bed and breakfast on a series of privately-owned yachts, located at 316 East Shoreline Drive, Long Beach, California 90802, at the beautiful Rainbow Harbor Marina. Their office is the houseboat on dock 5, where the staff greets you, takes care of your paperwork, and shows you onboard your yacht. The Innkeepers are Kim and Kent Ryskamp, who can be reached at (800)-436-2574, (562)-436-3111; boatandbed.com.
On our way home, we stopped at Corona, dining at "Miguel's Sonora Style Mexican Restaurant and Cantina," an attractive restaurant with carved Mexican woodwork, beautiful paintings on the walls, and gracious servers.  Other favorites have been the gorgeous Coco Palm Restaurant in Pomona, a sprawling hillside restaurant, on well-dept grounds with views, two toucans called Ricky and Lucy, Koi fish, waterfalls, statues, marvelous Cuban music and delicious Paella Valencia; the Claim Jumper in San Bernardino, for spicy Jambalaya (jumbo shrimp, rotisserie chicken, andouille sausage, mixed peppers and onions, sautéed in a spicy Cajun butter sauce, served with white rice), with beveled glass partitions, colorful Tiffany lamps, punka fans, and chandeliers created out of horns.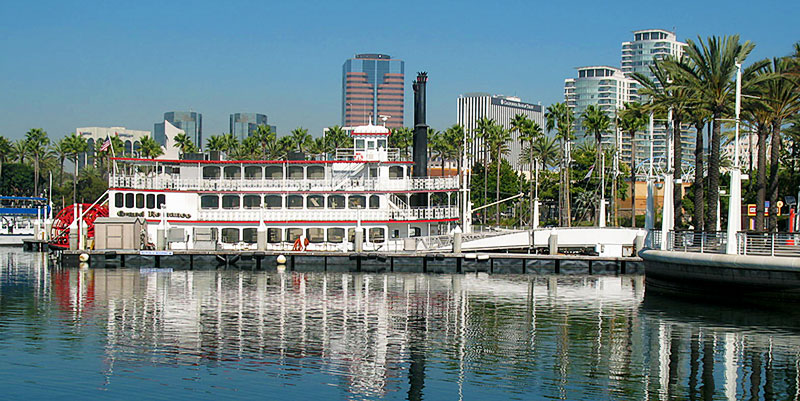 Find your latest news here at the Hemet & San Jacinto Chronicle
Search: Dockside Boat and bed