(Imagining Possibilities)
Imagine Schools-Hemet celebrates its grand opening
On Tuesday, December 10, approximately 100 people gathered in Hemet at 42655 E. Florida Ave. to welcome and celebrate the opening of Imagine Schools-Hemet, a bilingual charter school.
"We envisioned a new educational choice for families and students," says Executive Vice President of Imagine, Monte Lange. "Today we're going to celebrate more than the grand opening of Imagine in Hemet, today we are celebrating the hopes and dreams of our children and the leaders of tomorrow."
With the spirit of Christmas and new beginnings in the air, kindergarten students clad in Santa hats sang "Feliz Navidad," alternating verses in English and Spanish, highlighting the charter school's bilingual approach to education.
Visiting members of the community, many of them parents, were glad to hear of a new school on the block and were interested to learn how the school's philosophy on teaching will empower them with choice, their children with an education, and a future with knowledge.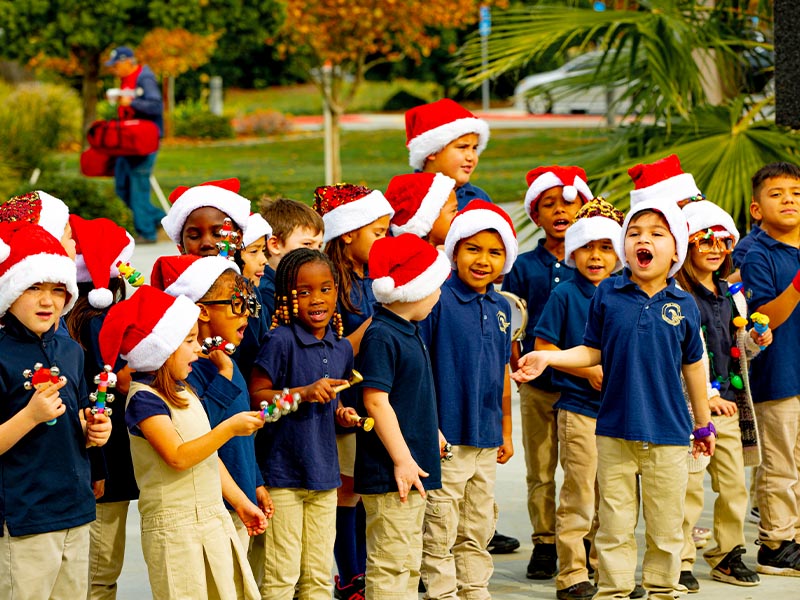 School principle, Tomas Chavez took the podium flanked by balloon pillars of blue and gold–the school's colors, and said, "Six months ago, if you were to come to this lot here, it was abandoned; there were weeds all over the place . . . and now it has come to fruition . . . This community came together and worked to deliver a school option that empowers and puts choice in the hands of students and parents."
The opening of Imagine Charter School means that parents have an alternative to the traditional public or private schools which tend to have rigid curriculums, selective enrollment, or may be too expensive in the case of private schooling. Charter schools are funded by state and local taxes which means free enrollment while also meeting the standards and requirements of customary public schools.
The speakers echoed sentiments of an education that means more than just good grades. Imagine takes a more personal approach and gets to know the family members, making home visits and understanding the needs of each individual, thus creating a flexible and engaging lesson plan. Kindergarten teacher, Frances Acin said, "Imagine is here to promote learning, motivate students, and to work with our community . . . But above all, we have a mission going forth which is to empower our scholars with a life-long bilingual education."
Following the celebratory ribbon-cutting, attendees were invited to tour the halls of the brand-new school and talk with a warm and welcoming staff.
For more information about Imagine Schools Hemet, please visit https://imaginehemet.org/
Find your latest news here at the Hemet & San Jacinto Chronicle
Search: Imagining Possibilities