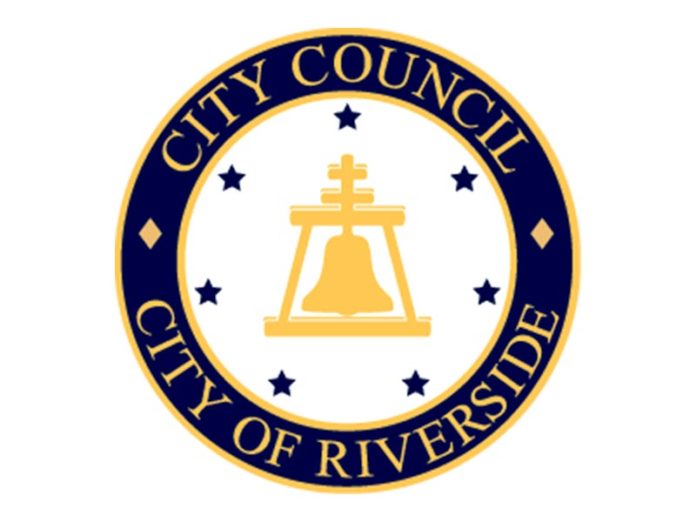 (Riverside City Council)
RIVERSIDE (CNS) – The public will be barred from attending Tuesday's Riverside City Council meeting due to coronavirus concerns, but there will be several ways for people to comment on agenda items.

For those who wish to speak in person, a camera system, along with communications personnel, will be set up on the west side of City Hall in a parking lot, allowing the public to make "drive-up" comments from their vehicles, said city spokesman Phil Pitchford.

To access the site, drivers should head south on Orange Street, turn right on Ninth Street, left on Mariposa Alley and right on 10th Street. The parking lot will be on the right side.

Wayfinding signs will be posted and police officers will help direct motorists.

Those who attempt to access the drive-up comment line by heading west on Ninth Street from Lemon or Lime streets will be required to circle the block and enter the back of the line, Pitchford warned.

The public will also be able to file e-comments at www.engageriverside.com or email comments to the city clerk at city_clerk@riversideca.gov.

"We all are changing our behavior in order to keep ourselves and our loved ones safe during this very serious health threat," Riverside Mayor Rusty Bailey said in a statement. "We are bringing this same mindset to how we do the public's business, so we will see you online and look forward to your feedback."

Gov. Gavin Newsom's stay-at-home order last week enabled virtual government meetings and suspended some usual meeting requirements.

The council meeting will begin at 3 p.m. with closed sessions for legal matters, which are not open to the public.

The virtual portion of the meeting starts at 5 p.m. and will include a proposed moratorium on evictions for residential and commercial tenants for non-payment of rent for the next 60 days due to the COVID-19 pandemic and a review of emergency orders issued during the pandemic.

The general public comment portion of the meeting is set for 7 p.m. before a public hearing on a proposal to build 50 affordable housing units at St. Michael's Episcopal Church.

A live webcast of the meeting will be available at www.engageriverside.com.

Most elected officials who will be participating in the meeting will be doing so from outside the City Council chambers using an online meeting tool, said Pitchford.
Find your latest news here at the Hemet & San Jacinto Chronicle
Search: Riverside City Council