(Staffing Changes)
San Jacinto Unified School District announces two changes to the administrative staff at Monte Vista Middle School, pending Board of Trustee approval expected March 10, 2020. Juan Penaloza will be the Principal replacing Jessica Miller, and David Sheiner will be the Dean of Students, filling a vacancy since the beginning of the school year.
Mr. Penaloza brings 25 years of service to education. He served eight years as a teacher and named the 2004 SJUSD Teacher of the Year. He then spent two years as an assistant principal in Jurupa Unified School District, followed by 12 years as Principal. During his school site leadership years, he exited two schools from Program Improvement status: Ina Arbuckle Elementary (2007, Jurupa Unified) and San Jacinto Elementary (2009, SJUSD). Mr. Penaloza was SJUSD's first Megan Cope Elementary principal 2010-2013, and after serving as the district's Director of Technology in 2013, he returned to serve as the principal at San Jacinto Elementary 2014-2018. Prior to his new post at Monte Vista Middle, he served as Principal on Special Assignment, focusing specifically on the reduction of chronic absenteeism, truancy and elementary Tier III behaviors. Through the end of the June 2020, outgoing Principal Jessica Miller will undertake the Principal on Special Assignment duties. When asked about his new journey as a middle school principal, Mr. Penaloza stated, "I am honored for the challenge to be the principal of Monte Vista Middle School. With such awesome staff and incredible students and families, together I know we can make a difference. I am proud to serve such a great school and community."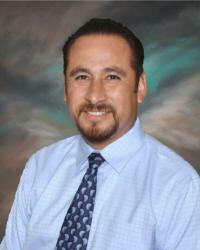 David Sheiner, now in place as the full-time Monte Vista Middle School Dean of Students, had been serving as the District's Educational Technology Coordinator since 2016. During this timeframe, Mr. Sheiner contributed greatly to the understanding and implementation of educational technology throughout SJUSD.
Prior to his tenure at SJUSD, Mr. Sheiner was a middle school teacher for five years at Norco Intermediate School (Corona-Norco Unified) and a high school teacher and instructional technology coach at South El Monte High for nine years (El Monte Union HS District). "I am super excited and appreciate the opportunity to work again at a school site and support the MVMS Bobcat students, teachers and family with leadership, innovation and discipline," shared Mr. Sheiner.
Find your latest news here at the Hemet & San Jacinto Chronicle
Search: Staffing Changes