(The gift of better mobility)
Gosch Auto Group, Empire Mobility of San Jacinto, "Apawsibility for veterans" organization and The Cloverlane Foundation all team up to get veteran Johnny Sandoval a new, motorized scooter
"I'm thrilled," said veteran Johnny Sandoval. "I never expected this," said Sandoval before choking up. A group of caring organizations, lead by the Gosch Auto Group teamed up and made sure that veteran Sandoval had the mobility he needed to live a full life.

Kory Foster, Service Director for Gosch Auto Group said, "Today's event went very well. I was really pleased at all the people that were here, and at all the organizations that came together. And we are proud that we could be the host of this great event. We're going to put a case with a wheelchair out on the floor, to make sure that the veterans know that there are services out there to help them. And they don't necessarily have to come out and say, "Hey I need help: others can recognize that…and that's what it's all about: recognizing a need and meeting that need."

Mike Wofford, owner of Empire Mobility couldn't have been happier that another veteran was cared for. "It was a wonderful event today at Gosch Ford. We certainly appreciate our new project partners here at Gosch. I know we're going to have a great relationship with the whole Gosch Auto group: they've been very giving and helpful. Of course Sandy Dee did a wonderful job."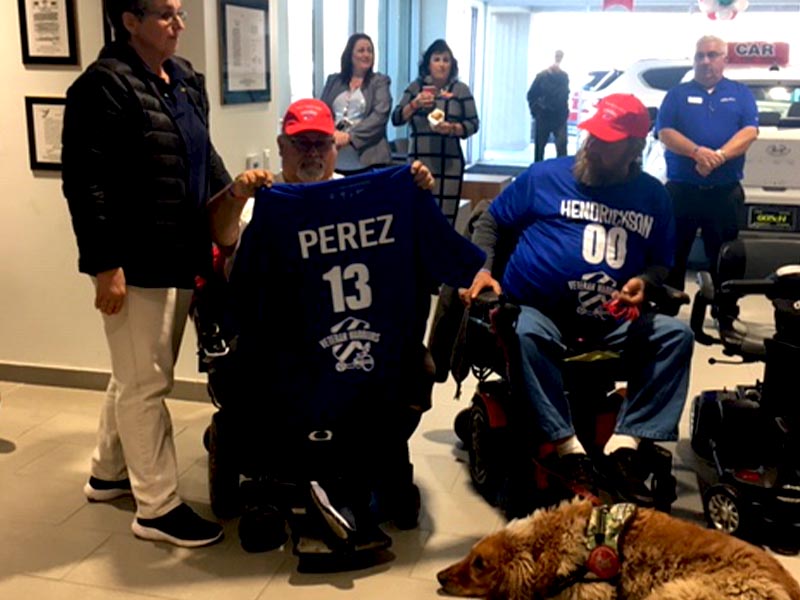 And organizations weren't the only ones pleased with the day's events: those who served in the military, veterans such as William Hendrickson, Sandoval's friend, and also a member of the Veteran Warriors Wheelchair Power Soccer Team (along with Sandoval) said, "Johnny and I have known each other for fourteen years. This was a great event. It's a great partnership with Gosch Ford, and we appreciate everything they have done and are doing. The more we can get out in the community and let the community know what we're doing, the better we can make things."

It's always a powerful, positive and emotionally uplifting time whenever we can help our veterans. "What an incredible thing happened today: Gosch Ford is actually going to put a showcase here for Veterans to see that they shouldn't be ashamed to ask for a scooter if it's needed, just like we have at the Hospital. Not only did Gosch help us with this scooter, but they're going to allow the Hemet Hospital to build a showcase and place it here. Amazing," said Sandy Dee, a veteran and columnist for the HSJ Chronicle, adding, "Veterans don't like to ask for things, so when they see this military shrine, they'll also see the case with a scooter and they won't be ashamed to ask about a scooter, if needed."

Myrna Rohr, Solera Diamond Valley Veterans and Friends said, "This is great. Sandy (Dee, HSJ Chronicle columnist-"A voice for vets", and founder of apawsibility4veterans.org), and I are in other organizations together, among them, The Soroptimists. We wanted to do something for veterans. Our quilters create 13 to 14 quilts for veterans every year. From this, we teamed up with Sandy and Mike (Wofford, of Empire Mobility, empiremobility.com), and Gerry Chase (Cloverlane Foundation, cloverlanefoundatin.org), and we realized we all had the same intention: that we should all come together to do the very best for these veterans: they're homeless, and some are living in substandard conditions…and that's unacceptable."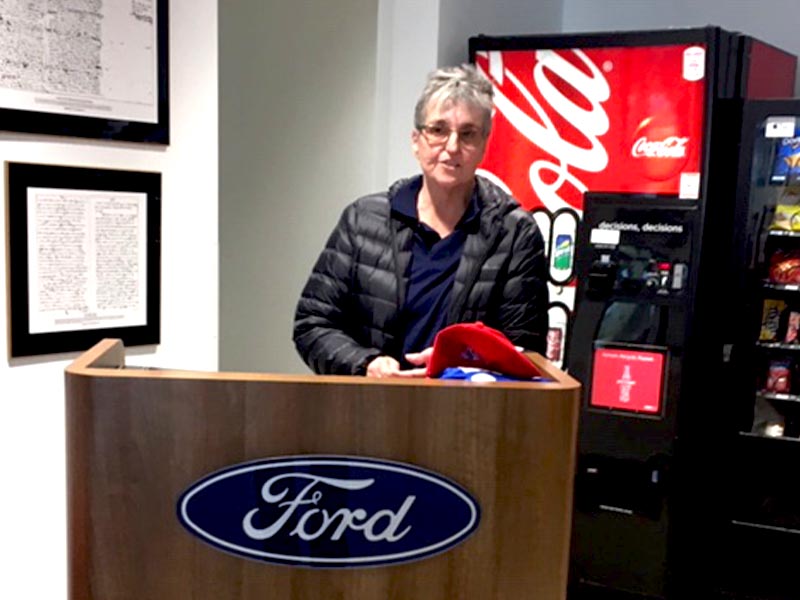 See columnist Sandy Dee's next, "A voice for vets" article, next week, for more on this wonderful, heartwarming Christmas story.
Find your latest news here at the Hemet & San Jacinto Chronicle
Search: The gift of better mobility