(Tiger show off)
On Friday the 15th, Kaiser traveled down to San Jacinto to take on the Tigers in the Division 5 quarterfinals. On paper, Kaiser came into the game as the favorite with an undefeated record, but their strength-of-schedule was suspect at best. They elected to play lower-ranked teams during the season, while San Jacinto took a different route and played lesser or barely-equally talented teams.
The game appeared as if it was going to be a close defensive dog fight in the first quarter, with neither team scoring and both coming up with interceptions. San Jacinto's defensive front had Kaiser's number.  Led by Sheldon Newton, Mahe Hamala, Lj Vaifanua, and Nathan Ortiz SJ stymied Kaiser's running game: which has been their strength all season.
Trevian Tribble running the ball
San Jacinto took the lead in the second quarter when Kelvin Davis came up huge with a touchdown on the ground and Antoine Sullivan caught a beautiful pass from Kajiya Hollawayne. Sullivan took it for 30yds and into the end-zone. This gave the Tigers a 14-0 lead heading into half time.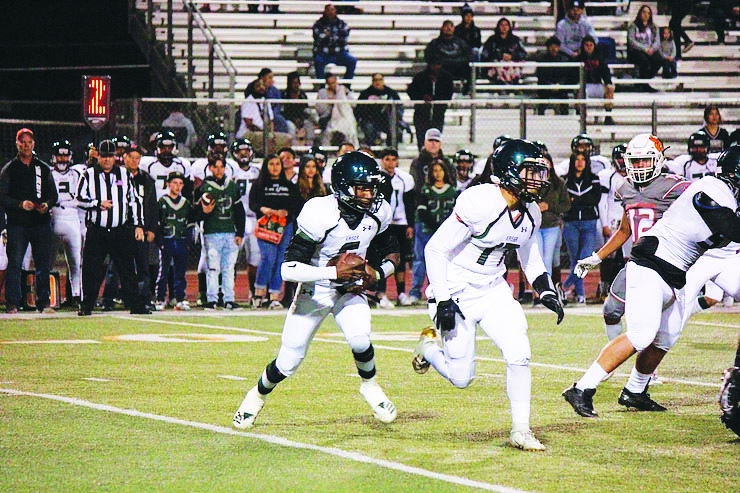 The rest of the game was all about defense from both sides: they took turns forcing 3-and-outs and driving down the field. San Jacinto would have scored another touchdown, but a goofy call from the refs held it up. The final score was 17-0 and the Tigers advanced to the Semi-Finals next week.
Player of the game is tough, but it has to go to Kameron Rocha who was all over the place making big tackles. He also came up with two interceptions on the game, caught a 39 yard pass and was a difference-maker all around the field. This kid is quickly making a name for himself in his senior year and should be catching the eyes of college scouts. It should be noted that players like Sheldon Newton, Elijah Torres, Lj Vaifanua, and Nathan Ortiz all made a huge difference in this game and deserve to be respected.
Kajiya Hollawayne did an amazing job directing his team, leading them to victory even though he didn't have his usual stellar game.  Hollawayne only rushed for 11 yards and threw for 97. He also added two interceptions which is not what we have come to expect from him.
Kameron Rocha with a huge hit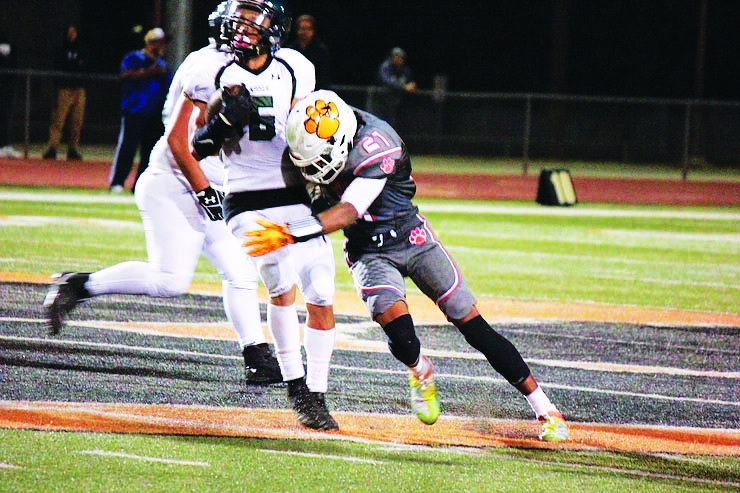 Kaiser's Quarterback, Trevian Tribble threw 3 interceptions in this game, which is significant because he only threw 4 on the whole season. He also struggled to run the ball after Nathan Ortiz of San Jacinto blew him up in the backfield.
Tribble shows flashes of elite talent and I fully expect him to lead his team to the playoffs again next season.
For access to all of the pictures of the game, follow us on Facebook @ Inland Empire Sports Connection. They are 100% free to download as long as you follow and share the page.
Find your latest news here at the Hemet & San Jacinto Chronicle
Seearch: Tiger show off