(Game Review)
Game Review
Last Friday night West Valley traveled to "The Jungle" to try to take out the Tigers. They knew going into the matchup that they were the underdogs and they embraced the role. They needed to come out and make a statement in the beginning of the game. West Valley went big in their first three plays attempting a 20yard pass. However, San Jacinto's ball hawk Kameron Rocha came up with a huge interception. Rocha had a decent return and set up his offense in great field position. The Tigers first play of the game was almost tragic. A hand off between Kajiya Hollawayne and Damonce Williams was bobbled and almost turned over. Damonce quickly picked up the ball and started running to the end zone. Defenders were crashing in on him, but none of them were quite fast enough to catch him. Damonce dove for the end zone and crossed the line before being pushed out. The Tigers had the lead with only 30 seconds off the clock.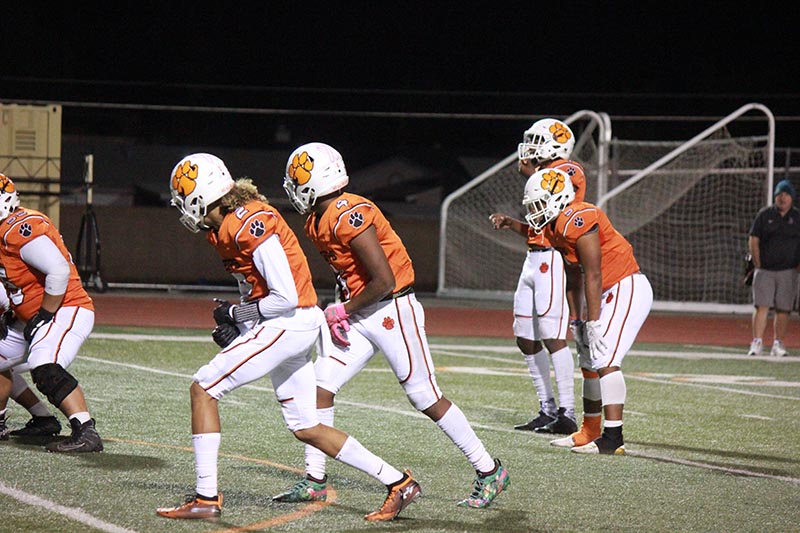 Not much changed for the Mustangs in their second opportunity with the ball. At first it looked like they were getting some offense going, by using a "hard count" against the Tigers (a hard count is when a QB calls for the center to snap the ball, but the center doesn't snap it hoping that the defense will jump offsides) very successfully. Kameron Rocha (who is the captain of the defense) decided to take things into his own hands and laid down a monster hit, causing the Mustangs to fumble the ball. San Jacinto again capitalized on the turn-over by scoring a touchdown, this time though, Kajiya Hollawayne would throw the ball to senior receiver Antonie Sullivan for the touchdown.
San Jacinto dominated the matchup, the final score was 41-0, Kajiya Hollawayne finished with 207 yards, 4 touchdowns, and a quarterback rating of 149.3 which is a perfect rating. Our Player of the Game goes to junior receiver Damonce Williams who had two touchdowns on the night, he also made a big catch for a two-point conversion and banked in 88 all-purpose yards.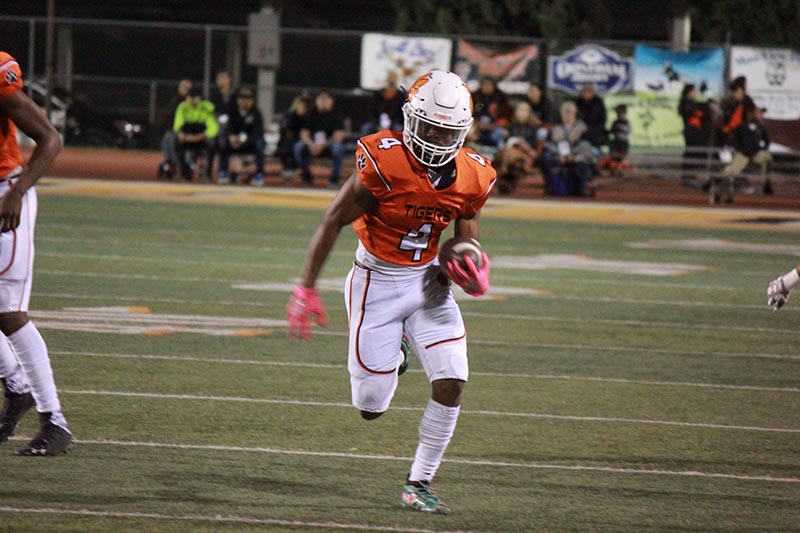 After an unforgettable performance against Citrus, Hemet traveled up to Beaumont and tried to maintain the same energy. The Bulldogs and the Cougars were in a defensive battle throughout the game, but it was the Cougars who would come out on top in that matchup 14-10. Citrus Hill came out ready to put their last week behind them and welcomed the Titans to their stadium. Citrus got out to a fast start and never let off the gas, dominating the matchup 37-7. At the end of this week San Jacinto is sitting on the Iron Throne of the division while Hemet, Beaumont, Citrus Hill, & Tahquitz are all seeking their opportunity to strike. West Valley is sitting alone at the bottom of the division with a 0-2 record.
Find your latest news here at the Hemet & San Jacinto Chronicle
Search: Game Review