(Native softball tournament)
The National Indian Athletic Association (N.I.A.A.) All Native Fastpitch Softball Tournament was played out on the ball fields at the Soboba Band of Luiseño Indians reservation as the tribe hosted the event from Sept. 20 through 22.
Soboba has been hosting the popular event consistently since 2007 and had hosted it previously in 1998 and 1999. This year attracted a dozen women's teams to The Oaks and 11 men's teams to the Soboba Sports Complex to participate in bracket play with a three-game guarantee.
The top four winning teams were announced on Sunday after the tournament that played through the entire weekend.
Among the men's teams, first place ($4,000) was awarded to Morongo Men's Club, second place ($2,000) went to WAH, in third place ($1,000) were the Cali Reds and fourth place ($500) finishers were the South Dakota Warriors.
Earning the same amount in prize money for the women's teams were the first place Morongo Women, second place Rezilience, third place Wololok and fourth place So Cal Youngins.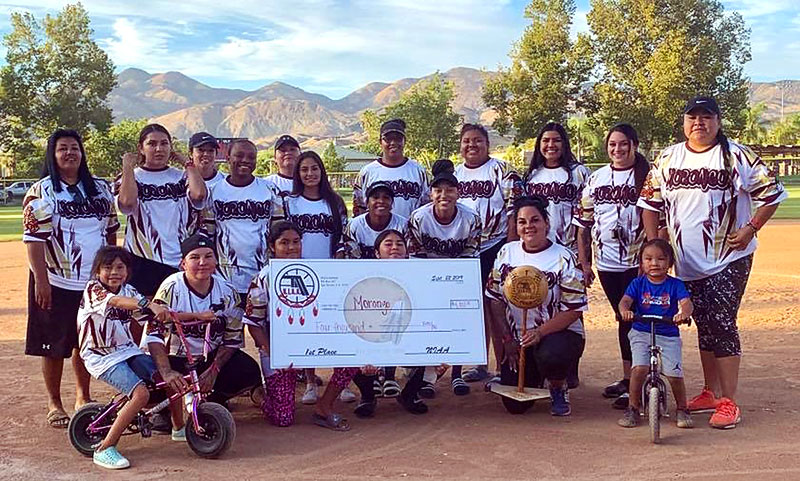 Team members were from throughout California, several other states, and Canada.
Geneva Mojado, who heads the N.I.A.A. Committee, was pleased with the unique trophies that were created for the tournament and presented to the winners. They were made by Yellow Corn Woman (AJ Cabral).
"Our opening ceremony is always a highlight because it gives us the opportunity to honor those of the past or present and to be able to share their love and dedication to the sport of softball," Mojado said.
This year's first pitch was made by Gerald Norte, father of this year's honorarium: Jeffery Norte. A tribute to the 47-year-old who passed away in April of 2018, was included in the event's program.
Norte was Cahuilla and Paiute from Morongo who was born in Bellflower to Linda and Gerald Norte. Jeffery Norte spent a lot of time at parks and around ballfields, watching his father and uncles play and developed a love for the sport at an early age. He started playing Little League baseball when he was seven years old and earned a spot on the All-Star Team every year.
A good hitter with the ability to play any position made Norte a great team player, but it was on the mound where he shined the brightest. At the age of 15, he joined the California Braves Men's Team and traveled to Arizona to play in the very popular C.R.I.T. Annual. He made his pitching debut wearing number 16 and led the team to victory. Norte was selected as All-Tourney. He continued to play solo-pitch in that tournament with the California Braves until he was well into his 40s.
Norte began playing fastpitch when he was 22 as a member of the Morongo Men's Team. He then joined the Rez Men Fastpitch Team and eventually played for the So Cal Tribes team, which was a combination of players from both the Rez Men and Soboba B.B.C. teams. So Cal Tribes went on to win many tournaments with Jeffery Norte often receiving All-Tourney. He was remembered as a talented native ball player and an all-around good person.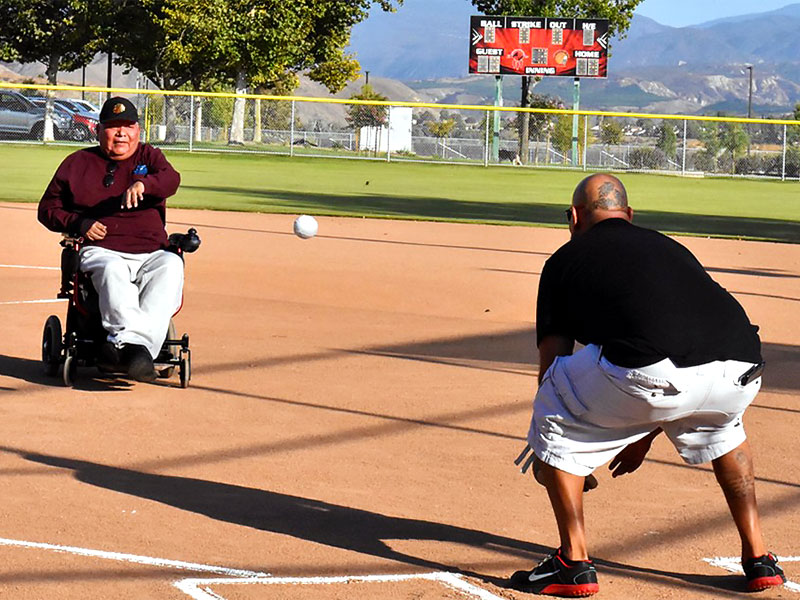 The bleachers were filled with cheering spectators, and many volunteers helped in and around the fields with anything that needed to be done to make sure things ran all three days smoothly. Volunteers included Joseph Placencia, Ralph and Juana Durret, San Jacinto Unified School District personnel, Tina Placencia, Soboba Women's Softball Team which Mojado pitches for and Gordon Placencia.
S.J.U.S.D. superintendent Diane Perez said district staff was pleased to give back to Soboba by offering their support at the tournament for the fourth year in a row. More than 80 volunteers worked two- to three-hour shifts throughout the weekend keeping the fields, stands and parking lots clean, ensuring teams had sufficient water, keeping score and more.
"We look forward to this every year as it is our way of demonstrating our gratitude for Soboba's continuous support of our students and staff," Perez said.
Mojado said it wouldn't be possible to host such an event without the involvement of so many.
"I'd like to thank my fellow committee members, our sponsors, our registration committee, our volunteers and special thanks to the Soboba Fire Department, Soboba Clinic, Soboba Sports Complex, The Oaks and all staff," she said. "A big thank you goes to Andrew Vallejos for all his hard work and dedication as well."
Mojado added that vendors and merchants were also appreciated and that a true team spirit prevailed to make this year's tournament one of the best so far.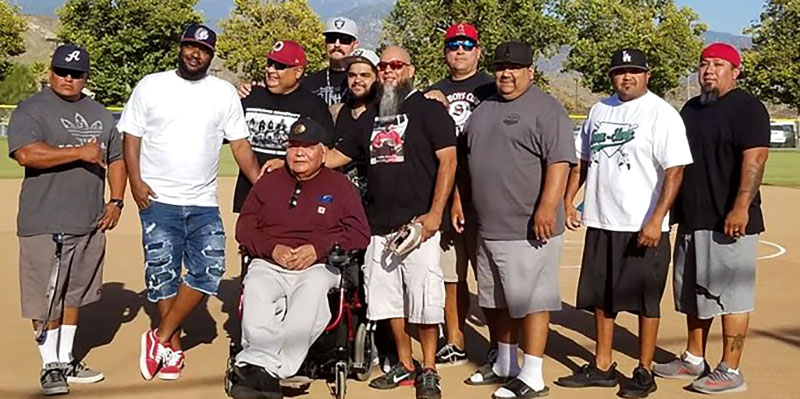 Find your latest news here at the Hemet & San Jacinto Chronicle
Search: Native softball tournament