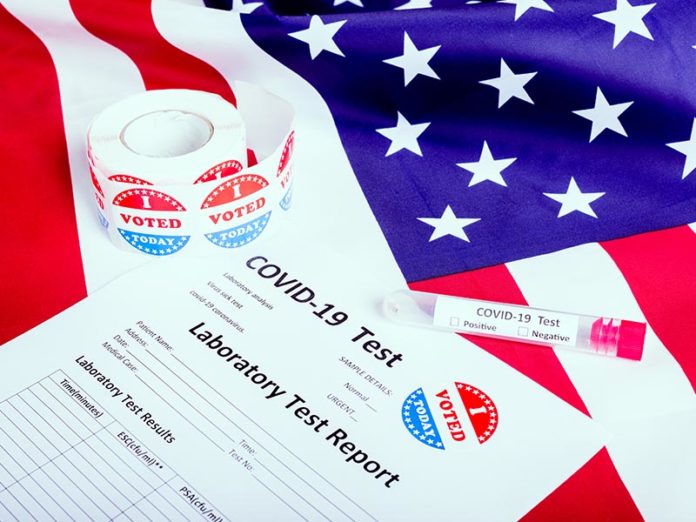 While many more Californians than ever before are planning to vote by mail in this November's election in order to avoid exposure to the coronavirus, Trump's new Postmaster General, Louis DeJoy, is sparing no effort to make voting by mail harder for all Americans (not just Californians). The recent primary elections in several states have given us a preview of how that works, with ballots being ensnared in postal delays.
DeJoy has cut hours and banned all overtime and is also having fewer trucks on the road. He has even changed priorities in mailing. As a result, the US Postal Service now has a serious backlog of letters and packages, which are piling up at distribution centers. He is piloting a new program that will take already-delayed first-class mail and delay it even further, by ordering carriers to no longer sort and box newly arrived mail in the morning and then deliver it; instead, they must wait till the end of the day.
Coincidentally (NOT!), this will be a record year for voting by mail, which Trump is doing everything he can to undermine because, as he has already admitted, he thinks mail delays will help him win in this election. Right when we need more mail carriers, not fewer, DeJoy has instituted a hiring freeze and is trying to encourage early retirement of postal workers, two things Democrats in Congress specifically asked him NOT to do. While Trump created an uproar with his bogus suggestion that he might delay the election, his unprecedented politicization and gutting of the Postal Service is a much greater (and REAL) threat to American democracy. These changes and delays could lead to millions of ballots being thrown out because they weren't received in time to be counted – thirty-four states require that ballots be received BY Election Day – and not one Republican has spoken out against this, despite the fact that Republican voters will be affected just as much as Democratic voters. THIS IS NOT A PARTISAN ISSUE – this affects EVERY voter!
If this prospect angers and outrages you, let your representatives know. Even if they are Democrats and are already opposed to this voting sabotage, let them know they need to be even more vocal and focused on this issue. Democrats keep allocating money for the Post Office in the stimulus bills, but Republicans keep cutting that money out. Time is running out! We need to demand more funding ASAP, along with safeguards to ensure that the funding will first of all, be used (and right away!), and secondly, that the funding will be used for the purposes for which it was intended.
Meanwhile, what can each of us do to ensure our mail-in votes get counted? First, make sure you get a ballot. This year, ALL REGISTERED California voters will automatically be sent a vote-by-mail ballot for the Nov. 3 General Election. To verify whether you're registered, go to www.sos.ca.gov/elections and use the "My Voter Status" tool. If you are not already registered, you can register online at RegisterToVote.ca.gov. If you don't have a computer, call (916) 657-2166 for the California Elections Division, or the Voter Hotline at (800) 345-VOTE (8683). As you register, you have the option to become a "permanent vote-by-mail voter," if you wish. Remember, if your address has changed for this election, you must re-apply in order to receive your ballot and election guides. The Riverside County Elections Office is at 2724 Gateway Drive, Riverside 92507-0918, phone (951) 486-7200, www.voteinfo.net, or email rovweb@co.riverside.ca.us. This is also the office to contact if you don't receive your ballot by the time you think you should have.
There is no deadline to register to vote, but the longer you wait, the harder it will be to receive your mail-in ballot in time and to get it returned in time. (See above regarding sabotage of the Postal Service.) While you can take your mail-in ballot to a polling place on Election Day and turn it in (and you may have to do that if you procrastinate too long), I am assuming you are trying to avoid that hassle and possible exposure to COVID-19. (Maybe you are even nice enough to worry about exposing the poll workers to the virus.) California provides several options for returning your mail-in ballot.
If you decide to mail it in, DON'T WAIT! Because of the postal delays detailed above, get your vote in early – at least two weeks before Nov. 3, which would be Oct. 20; mark your calendar so you don't forget. The ballot must be POSTMARKED on or before Nov. 3 and RECEIVED by your county elections office no later than 17 days after Election Day. If you are worried about being on the late side of mailing your vote, you might want to use certified, priority or express mail so there is proof of delivery and of the date your ballot was mailed.
Another option is to take your ballot to the country elections office (see above for the address) no later than the close of polls at 8:00 p.m. on Election Day.
Alternatively, you can take your ballot to one of your county's ballot drop boxes by no later than the close of polls by 8:00 p.m. on Election Day. The County Elections Office (also known as the Registrar of Voters) has a 24-hour drop box east of the main entry doors (see the Gateway Drive address above). Other locations as of the June election were the City Clerk's Offices in Menifee, Canyon Lake, Wildomar and Riverside. Check www.voteinfo.net for their addresses, and, as the Nov. 3 election approaches, to see if any other locations have been added.
If you don't want to mail your ballot but can't get to a ballot drop box or the county elections office yourself, you can authorize someone to return your ballot for you, as long as they do not get paid on a per-ballot basis. Remember to fill out the authorization section found on the outside of your ballot envelope if you are going to go this route.
Riverside County participates in a system called WheresMyBallot.sos.ca.gov, if you want to track where your vote is at and whether there are any problems with it.
As a final note, please let me be clear that I love my postman (and the subs who deliver our mail when he is out); they all do a consummate and praiseworthy job of getting our mail to us faithfully in all kinds of weather, day in and day out. I have always gotten great service at the counter when I've gone into the Hemet Post Office to buy stamps or mail packages, too. The sterling work and dedication of these people make me all the angrier at Louis DeJoy and his boss, Donald Trump, for trying to cripple this vital institution of the Postal Service, and the sacred institution of voting, for partisan ends. They did not begin the attack on the Post Office; that started back in 2006 when Republicans passed the Postal Accountability and Enhancement Act, giving the Post Office 10 years to fully fund retirement pension and health care benefits for the next 75 years. Trump and DeJoy are "just" capitalizing on the pandemic to try to force the Postal Service to be complicit in making it harder for citizens to vote by mail and to have their votes count. That is despicable, evil, and to my mind, criminal.
Pam Sherrod
Hemet
Find your latest news here at the Hemet & San Jacinto Chronicle