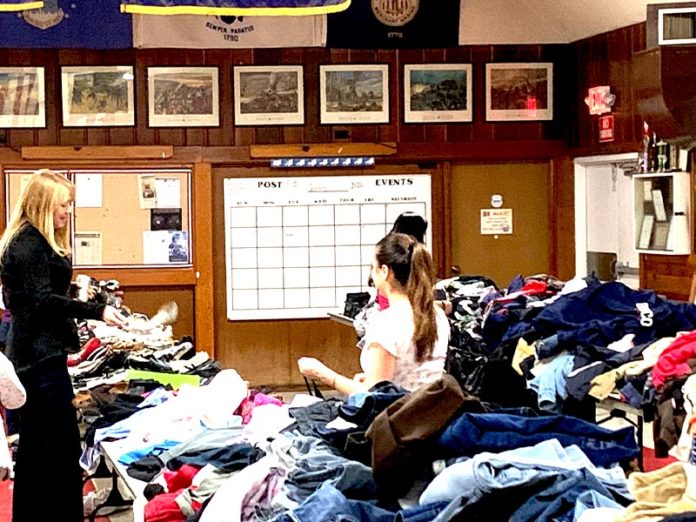 (A Voice for Veterans)
On Friday, January 31, Hemet American Legion Post 53 hosted a fire victims benefit dinner in honor of those who lost their lives in the December 27 apartment fire and to assist those displaced by this horrific tragedy. Those who are no longer with us are father, 41-year-old Juan Moreno, his two daughters, Maria, age twelve, and Janessa, age 4. Their cherished son, Issac, 8-years-old, later succumbed to his injuries from the fire at the UCI Medical Center in Orange. They are survived by their mother, Christina Moreno and daughters Jaelyn, 8, and infant, Cecily.
The survivors and displaced residents who attended the dinner were treated to their choice of spaghetti, chilli beans, beef stew, garlic bread, salad, cornbread, and drink of choice. They also had the opportunity to choose from a huge assortment of donated items that included clothing, household goods, toys, and a variety of gift cards.
While still in mourning and struggling to regain a semblance of both stability and sanity back into their lives the smiles and voiced gratitude of both the children and parents conveyed their appreciation of the community partnership that came together to assist them during their time of need.
Though American Legion Post 53 that includes its Legionaires, Sons, Riders, and Auxillary along with the Cloverlane Foundation hosted the benefit this was a collaboration of both community organizations and private individuals who stepped up to the plate when their fellow community members needed them the most. From the very onset of this tragic event that affected more than forty individuals, the wheels of human compassion began to spin immediately as the quest for housing, food, clothing, and other living essentials was initiated.
In speaking with Lt. James Fleming of the Salvation Army and others involved in this community effort I was literally amazed at the amount of time, financial assistance, organizations, businesses, and personal participation needed to fulfill a task of this daunting nature. Rather than listing a "Who's who" of organizations and personal individuals who have strived to carry out this mission of compassion, (The list is long and I do not wish to leave out anyone) suffice it to say that everyone connected in helping to resolve this crisis can be proud of a job well done.
A special shout out to Hemet American Legion Post 53 and its Commander, Joe Males, and all of the unsung legionnaires who toiled mightily to make it happen.
Hemet, you did yourself proud…
Find your latest news here at the Hemet & San Jacinto Chronicle
Search: A Voice for Veterans