The Historic Hemet Theatre has announced five more concerts in their popular Friday Nite Live Concert Series. Since January, the Friday series has boosted the concert schedule to three per month and provided much-needed funding for the Foundation. The Friday concert series mainly features groups that perform tributes to country western musicians.
The new Friday night concerts are:
Friday, July 12th – Tribute to Tim McGraw, featuring Vegas McGraw
Friday August 23rd – Young Guns of Country (Tribute to the Superstars of
Country Music), including Charlie Daniels Band, Rascal Flatts, Garth Brooks,
George Strait, Florida Georgia Line and many more.
Friday, September 20th – Tribute to Brooks & Dunn, featuring Neon Circus
Friday, October 4th – Tribute to Roy Orbison, with Neil Marrow
Friday, November 8th – Tribute to Reba McEntire – Corrie Sachs
MEANWHILE…
The Mighty Cash Cats made us remember Johnny Cash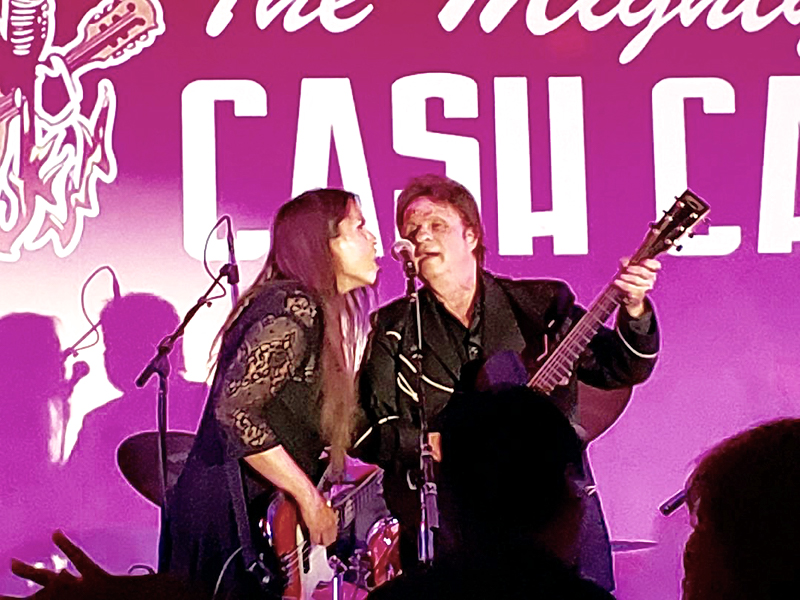 The latest concert in the Friday Nite Live Series took the stage on Friday, June 14th. The Mighty Cash Cats performed their nostalgic Tribute to Johnny Cash. This was the group's first time playing Hemet's downtown art center, discovering for themselves what other bands have been saying for years… little old Hemet has the best concert venue in Southern California.
For this show, the crowd was small, but enthusiastic, clapping and cheering every classic hit. Many songs drew dancers to the foot of the stage, rocking to that iconic Johnny Cash beat. Michael J. Smith as Johnny Cash was impressive, but Leticia Blumette as June Carter Cash stole the show with a voice that gripped the room with emotion. Afterward, the audience proclaimed the show another hit performance and the band told the fans that Hemet is now their favorite place to play.
Later this month, Season Two of the Tribute Mania Concert Series continues with tributes to Santana (6/22), Led Zeppelin (7/6), Aerosmith (7/20), REO Speedwagon (8/3), and Tom Petty (8/17).
---
Tickets for Tribute Mania and Friday Nite Live shows are $22 presale / $25 day of show. Showtime is 7:00 pm, with doors open at 6:15 pm. Information on all theatre events is available at www.HistoricHemetTheatre.com or by calling the ticket office: (951) 658-5950.