(Learn about fire safety)
Soboba Fire Station No. 1 opened its doors and shared information with Soboba Tribal Preschool kindergartners and Pre-K students on Oct. 11 as part of Fire Prevention Month. The goal of the national event is to raise awareness about fire safety and help ensure kids know what to do in the event of an emergency.
The 43 children were divided into four groups that rotated between visiting the living quarters, learning about why firefighters wear certain gear, getting to use the fire hose and seeing the inside and outside of two fire trucks that were available. A third truck was away assisting with a fire.
The department's newest truck was put into service in September. It is a Pierce 107-foot Ascendant heavy-duty Tiller Ladder Truck that has a 1,500-gallon per minute Waterous mid-ship pump and a 300-gallon water tank.
"This is the only ladder truck staffed full time 24/7 in the San Jacinto Valley," Soboba Fire Chief Glenn Patterson said.
He added that all Soboba Fire personnel have been trained to use this apparatus, which included more than 100 hours of classroom instruction, practical lessons and hands-on tactical training for each firefighter. Patterson said firefighting efforts at numerous buildings in the area would require this type of truck, such as the Soboba Casino Resort hotel, Soboba Tribal Administration, Hemet Valley Medical Center and multi-story apartments, retirement homes and motels.
"We also upgraded the truck with Fire Research Corp scene lighting to increase firefighter safety at night and during heavy smoke conditions," Patterson said.
At the firehouse, the crew did its part to help teach and reinforce lessons the students were learning in their classrooms all week long.
"Call 9-1-1, don't run, don't hide," most of the kids shouted back when Captain Howard Maxcy Jr. asked them what to do if they see flames or smell smoke.
Firefighter Glenn Lindsey was suited up so the children would know not to fear similarly dressed firefighters in the event they ever encounter one in their home. Maxcy described each part of the uniform and all the tools that were attached. He showed the kids how a hand-held thermal energy camera can help rescuers find people when visibility is obliterated by heavy smoke.
"We are the only fire station in Southern California who has a thermal energy camera incorporated into our masks – all 21 of them," said Maxcy, who has been a firefighter for more than 20 years. "It's one of the things we thought was important to have. We're lucky to have frontline equipment like this and our new ladder truck."
(Learn about fire safety)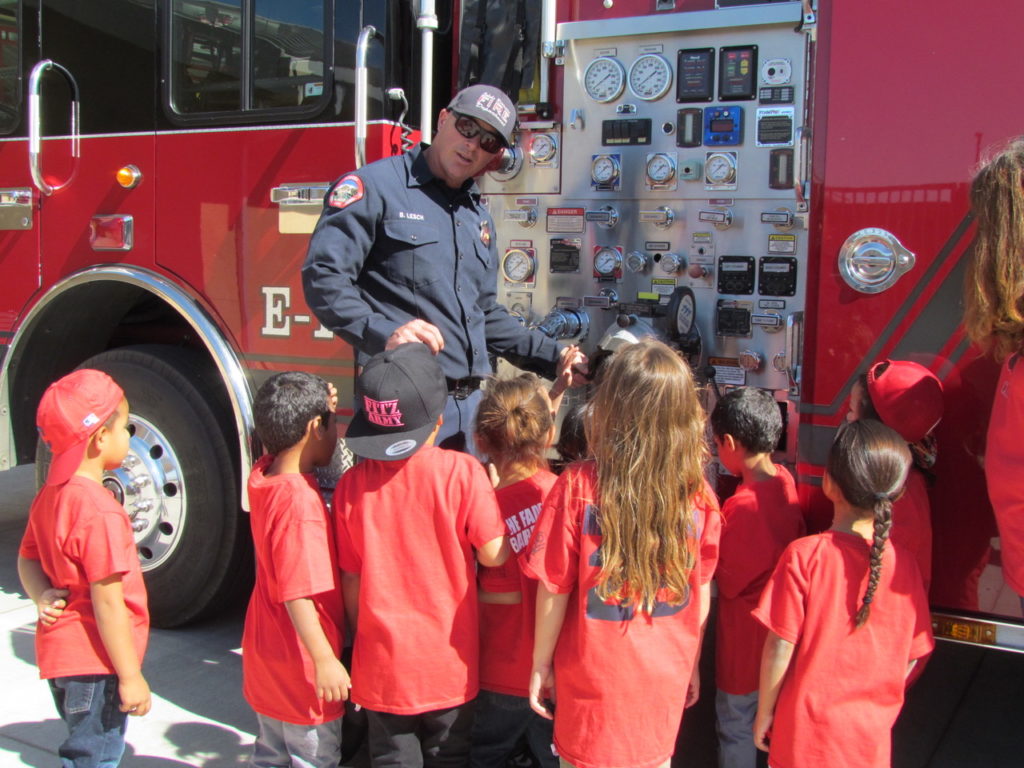 Engineer Rob Cisneros gave the grand tour of the living quarters and explained that most of the movies shown on the big screen television were training films so they could learn how to be even better firefighters. He also told the kids that firefighters are always learning even after they complete the fire academy and paramedic school.
Students in all grades spent the week incorporating fire safety into their curriculum as they learned key words and the importance of dialing 9-1-1 if they see a fire. Lessons in math, colors and reading all had a firefighting theme.
"We've been doing the 'stop, drop and roll' drills with them all week," said Ana Garcia, who teaches the three-year-old students. "We did art projects to help them identify parts of the trucks and equipment and we read lots of books about firemen and what they do."
A visit to the preschool by the department for the younger children (two- and three-year-olds) earlier in the week was delayed when the crew had to respond to an emergency call.
Clementine Swan wore an authentic miniature firefighter uniform to school and teacher Amanda Vallin said she brought another one to share with her classmates.
Mini-firefighter Clementine Swan, 4, gets a lesson in using a fire hose from Soboba Fire Department's Richard Gilmartin during a field trip by Soboba Tribal Preschool students to the firehouse on Oct. 11.

The Soboba Fire Department's 107-foot Tiller Ladder Truck was on display during a field trip by Soboba Tribal Preschool students on Oct. 11. The children also toured the station's living quarters, practiced drills and got to try using a fire hose.
"All week we've been talking about community helpers and firefighters; our letter of the week was F," said Vallin, who has been at the school for three years.
Lindsey said he's known many of the preschoolers since they were babies, being a Soboba tribal member himself. He said he likes being able to show them what he does and hopes they look to him as a role model and will want to become firefighters someday.
"It's good for us to give back and let them see what we do out here," he said. "It also helps them feel comfortable if we have to go out to a fire. A lot of them recognize me so they know they can trust firefighters."
After returning to campus to eat lunch, the children were still exhibiting signs of excitement from their field trip, all raising their hands when asked who had fun.
"I liked doing the water hose," said Tulóvat Temanxwanvish, 5. Takoda Nunez liked the ladder truck best and Atreyu Valenzuella liked "all of it."
Muukumikat Gonzalez enjoyed trying the fire hose, too, but added that he also had fun exploring the giant trucks and "checking everything out."
"I learned that I have to go to school to learn about being a firefighter," five-year-old kindergartner Kali Valenzuela said.
Find your latest news here at the Hemet & San Jacinto Chronicle
Search: Learn about fire safety