(Arrowhead making at Soboba)
The Cultural Resource Department at the Soboba Band of Luiseño Indians Reservation near San Jacinto opened its Fall Cultural Program Series with arrowhead-making classes during September. About 15 students attended the first of four classes on Sept. 9 at the Soboba Sports Complex.
Also known as flint knapping, the art of making flaked or chipped stone tools by carefully chipping away material from volcanic stones in a carefully controlled manner takes special tools and much practice.
Led by instructor Art Lopez of Torres Martinez, the program is designed for students to join any of the classes to learn the techniques necessary to make an arrowhead from an obsidian flake. The introductory course is meant to teach the basics of flintknapping.
"There is no obsidian available around here," he explained. "It was a trade item for the Luiseños and Cahuillas, found mostly near the Salton Sea, Mammoth Mountains and in Mexico. As Natives would travel, they would trade with other tribes."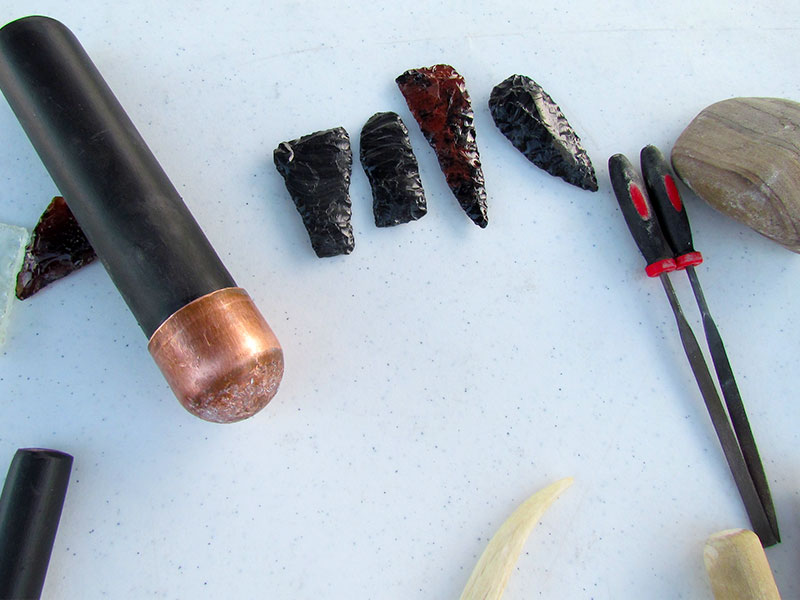 When Lopez was working for the Pechanga Band of Luiseño Indians, he had to learn how to make artifacts of tools they would find in the field while on the job as a culture monitor. He started working as a monitor for Soboba in 2005.
"We have other cultural classes," said Joseph Ontiveros, Tribal Historic Preservation Officer at Soboba's Cultural Resource Department. "We started with basket-weaving classes years ago and are also looking toward classes on edible and medicinal plants, with the focus of how to incorporate traditional foods into your normal diet."
Ontiveros said a survey was sent out to tribal members to find out what types of classes most interested them, and flint knapping was one of the items that were checked by many participants. He said language and material culture were requested as well.
"It also depends on being able to secure a suitable consultant to provide an adequate class," he said. "Art Lopez is one of our Native monitors, who is a well-respected individual in the tribal community."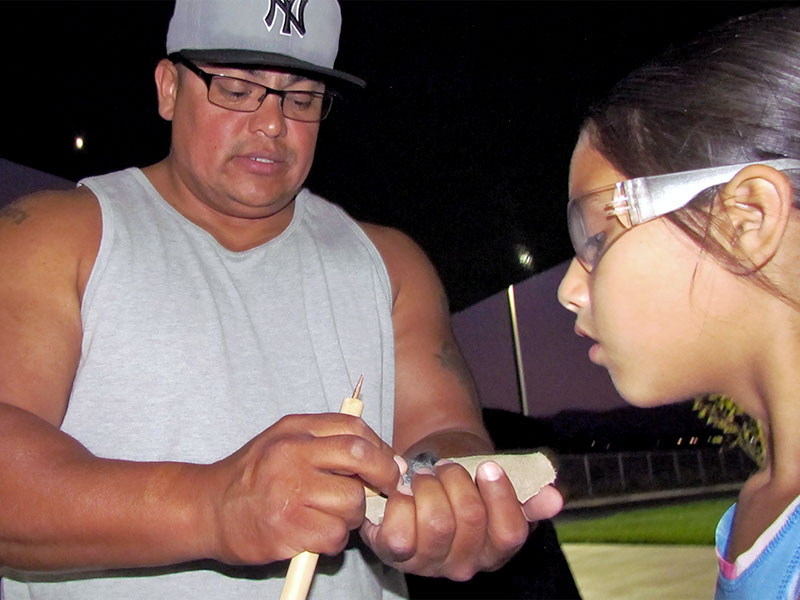 Lopez said he had always wanted to teach a class like this but didn't have the opportunity to do so until now. He provided students with a handout that contained flint knapping terminology and drawings of different types or styles of flaking. Each arrowhead will be unique, but some consistent rules will help the maker achieve a durable and productive projectile point.
As the students sat in a circle of chairs under a shade canopy, all eyes were on Lopez as he demonstrated the best way to get started on making an arrowhead. With a large block of obsidian on a square of leather draped over his leg, he broke off smaller pieces, or flakes, by using a copper bopper and a hammer rock. This is known as percussion flaking.
"I think the key to making a good arrowhead is to get the technique," Lopez said. "You need to hit the right angles to knock the flake off."
Once each person had a small enough piece to start shaping, they began the pressure flaking step using an "Ishi stick" or flaker. The Ishi stick provides additional leverage so that the body's energy is used more efficiently, providing more precision and control for the user. Traditional Ishi sticks are usually made from antlers or bone but can be made from modern materials.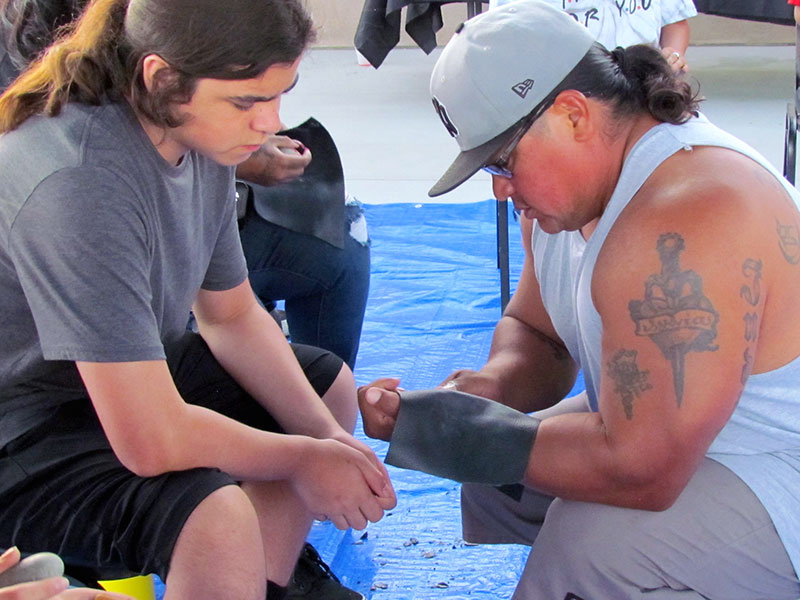 Eloyd Rodriguez is part of Soboba's Traditional Land Resource Management Crew and grew up with Lopez, a descendant of Soboba who lived on the reservation.
"We went out on a few excursions and are at the same cultural events which are all intertwined with who we are," Rodriguez said.
Rudy Sanchez, 13, likes to learn about weaponry and how to make spears, bows, and arrows, so he found the class very interesting.
"These are the tools that were used to defend our people, so I wanted to learn how to make them," said Canyon Lindsey, 19.
Seven-year-old Shania Guacheno joined the class because she thought it would be "cool" to make something she could give to her brother or dad."You really have to have the desire to keep it going and to learn more so that one day you can pass it on," said Lopez, who typically takes about three days to make an arrowhead because he likes to take his time with it.
Find your latest news here at the Hemet & San Jacinto Chronicle
Search: Arrowhead making at Soboba