On June 9th, a deadly crash occurred at the intersection of Commonwealth and N. Lyon avenues. A 61-year old Hemet woman was killed when a Ford F-150 collided into the driver's side of her Nissan Versa.
When paramedics arrived, they found her vehicle turned on its side in a field next to the road. She needed immediate medical attention as the paramedics attempted to save the woman's life, but she succumbed to her injuries and was pronounced deceased at the scene.
The victim was later identified by coroner officials as Victoria Fleming. There were two other victims in the crash who were transported to the hospital, but the extent of their injuries is currently unknown.
On this same day, another fatal collision took place in Hemet. A woman was killed in a solo-rollover incident that took place on the SR-74, to the west of Four Seasons Boulevard.
Witnesses reported seeing a car rollover, as well as flames burst into the air. When first responders arrived, they found a Toyota Camry upside down, consumed by the flames that were still very much active at the time of arrival. After the fire was put out, the victim was pronounced deceased, being trapped in her vehicle.
California Highway Patrol closed the road and began to determine the cause of the crash. During their investigation, officers determined the unidentified woman was driving eastbound on Florida Ave. "when, for reasons not yet determined, she failed to negotiate the sweeping turn in the roadway," according to CHP Officer M. Peel. (Trevor Montgomery, Riverside County News Source).
The victim's identity has not yet been released, the investigation is still underway.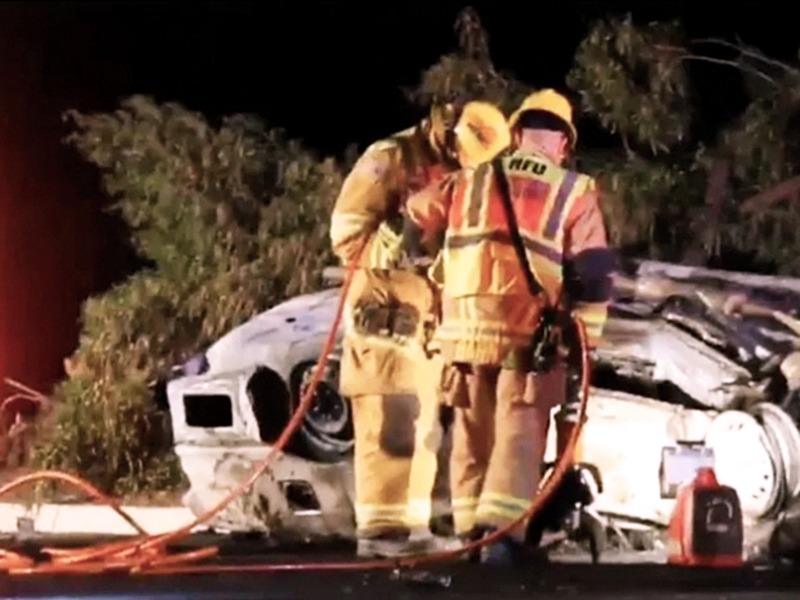 Residents of the San Jacinto Valley: car accidents can happen anytime, anywhere and to anybody. While safe driving practices are highly encouraged and promoted, many still choose not to follow these guidelines.
Maintaining decent distance between you and the vehicle ahead of you, eliminating distractions while driving and wearing a seatbelt are not new concepts. Everyone has heard of these; for good reason. Something as simple as taking five seconds to put on a seatbelt before driving could very well save your life.
Back in March, a collision took place on Ramona Expressway/Mountain Avenue and N. Soboba street in Hemet. One person was killed, and another was ejected from his driver's seat through the front window, as he was not wearing a seatbelt.
We all must drive with a precautionary, defensive mindset, in order to avoid collisions and better ensure our safety, as well as the safety of our fellow drivers.
It is extremely important that we all remember, while we see cars as these beautiful pieces of work that we use in our daily lives, they are also metal machines that are capable of causing fatal crashes in an instant.

---
The author can be contacted at: [email protected]