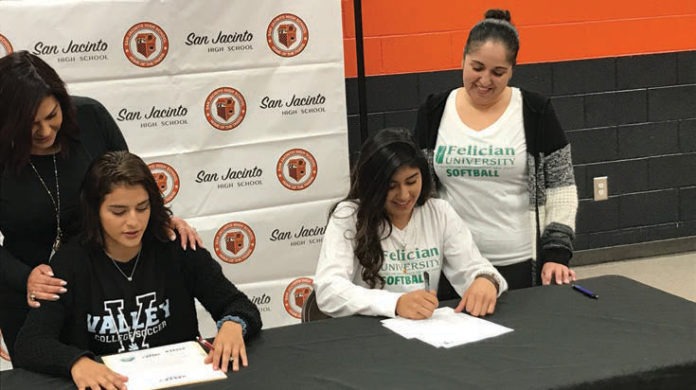 Letters of Intent
San Jacinto Unified School District has four graduating students headed to college next fall to play softball or soccer, bringing the year's number of athletic scholarships for the district to an all-time single year recruitment high of eight students. These seniors attend San Jacinto High School, where coaching staff held a ceremony signing of "Letters of Intent" to commit to a college on Thursday, May 23, in front of family, faculty and friends.
"It's always the hope and desire of the Athletic Department here at SJHS to not only see our students further their education after graduation, but to also further their athletic careers as well," said Amanda Galliano, SJHS's Athletic Director. "It is with a tremendous amount of pride that we get to do just that today for these four athletes in our girls and boys softball and soccer programs," she noted.
Julio Jauregui signed his intent letter for College of the Redwoods, located in Eureka, California for men's soccer. Both Jessica Diaz and Eliana Martinez made their commitment to San Bernardino Valley College, located in San Bernardino for women's soccer. Alexis De La Cruz signed her intent letter for Felician University, located in Lodi, New Jersey for women's softball.
Principal Courtney Hall shared her pride in the athletes, noting they are all role models on campus.
"Thank you to our coaches for their time and guidance, and a special thank you to parents for supporting these students who have spent so much time in the sport their child loves" said Hall. Before signing their individual letters, Athletic Director Galliano introduced each student and asked them to share their future plans.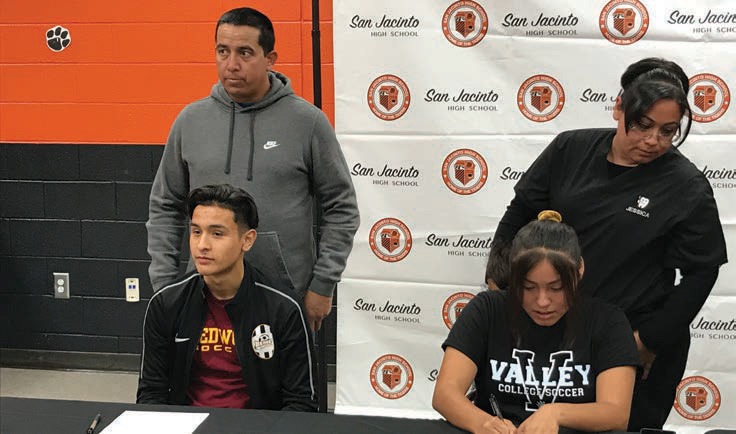 "I'm going to major in Construction Technology," shared Julio Jauregui. "I like to build and leave projects for others to see and use, and I'm happy that soccer gave me an opportunity for college," he continued.
Both Jessica Diaz and Eliana Martinez said they will be majoring in nursing. They played soccer together all four years in high school and happy to share college housing as well. "I plan to transfer to Azusa (Pacific University) to study neonatal care," explained Jessica.
"I plan to major in biology and eventually become a pediatrician," shared Alexis De La Cruz. She was also a four-year player for SJHS softball, and said she looks forward to learning a new place.
The most recent previous SJHS softball player recruited for college was Cheyanna Contreras in 2015 for San Diego Christian College. The most recent boy's soccer player with an athletic scholarship was Adrian Preciado in 2018 for Azusa Pacific University. The most recent previous girl's soccer player recruited was Soleya Figueroa in 2017 for Graceland University.
All total, eight SJHS 2019 graduate athletes that have signed letters of commitment for college: Angelina Alpirez, Dejah Outland, (Sheaden) Michael Cox, Jhourdan Woods for Volleyball; Alexis De La Cruz for Softball; Julio Jauregui, Jessica Diaz and Eliana Martinez for Soccer.
Visit your local news at HSJC